Prestashop Price Calculator Module | Sell Products by Lenght, Width, Area
Compatibility: v1.6 - v1.7 - v8.x
Version:2.0.2 (09/18/23)
Translated Into:





Prestashop Price Calculator Module | Sell Products by Lenght, Width, Area
Custom Price Calculator

PrestaShop
v1.6 - v1.7 - v8.x
If you are selling products on your store that require dimensions input from user i.e wallpapers, flooring tiles, etc, then the Prestashop Pricing calculator is a must-have module for you.
No subscription fee. Free lifetime support and upgrades.
Click to visit our PrestaShop Price Calculator on Official PrestaShop Store.
Product Screenshots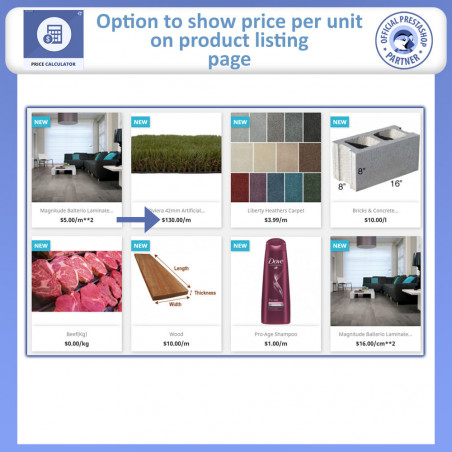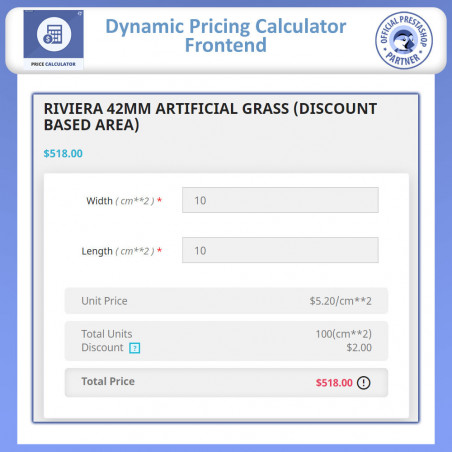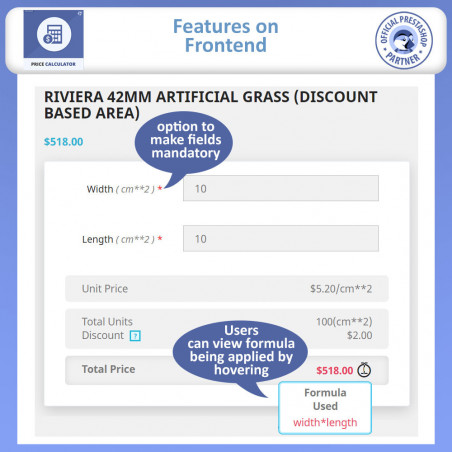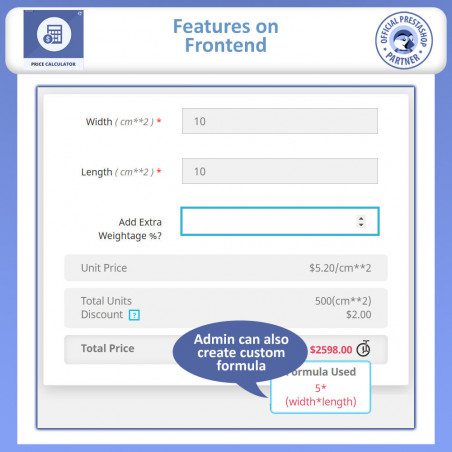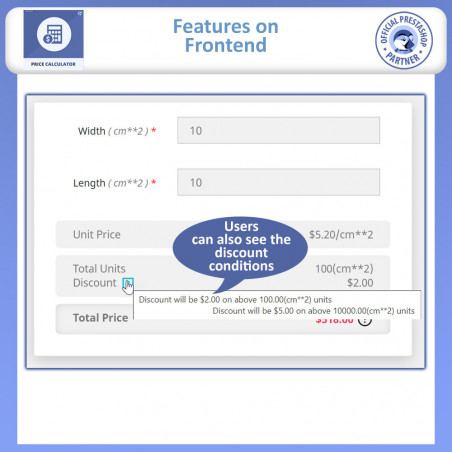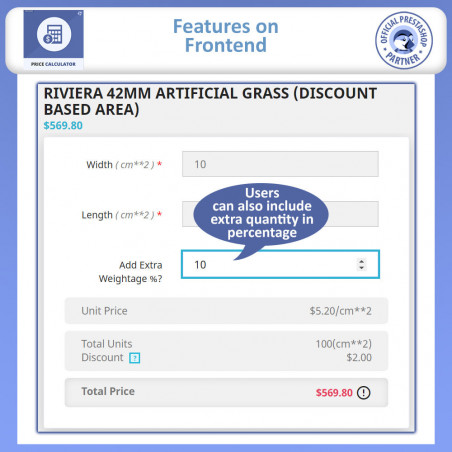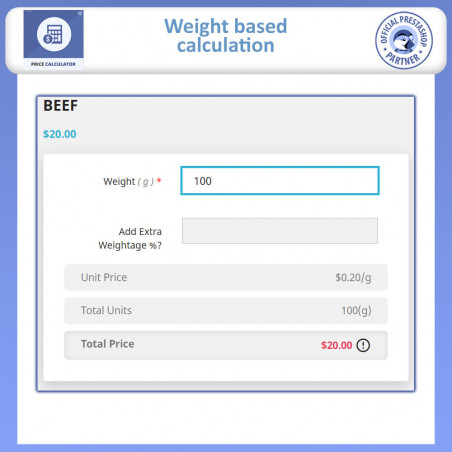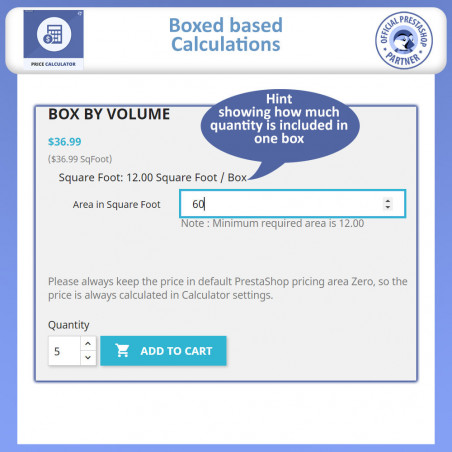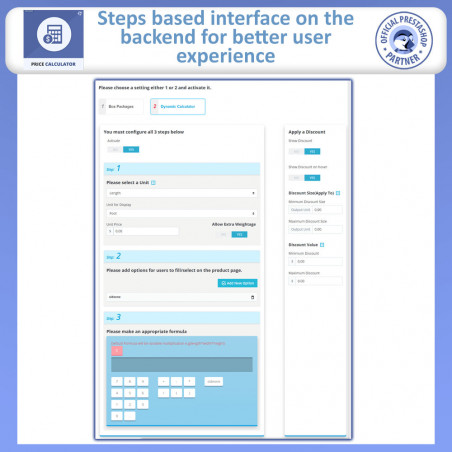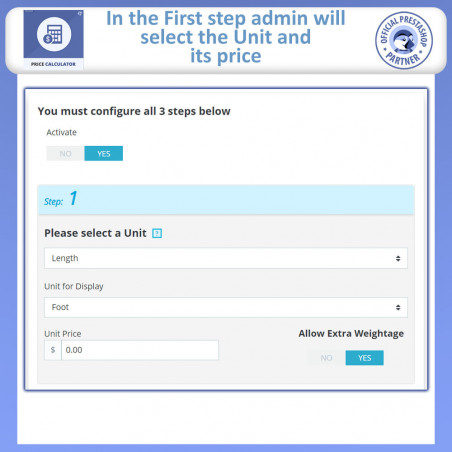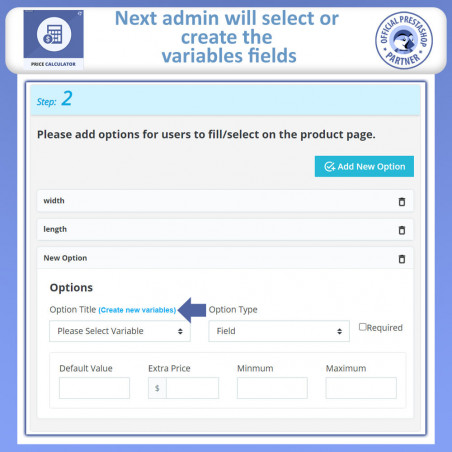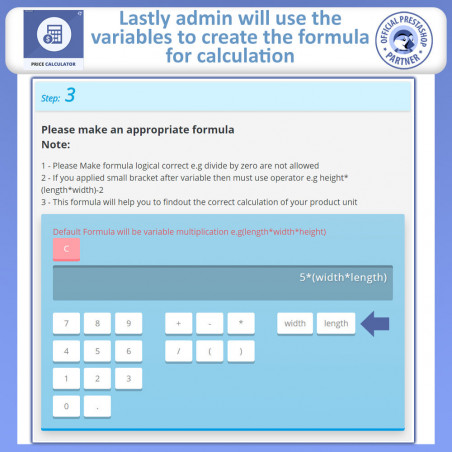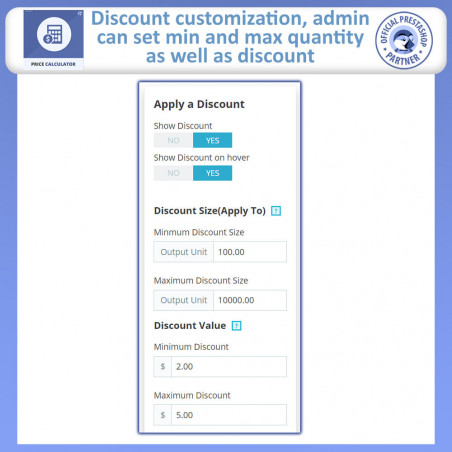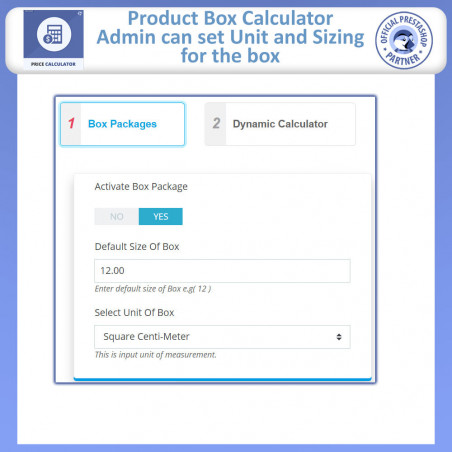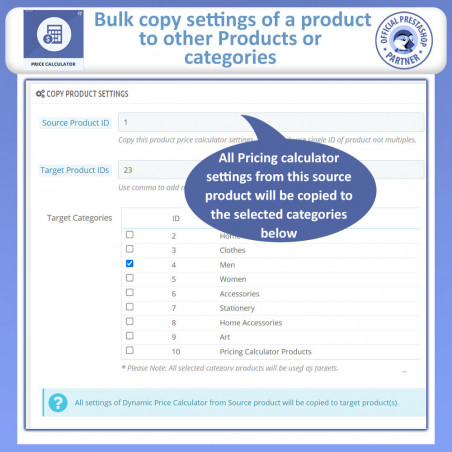 Prestashop Pricing calculator takes input measurements from the user and then applies formulas to calculate the price based on length, weight, volume, area, etc. Pricing Calculator module lets you easily and efficiently sell variable size products. You can sell products on per-unit price instead, rather than selling products at a fixed price you can allow users to enter their own required and then our module will automatically calculate the exact price according to that size. Admin can also offer a special discount based on specific size measurement or can also charge extra for that measurement as well.
Prestashop pricing calculator also allows you to create custom variables as input and then you can also create your own custom formulas to calculate the price. For example, if you want to sell central cooling systems you can create variables such that length, width, height, depth and number of hours per day system is used. Then you can create a formula from back end which utilizes these inputs from the user to calculate the final price of the system i.e Cooling = 3.78*((L*W*H*D)+Hours)
Prestashop Price Calculator module lets you:
Sell products based on length(per meter, cm) i.e wires, pipes etc
Sell products by calculation of area(per sq meter) i.e flooring tiles, carpets etc
Sell Products by Weight(per gram, kg) i.e meat, fruits etc.
Sell Products by Volume(per cubic meter) such as Garden Mulch
Sell Liquids(litter, ml) such as Juices, Milk, Pure Water, Paint etc.
Sell products by creating custom formulas
Option to create custom variables for taking input from the user
Powerful formula calculator lets you create custom formulas to calculate your own specific pricing
Make input fields mandatory
Option to limit the input by a customer with a specific range
Offer different discounts based on minimum or maximum input size
Option to charge extra money on any input field
Option to select different units for input i.e meter and different unit for output i.e meter square
Set default values for any field

Box calculation - sell products based on per box pricing

Option to have predefined input values for user

Tool tip, hints with input variables

The Formula is visible properly in the product description

Listing page shows per-unit price (with enable, disable option)

Option for customer to add wastage in percentage

Better navigation improvements in BO

New Feature - Option to bulk copy settings of a product to other category or multiple items
New Feature - Multiple walls input formula added
New Feature - Improved User interface