Maintaining a clean URL structure is crucial for getting traffic from the search engine and making the customers understood about the link. By enabling the PrestaShop friendly url options in the default settings, you can remove most of the special characters from the links of your online stores whereas, it still adds an auto-generated ID to the links that may restrict your search engine reach and user engagement.
You can see the additional ID in the URL generated in a friendly URL of PrestaShop.

To remove these kinds of IDs, you need to download and install Pretty URLs module by FME. It will instantly clean the URLs from those unwanted numbers. To install this application, follow the simple process below.
Step 1: Download the module directly from the website and unzip the archive files you receive.
Step 2: Add the folder to the modules folder of your PrestaShop shop
Step 3: Login to your admin panel and navigate to the modules section

Step 4: Find the newly added module and hit the install option. Activate the module for configuration

Step 5: Now, navigate to the Preferences section and click 'SEO & URLs' for altering the links according to your requirements.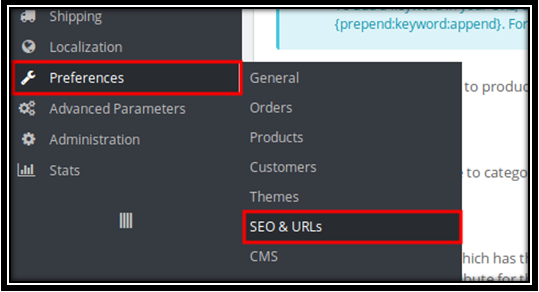 Step 6: For configuration URLs structure of products and categories, following settings are recommended.

Step 7: If you have not enabled the SEO friendly URL option from the back end, do it right now.

This simple process with equip in transforming the ugly links of your online shopping into neat and clean ones. This friendly url PrestaShop does not require you to creation or addition of confusing codes to the database of your business site. You can have the comprehensive tool for removing IDs from hundreds of links at once. No need to spend time and energy in removing the unacceptable numbers from each URL.
With the installation of SEO url PrestaShop module, you can expedite the SEO activities without worrying about the link structures. It also sets you free from setting redirections for changing URLs of the pages, as it does it all automatically.
Check this url structure infographic for more knowledge about it.