Cyber Monday Sale Is Now Live - (Nov 27th - Nov 30th) - 40% Off - Code: FMMCM2023
PrestaShop Vs Shopify: What is the right choice

E-commerce has grown exponentially in today's fast-paced digital environment, transforming how businesses operate, and consumers shop. Therefore, it has become important for entrepreneurs and companies to choose the right platform with the increasing demand for online shopping.
Today we will discuss two major players in the market –Prestashop and Shopify to give you in-depth knowledge about both platforms so you can make a rational decision about new business.
Let me give you a brief about ecommerce and how it plays an important role. Well! The e-commerce market has witnessed a remarkable surge over the past decade. It has reshaped the global economy and consumer behavior.
The convenience of browsing and purchasing from the comfort of customers' homes and the wide variety of options has driven online shopping to a new level. As businesses continue to embrace digitalization, the e-commerce sector's growth potential appears boundless.
Therefore, it's an advantage but rather a necessity to go online.
However, success in the online world becomes real only if you make the right business decisions. The selection of the right platform is undeniably one of the most consequential decisions for any business who want to thrive in ecommerce world.
Therefore, I want to discuss two of the most prominent platforms in ecommerce.
Let's discuss!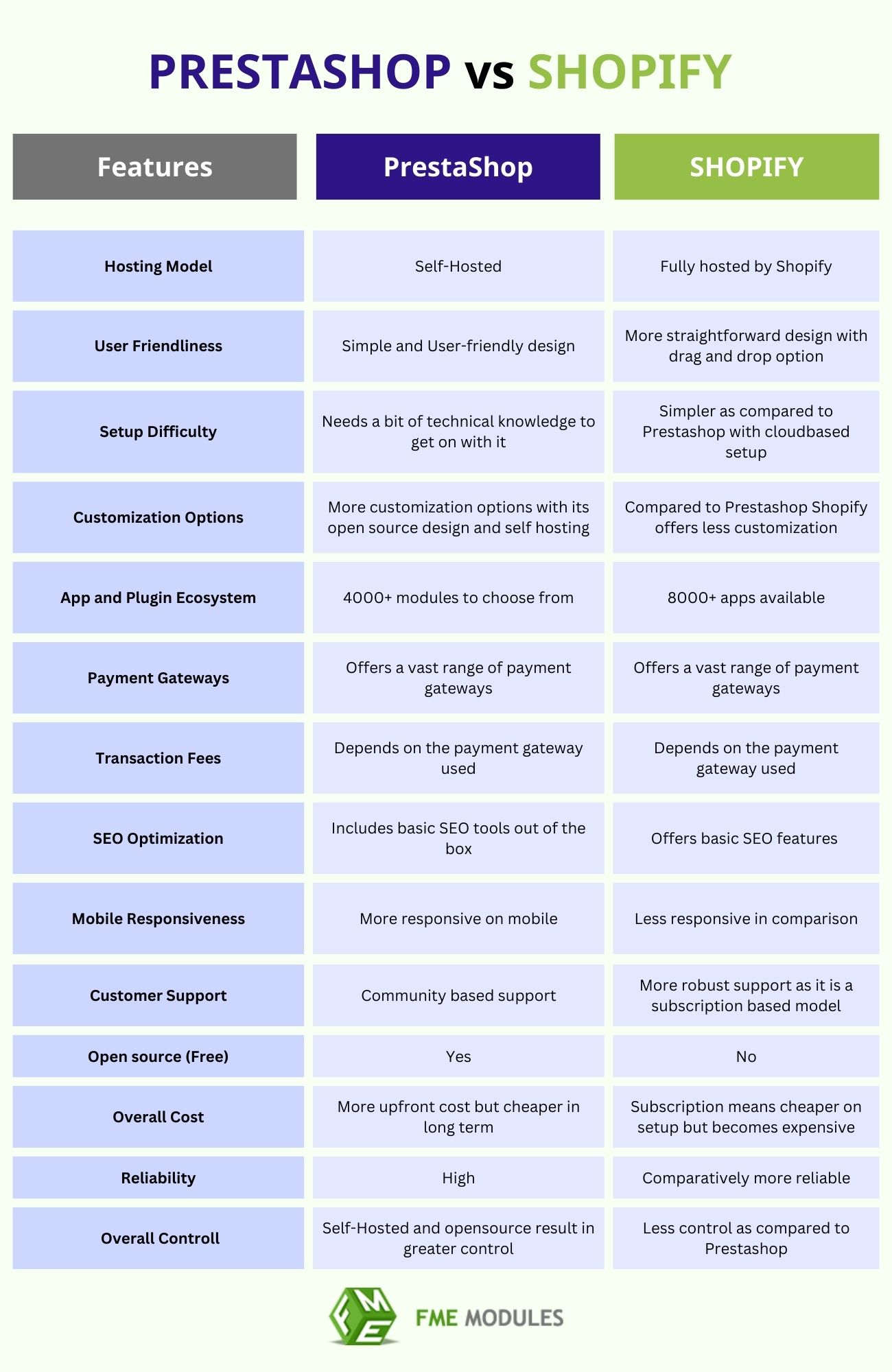 Overview of PrestaShop
A. Definition and History of PrestaShop
PrestaShop is a reputable and widely-used open-source e-commerce platform renowned for its flexibility and user-friendly interface. It was founded in 2007 by Igor Schlumberger and Bruno Lévêque. Soon after its arrival, Prestashop has grown from a French-based platform to a global e-commerce solution.
Since then, Prestashop has empowered businesses of all sizes to establish and manage online stores. It allows users to customize their online stores according to their special needs. As a result, it has become a popular choice among tech-savvy entrepreneurs and developers.
B. Key Features and Capabilities
PrestaShop boasts a comprehensive array of features, contributing to its popularity and reputation in the e-commerce community. Its key offerings are an extensive catalog of customizable themes, a user-friendly product management system, and multilingual support, enabling merchants to reach a diverse international customer base. Additionally, its built-in SEO tools help improve online visibility, while various marketing features facilitate promotions, discounts, and customer engagement. Furthermore, PrestaShop's integrated analytics give store owners valuable insights into sales performance and customer behavior.
C. Advantages and Strengths
One of the primary advantages of PrestaShop lies in its open-source nature, offering unparalleled flexibility and control to users. Entrepreneurs can tailor their online stores to align precisely with their branding and business objectives, creating a unique and personalized shopping experience. Moreover, PrestaShop's active community of developers ensures regular updates, enhanced security, and a vast selection of free and premium add-ons, providing users with continuous support and access to a broad ecosystem of resources.
D. Limitations and Weaknesses
While PrestaShop offers significant advantages, it is essential to consider certain limitations. The platform's open-source nature can be a double-edged sword, as extensive customization may require technical expertise, making it challenging for less tech-savvy users to manage certain aspects of their stores. Additionally, compared to some hosted e-commerce solutions, setting up and maintaining a PrestaShop store may entail higher initial setup costs, including web hosting and development expenses. Furthermore, while the platform does have a strong community, the level of official customer support can sometimes be a point of concern for merchants seeking immediate assistance with critical issues.
If you want me to summarize briefly, I would say that Prestashop is a powerful and versatile ecommerce platform. Why? Because it offers freedom and flexibility to many businesses wanting to grow their online businesses.
Its open-source nature, extensive feature set, and active community make it an attractive choice for those seeking customization and control.
However, assessing the technical capabilities, budget constraints, and need for dedicated customer support is important when choosing Prestashop.
Overview of Shopify
A. Definition and History of Shopify
Shopify is another awesome online shopping platform started in 2006 by Tobias Lütke, Daniel Weinand, and Scott Lake. Shopify is originally from Canada that has become a big online platform recently. It's like a one-stop shop for entrepreneurs and businesses who want to set up and run online stores without all the technical headaches.
One of the cool things about Shopify is that it handles all the technical stuff for you, such as server maintenance and security. The store owner can focus on selling products rather than chasing technical glitches. It's like having your team of tech experts working behind the scenes so you can concentrate on growing your business.
B. Key Features and Capabilities
Shopify's feature-rich environment offers sellers a seamless and efficient way to create visually appealing online stores.
It helps online business owners quickly customize the look and feel of their storefronts to reflect their brand identity from the various themes available.
It streamlines product management, inventory tracking, and order fulfillment, simplifying day-to-day operations.
Moreover, Shopify's extensive app store provides plugins and add-ons that enable users to expand their store's functionality and integrate with third-party services effortlessly.
C. Advantages and Strengths
One of the main advantages of Shopify is its ease of use and simplicity. Even a non-technical person and set up and launch their online store. Thanks to the intuitive interface and comprehensive documentation of Shopify. Shopify offers a hassle-free solution that enables sellers to focus on their business growth with secure hosting, automatic software updates, and reliable customer support.
Furthermore, it provides built-in SEO features, helping stores rank well in search engines and attract organic traffic. Shopify is consistent in performance and scalable to provide excellent solutions to startups and businesses of all sizes.
D. Limitations and Weaknesses
While Shopify offers numerous benefits, it's essential to consider potential limitations. As a hosted platform, merchants may have some restrictions on full customization, particularly for those with highly specific design requirements. While the app store enriches functionality, some advanced features may incur additional costs, impacting the overall budget.
Moreover, the monthly subscription model, transaction fees (for certain payment gateways), and potential bandwidth limitations need careful evaluation for cost-conscious entrepreneurs. Additionally, although Shopify's customer support is generally commendable, some users may seek more hands-on assistance, especially during peak seasons or critical issues.
In short, Shopify is a big ecommerce solution that offers an accessible and user-friendly solution for businesses. It helps business owners to establish and manage their online presence. Its impressive features, seamless scalability, and strong customer support make Shopify a great choice for entrepreneurs looking to rapidly launch and grow their online stores.
Comparison of Key Features
A. User Interface and Ease of Use
PrestaShop: PrestaShop's user interface provides users with a high level of customization and control due to its open-source nature. However, this can also mean a steeper learning curve for those less familiar with website development. Users with coding knowledge may find navigating and making advanced customizations easier.
Shopify: Shopify offers an incredibly user-friendly interface, making it accessible to beginners and experienced users. Its intuitive drag-and-drop editor and straightforward settings empower merchants to set up and manage their stores with minimal technical expertise.
B. Customization Options and Design Flexibility
PrestaShop: With its open-source architecture, PrestaShop boasts extensive design flexibility. Users can access and modify the platform's source code, allowing unlimited customization. However, this level of customization may require technical skills and potentially increases the time and effort involved.
Shopify: Shopify provides a wide range of professionally designed themes and allows users to customize them to align with their brand identity. While customization options are more structured than PrestaShop, the platform still caters to various design preferences without requiring coding knowledge.
C. App and Plugin Ecosystem
PrestaShop: PrestaShop's add-ons and modules are available through its marketplace and external sources. While there is a decent selection, the ecosystem may not be as vast as some competitors like Shopify, limiting certain niche functionalities.
Shopify: Shopify boasts a vast app store with thousands of plugins and integrations that enhance the platform's capabilities. From marketing and analytics to inventory management and shipping, Shopify's extensive ecosystem ensures users can find suitable solutions for their business needs.
D. Payment Gateways and Transaction Fees
PrestaShop: PrestaShop supports various payment gateways, allowing users to choose preferred options for their target markets. However, transaction fees depend on the selected payment gateways and may vary.
Shopify: Shopify integrates with numerous payment gateways, and while some transactions may incur fees, using Shopify Payments (available in certain countries) can avoid additional charges, streamlining the payment process.
E. SEO and Marketing Tools
PrestaShop: Prestashop is equipped with robust built-in SEO features, enabling users to optimize product pages, meta tags, and URLs easily. Moreover, Prestashop offers various marketing tools, including discount codes, email marketing, and abandoned cart recovery, enhancing user engagement and conversion rates.
Shopify: Shopify includes essential SEO tools, allowing users to optimize their stores for search engines. However, advanced marketing features might require third-party apps or manual implementation.
F. Mobile Responsiveness and Performance
PrestaShop: PrestaShop themes are generally mobile-responsive, ensuring a seamless shopping experience for mobile users. However, the overall performance may depend on the quality of the hosting service and the complexity of customizations.
Shopify: Shopify's themes are all mobile-responsive by default, guaranteeing consistent performance across various devices. Additionally, Shopify manages server maintenance and performance optimization as a hosted platform, contributing to reliable and fast-loading stores.
G. Customer Support and Resources
PrestaShop: PrestaShop offers community-driven support through forums and documentation, with some official support options available for a fee. Users can rely on the active community for guidance and problem-solving.
Shopify: Shopify is renowned for its excellent customer support, offering 24/7 assistance via live chat, email, and phone. The platform's extensive documentation and educational resources further empower users to resolve issues independently.
In conclusion, PrestaShop and Shopify possess distinctive strengths in various key features. PrestaShop's open-source nature grants advanced customization but may require technical skills, whereas Shopify's ease of use and exceptional customer support make it appealing to a broader audience. The choice between the two platforms ultimately depends on the user's specific needs, technical capabilities, and preferences for customization and support.
Final Thoughts:
In the dynamic world of e-commerce, comparing PrestaShop and Shopify reveals compelling insights. While both platforms offer unique strengths, PrestaShop emerges as the superior choice.
With its open-source nature, PrestaShop grants users unparalleled customization and flexibility, allowing businesses to create truly bespoke online stores. While Shopify excels in user-friendliness and customer support, PrestaShop's vibrant community and extensive array of free and premium add-ons, like Prestashop labels and much more, contribute to a thriving ecosystem.
PrestaShop's open-source approach makes it the preferred option for merchants seeking greater control and technical expertise.
In conclusion, PrestaShop is the better platform, offering the ideal blend of customization, features, and support for a flourishing e-commerce venture.