Prestashop Mandatory File Upload
Compatibility: v1.6 - v1.7 - v8.x
Version:1.0.2 (09/18/23)
Translated Into:






Prestashop Mandatory File Upload
Most Wanted

PrestaShop
v1.6 - v1.7 - v8.x
PrestaShop Mandatory File Upload is an essential module for those online businesses who needs information from customers before completing the order. Check Out button is replaced by a customizable text asking users to upload file.
Customized Add to Cart button to show File Upload alert
Apply on specific product or on whole shop
Limit upload file size
Multi-Lingual & Multi-Store
No subscription fee. Free lifetime support and upgrades.
Click to visit our PrestaShop Mandatory File Upload Module on PrestaShop Official Marketplace.
Product Screenshots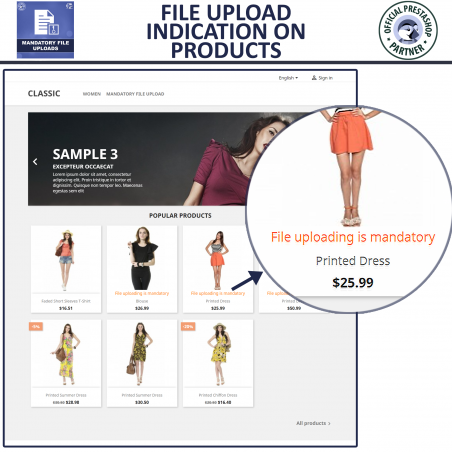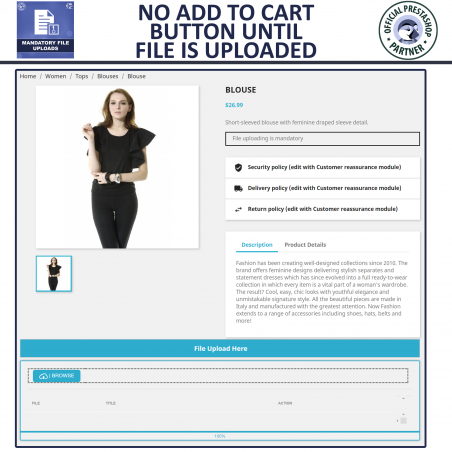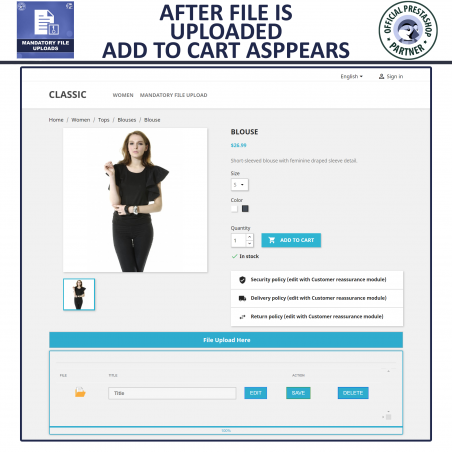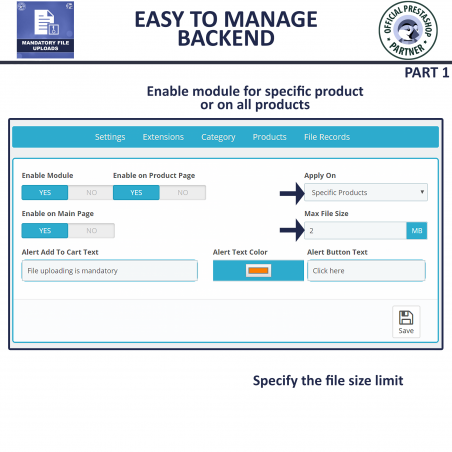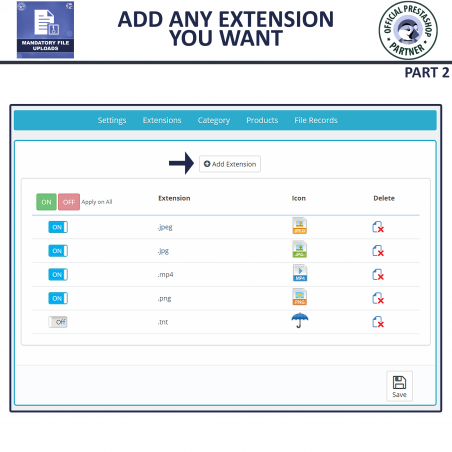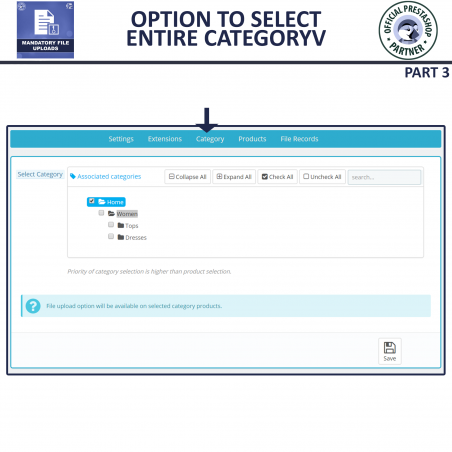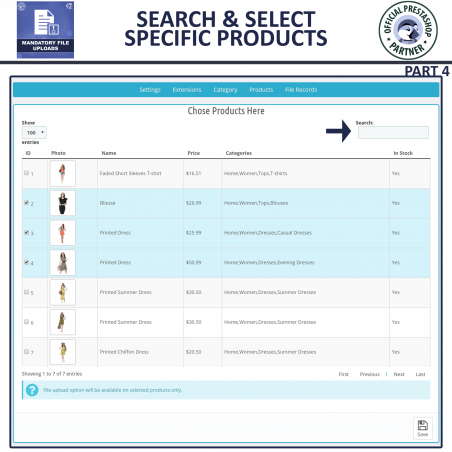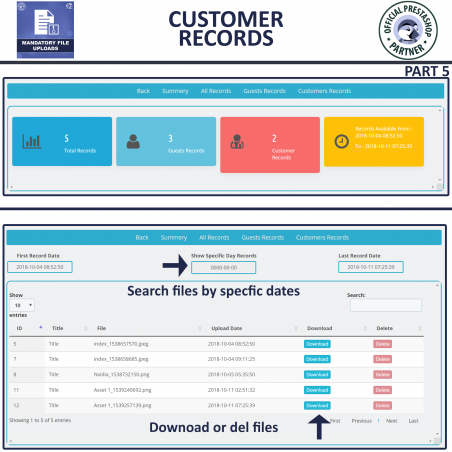 Overview of Prestashop Mandatory File Upload Module
Prestashop Mandatory File upload module gives admin the option to force file upload from visitors. The "Add to Cart" button will only appear after visitors uploads a file.
Advantages:
Prestashop Mandatory File Upload module makes it easy for merchants to clearly understand the visitor requirements regarding a product by letting them upload a file. The file can be a text document or an image. Admin has option to add new file extensions i.e .pdf, .psd etc.
This module is an essential requirement in the scenarios where input from the user or client is required. Mandatory file upload forces the user to upload a file by removing the "Add to Cart" button. Only when the user uploads a file, he / she then be able to proceed with the order.
The merchants can enable this module on a single product. There is also an option to enable "Mandatory File Upload" on the whole category.
With extremely well designed and easy to use BO, the merchant can customize module, select products and see all the file uploaded by the customers. Admin can filter files by specific date range. From BO admin can download and delete files uploaded by users.
Key Features of PrestaShop Mandatory File Upload Module
Add to Cart button will only be available after file upload
Allow customers and/or guests to upload files
Enable force upload on a specific product or whole shop
Option to enable force file upload on a specific category
Configure max file size
Enable uploading of PDF, JPG, PNG, DOC, etc
Select accepted file extensions
Easily upload any new file extension
Admin can download or delete file uploaded by the customer
The customer can upload more than one file
Search uploaded files by specific date range