Prestashop Quick Login as Customer Module
Compatibility: v1.6 - v1.7 - v8.x
Version:2.1.2 (09/18/23)
Translated Into:

Prestashop Quick Login as Customer Module
Login as Customer

PrestaShop
v1.6 - v1.7 - v8.x
Login as customer and see your store in action as how it appears to your user. This Admin Log in as Customer module helps you see your store as it appears to your customer that gives you insight into the full user experience. 
No subscription fee. Free lifetime support and upgrades.
Click here to visit our PrestaShop Login as Customer on PrestaShop Official Marketplace.
Product Screenshots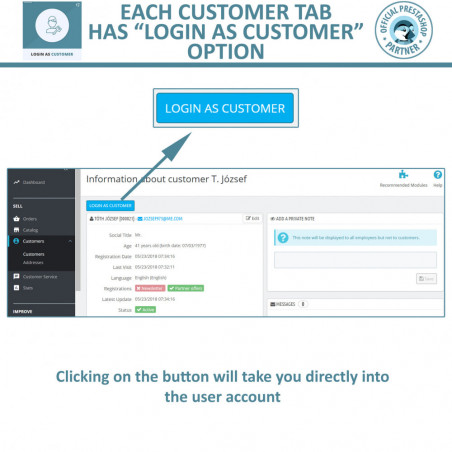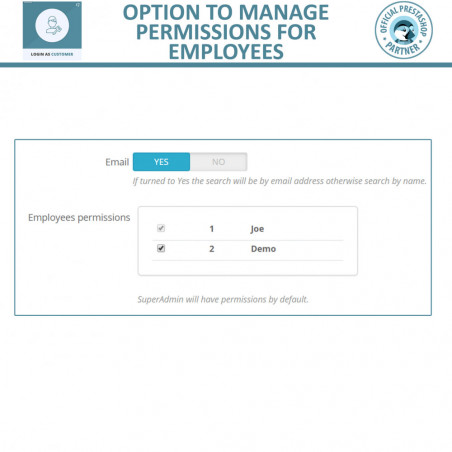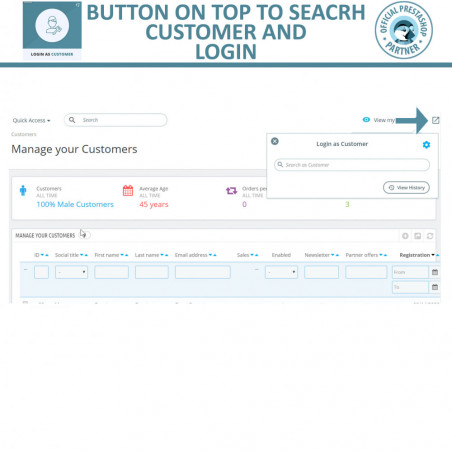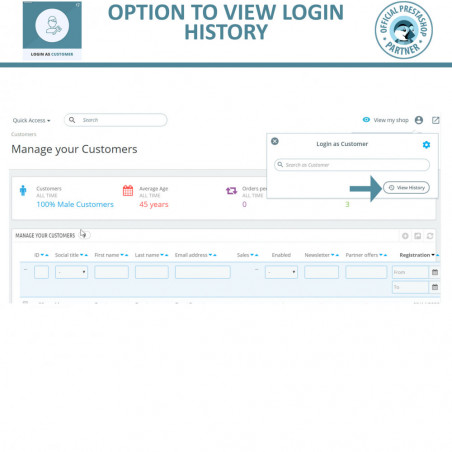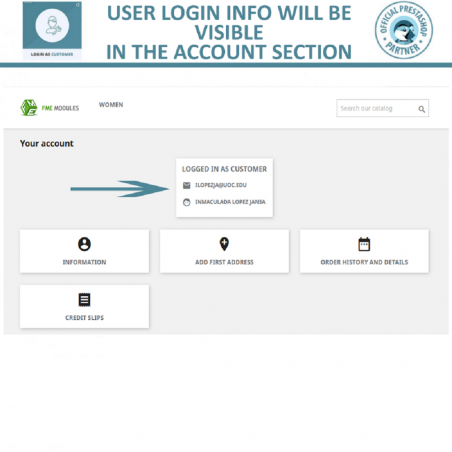 Login as customer module creates a button in each customer section, that when clicked will take admin directly into the user account. Admin can make any necessary changes from there as well if he/she wanted. Sometimes users are facing some issues/bugs that they are unable to report properly. This module comes in handy in situations like these where admin can log in as customer and assess the problem. If a customer has entered some incorrect information, admin can quickly change it from their account.
This Prestashop Log in as Customer module enables merchants to extend very effective sales support. If a customer is facing any problem in the checkout process, admin can login and resolve the problem then and there for the customer. You can also follow the complete shopping process as a customer and make necessary changes to make it as user-friendly and as smooth as possible.
Key Features of PrestaShop Quick Login as Customer Module
Login as a customer from backend
Login as a customer in each customer tab
Single click login
Option to change user data
Multiple permission options for employees
Option to search customers from email
Create orders as customer

Option to view login history

Message bar on the account page showing admin info regarding customer logged-in account.

Customer logout option when the admin is logging into a specific customer account.

Restores customer's last cart as is to admin, when logged in as a customer