Content Marketing Strategy For Prestashop Websites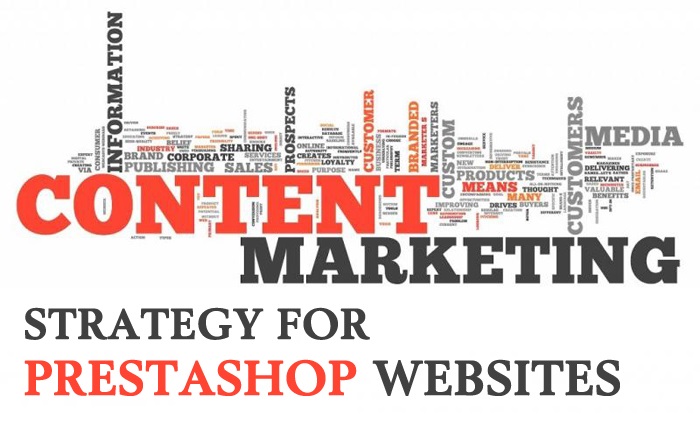 Posted On: Sep 14, 2018
Categories: Marketing
Content Marketing is a tactic of Search Engine Optimization. Content marketing is very important for online businesses today if they want to keep their customers satisfied and sated with useful information. The main purpose of content marketing is to come up with content that supports and promotes your brands and services to the audience.
Web content is no longer about splashing websites with specific keywords. It is now responsible for securing higher ranks for websites in search engines, as online marketers and now focuses on developing content, which is pleasing to the search engines.
In this article we have discussed about how Prestashop sites manage to keep their content lucrative and useful for customers.
Prestashop is an amazing open source ecommerce solution for programming savvy retailers. Creating Prestashop sites is very simple and the plus point is these sites can be customized with the help numerous Prestashop modules, which are available for free. It is indeed a complete ecommerce platform for online merchants today, providing them low barriers to enter the cyber market.
Setting Measurable and Attainable Goals
It is important for online marketers and content developers to come up with measurable and realistic goals when it comes to content marketing. For instance these goals can include increase in sales, increase in profits or encouraging additional registered users on the website.
Now these goals cannot be attained simply by bombarding prospects with advertisements running on televisions, magazines or billboards. This requires more than that. This is why online retailers have dedicated separate pages to blogs, news and articles relevant to their products so as to catch as many eyes rolling poring through the internet as possible. If you give some really interesting to audience to read, it is highly probable for them to keep coming back and increases your chances of sales.
Understand Your Audience Prior to Developing Content
Successful marketers would always undertake a thorough study on their target audience and try to figure out what kind of content do they want. What are they looking for to read and what is useful for them? This would greatly help online retailers and marketers to be specific and smart in their content developing to grab audience's interest, and converting leads into prospects. In this way you will not waste time in developing content which the readers don't even care about.
Choose the Best Communication Channel
One important thing to remember while making a content marketing strategy is to consider the variety of communication channels you would want to employ to distribute your content. This may include using a social network, your own company website, blogs, articles, e-books or news. But as a matter of fact, not all the channels are meant for every business. For instance Prestashop sites can consider using the following to modules on their ecommerce website to promote their content and capture more audience in order to increase gross margins:
Prestashop Blog
Blogs have also proved to be a useful channel in content marketing and increasing your contents Search Engine Optimization. With the help of blogs you keep your customers interested in your website and moreover, you can answer their queries prior to their asking. Blogs are an unobvious way of bragging about your company and your products and make customers feel that they are cared for, by continually providing them with informative content. But developing new content everyday is a formidable task. To do away with this worry, developers have come up with Prestashop blog Module through which you can regularly provide new content to your Prestashop website.
Prestashop blog is a fully integrated Blog page for Prestashop ecommerce websites. It allows admin and employees to easily create categories for blogs and save blog entries for future. It also allows registered users to leave comments about the blogs, at the end of the page. Having installed Prestashop blog on your website will allow you improve your SEO ranking by continually updating your web content. It allows you with an opportunity to share useful and practical information with your customers so as to provide them convenience with your products. And above all, blogs provide an engaging environment for your customers who in turn bring about additional traffic to your websites, thus having Prestashop blog on your ecommerce site is a must.
On the other hand, Prestashop blog is equally important and beneficial for customers as well. They can read articles of their choice and learn about those products of yours, that they are currently using or planning to buy in future. They can share their point of view in the form of comments they leave about a certain blog. And this ultimately leads to collecting feedback and useful information about your customers, to further tailor your services according to your clientele's needs and preferences.
Giving It A Final Shape
Once your strategies have been devised, market segments to be targeted have been decided and your content marketing goals set and communication channels selected, it's time for you to schedule a fully fledged calendar for your Prestashop site, based on what type of content will be produced, when it would be launched, and then add it to Google calendar and share it with all the parties involved.
Documentation is Important
It is important for Prestashop ecommerce sites to document their content marketing strategy. The retailers and web developers should ensure documentation of the content marketing goals as well, in the form of a list with a description of how different components of your content or the variety of content will impact these goals. Along with that it should also be mentioned in what way the content is relevant and meaningful for your audience.
Moreover, this document should also include financial or budget related information about the whole project.
Why documentation is necessary is for the fact that it will keep you on track, intact with your strategies and goals. In this way you stick to your content marketing plan, you can monitor your performance and always live up to your customers expectations.