Year End Sale Is Now Live - (Dec 1st - Dec 31st) - 25% Off - Code: FMMYS2023
How to Create Stylish Blog in PrestaShop?
Blog are important for PrestaShop ecommerce stores due to many aspects. They help to rank better in search engine while on the other way; they help to make website more users friendly increasing the time customers spend on your store. The simple rule is that you help the customer (through writing helping posts) and in return they will surely benefit you by purchasing from your shop.
How to Use Blog in PrestaShop?
PrestaShop by default don't allow creating a blog. Then here comes two solutions;
WordPress integration in PrestaShop
Blog create by a blog module
WordPress integrated blog needs two different backbends with complexity of integration while module created blog uses the same PrestaShop backend.
Which Blog Type is better?
A related post 9 Experts Reveal Which Blog Type Is Suitable for PrestaShop shows that most of the experts recommended blog module to keep the things really simple. Taking it important, "FMEModules" has developed PrestaShop Blog Module that not only can create a landing page for blog but also make it unique by offering all those functionalities that WordPress is offering.
Why to Prefer FMEModules Blog Module?
WordPress can just give a CMS look of blog but Article blog extension by FME for Presta exactly makes it to look an ecommerce blog. Therefore, this module is more useful for PrestaShop stores rather than WordPress Integrated Blog.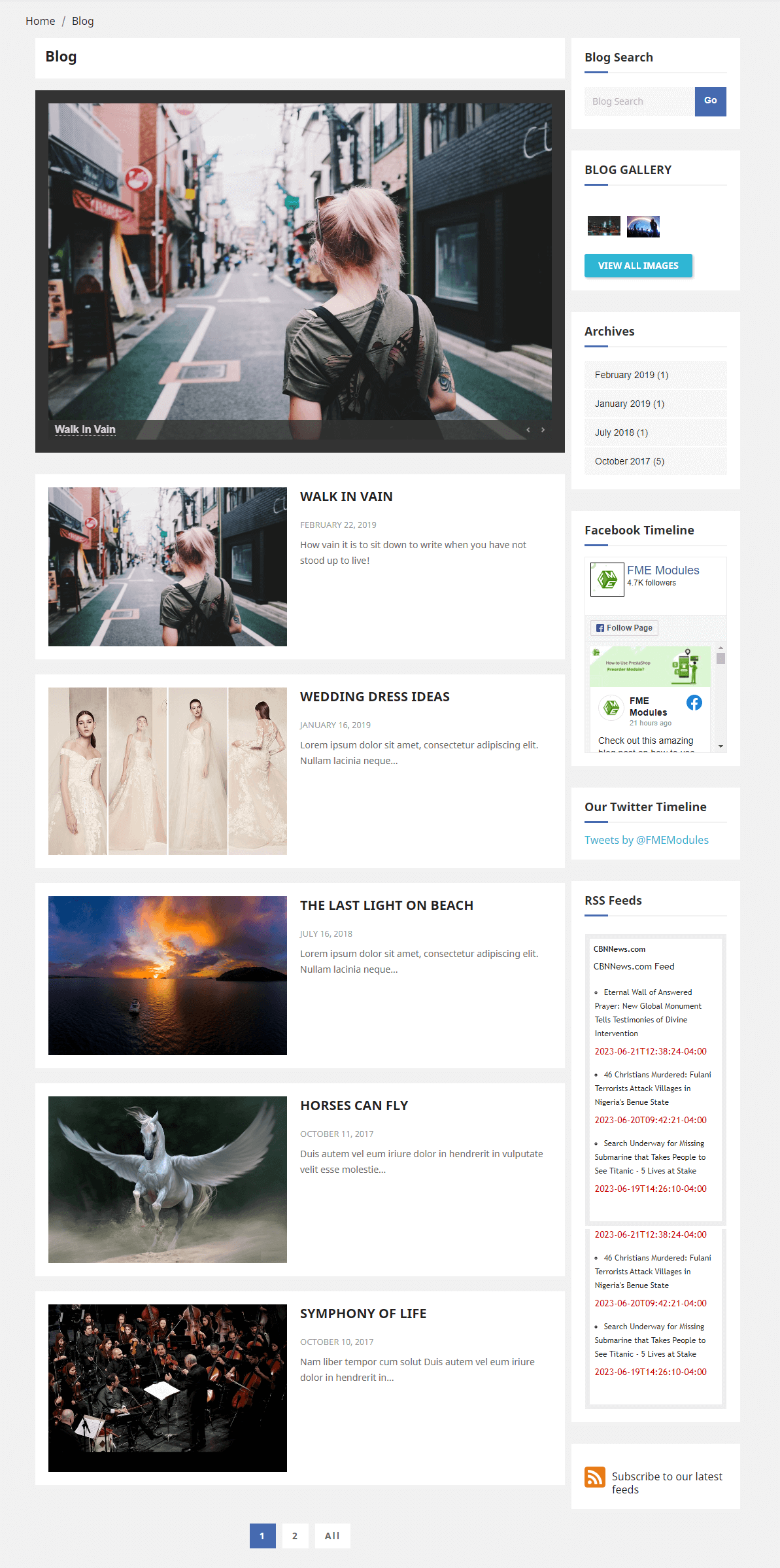 Top features of PrestaShop article module
Given below some top features of this blog module;
After installation of this module, a separate landing page of blog will be created on your store. It will show a separate tab on home page and reader can access your blog through that tab.
This module creates a search blog on your blog, through which viewers can search any article or term in the whole blog posts. Admin can set the title of search blog and change position of this block.
Metas Settings and SEO features
Admin can set the Meta title, description and keywords for blog posts, categories and landing page from a single interface. URL of articles can be customized.
Admin can create blog categories and set description, images, position and Meta from a single page. Blog categories can be shown on blog landing page in a left column block.
Social Sharing and comments Options
Blog module creates social sharing button by default under the blog posts. Comment with Captcha support is also available for comments. Admin can enable/disable comments for posts and also moderate them from comment moderation panel.
This module provides MCE editor support to edit/format content through which admin can include images and videos in posts. Admin can set tags and publication date and also can show related posts and products within the article.
Admin can edit the urls of posts to make them more reader friendly.
Blog Landing Page Options
On blog landing page, admin can show blocks for categories, recent posts, recent comments and archives. Admin can sort the posts; enable read more links, limit no. of posts on one page and breadcrumbs.
Admin can show blog posts on product page. This thing can give more exposure to the blog posts increasing the visits per page.
You can check the demo and more details here;
Summary
Creating a blog and especially with the help of blog module by FME will bring more happiness for you in the form of sales and revenue. If you have any question regarding this module, feel free to contact us.