Strangeloop Case Study - How can you Get 66% Boost in Conversions by Implementing Quick Checkout
Apart from the cost of investment, creating a functioning website requires optimization and profitable design. And it all accounts for nothing if the site is generating no profits and the conversion rate is well below par. 
The entire situation boils down to the checkout page, which is responsible for convincing customers to continue with their purchase. If the checkout is left unoptimized, the visitors will refrain from giving personal information such as social security and credit cards PIN, which are required for purchase. 
How do I boost Conversions? 
Conversion Rates can be boosted by the choice of checkout module. Choosing Quick Checkout over Multistep has become a rising trend. Even though Multistep remains the preferred choice among many users, it has slowly become outdated with its many page approach. Customers are now looking for fast paced checkouts that quickly accept information and the process the sales in a minimum of time. 
PrestaShop One Page Checkout Module is a rising star in the market because it promises results via practical implementation and has been deemed effective after extensive A/B Testing. It is one of the surest ways to find out how successful an approach is through its application for live field testing and keeping a tab on all factors such as visitors, customers and conversions. 
Tips:
9 Silly Blunders Every Conversion Optimizer Should Avoid
The Advanced Guide to Holiday Testing

Shopping Cart Abandonment is killing businesses 
The main problem many sites face nowadays is lack of conversion rates. Despite having invested heavily, visitors tend to browse the site catalogue but end up not purchasing products. Customers end up going halfway through the process of purchasing product only to end up abandoning site at the shopping cart. 
20 percent customers simply abandon site if it is not optimized for their experience. Not only that, they will never return to the site even if they intend to purchase similar products.
 Quick Checkouts have shown significant potential in terms of both theory and field testing. Single Page Checkout Module works by eliminating multiple pages to enter information. It simply displays all relevant information in one single page which can easily be filled.  
Since the majority of customers are now tech savvy and prefer sites which are built to their needs, fast checkout Module is a perfect addition to websites. Designed to deliver on many platforms including smartphones which are extensively used (close to 80% of users), it has shown excelling results of over 66% boost in conversion rates.  
 Case Study - How Strangeloop Boosted Sales!
To practically demonstrate the effects of non-optimized Checkout pages, a company named Strangeloop coordinated with an online business which was experiencing a sudden drop in conversion rates.
 Even though the business had average number of visitors, they were failing to sell product. Analysis confirmed that the majority of leads were ending up in shopping cart abandonment. This is only caused when the customer reaches checkout page and bails, so it was held as the main culprit.
 Optimizing the Checkout Page 
With the problem in sight and the goal set to increase conversions, different pages were created with varying set of characteristics. A/B Testing was implemented since it promises to evaluate best solution as per scenario. 
In some pages, intentional delays were added to see how the customers would react. In others, Multistep and Quick checkout were used to see which would yield more conversions. 
The results were striking. Only 2 out of 15 customers completed their sales if there was even a 2 second delay in any of the Multistep Checkout pages. This caused a massive 60% drop in conversions overall. 
Why did Quick Checkout Module boost conversions? 
Quick Checkout plugins such as PrestaShop Checkout Module by FME are excellent for implementation on field to get results. In this study, a quick checkout was put in place to see how conversion rates would be altered.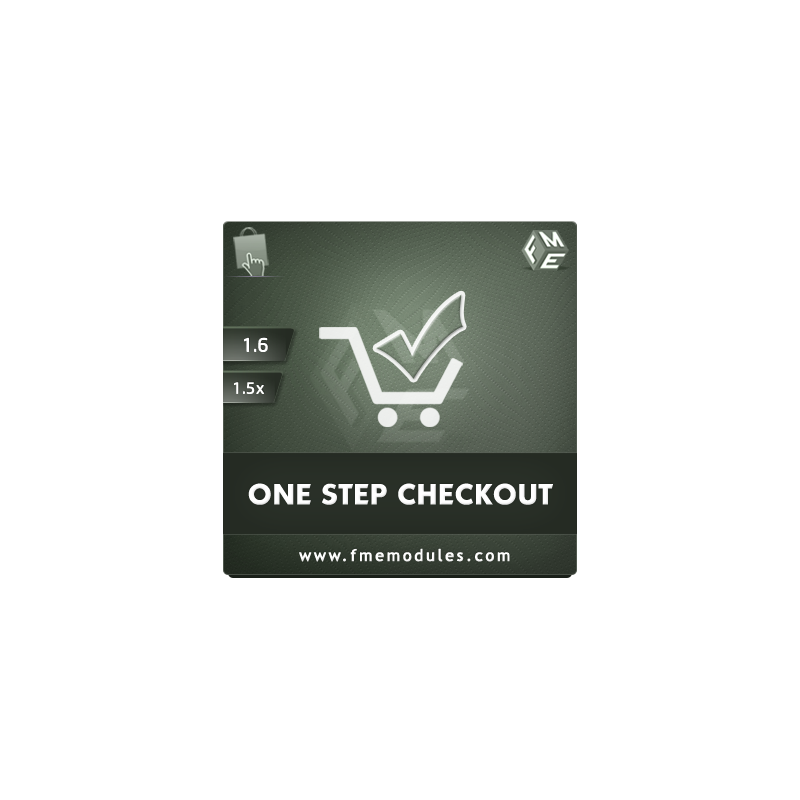 Following are some of the reasons quick checkout boosted conversion rates: 
1. One Step solves all problems 
Instead of opting for many different pages to keep loading one after the other when information has been added quick checkout is a simpler choice which eliminates these problems altogether.
 In the case study, a 60 percent drop in conversions was seen when Multistep checkouts were used. This was attributed towards the loading time between each page. One Step checkout only needs one page to enter all data, so it proved a much faster choice. 
With a One Step Checkout in place, the site immediately experience over 60 percent increase in profits, with leads finally resulting in conversions. 
2. Increased Page Security of Quick Checkout 
Quick Checkout isn't just about being better; it is also about providing your customers the security they need. Only then will they be willing to purchase product. During page refreshes in Multistep, the customer is prone to phishing attacks which can steal data. Site can hang from DDoS attacks during which cyber criminals move in to steal data. 
With a single page handling all data, the risks of crash during operations is close to zero. This protects customer from both data steals from new pages or cyber criminals who are looking to freeze site and pinch valuable information from live customers. 
3. Optimized, Streamlined and Efficient User Interface 
User experience is critical in deciding how the product and services will be perceived. Modules such as one click checkout in Presta are specifically designed to cater to needs of customers with their reliability, speed and efficiency of operations. 
Admins have a much greater degree of flexibility and control over how their page will look. The themes can be selected from a wide category, button text can be changed, columns can be set as admin wants and fields can be selected and created. All these options make PrestaShop One Page Checkout a highly versatile tool. 
4. No Delays Midway 
80 percent of customers end up in shopping cart abandonment if a page has not been optimized to serve for their experience. Multistep has chances of delays because each page has to be refreshed after entering information to load the next one. 
With Quick Checkout Modules ready to cater the customer needs, over 66 percent are willing to buy the same product that they had decided not to because of improperly customized checkout page. 
5. Adapts to Mobile Platforms 
80 percent customers shopping online are doing so from mobile devices. This makes mobile optimized checkout pages critical to serve for the majority of shoppers. QUick order Module fits like a glove in this matter, with its ability to scale as per user hardware. 
It appeals to the majority of customers because the fields can be set as the admin wants, there are numerous themes to choose from and many options to change the outlay of page. 
6. Minimum Questions Asked 
Customers are already picky about giving confidential information online and asking them too much data can cause them to abandon site. 33 percent customers related to sites which were too intrusive and caused them to abandon cart. 
Quick Checkouts can be set to ask a minimum number of questions through concise fields. It allows new fields to be created which can be used to replace old fields altogether. This allowed the company to boost its conversion by convincing more customers to enter their data. 
7. A Greater Customer Experience 
It's all about how the customer sees you. An overwhelming 96 percent of visitors concluded graphics are critical in deciding if they will stay or leave. The previous pages were all crowded with erratic placement of fields and ads all over the place. 
With a quick checkout module in place fields were reorganized, page layout was restructured, intrusive unwanted ads were removed and the page was created to be simple yet capture the attention of visitor so that they pull through with the purchase process without hitches. 
These practices allowed the overall conversion rates to jump to 66 percent with 11 to 12 out of 15 customers pulling through with their purchases. Their success ratio can be wholly attributed to the implementation of Quick Checkout as proven statistically and field testing.
8. Quick Checkout: It goes well beyond 66% 
The case study clearly exhibits the potential of quick checkout modules, which are designed to be reactive and be capable of being optimized to the maximum to facilitate user. Their potential does not just lie in this; they are created to serve the new generation of customers who prefer speed, efficiency and usability above all things. 
PrestaShop One Page Checkout for example has shown potential to increase sales for up to 150 percent in other studies. With practical implementation made easy, success ratio yielded through A/B testing and many positive reviews from online businesses, it is time to embrace the change in marketing and evolve to get ahead in competition. Quick Checkouts are a much more successful model of marketing and implementing them ensures a more economical business and greater conversion rates. 
Related Downloads