Cyber Monday Sale Is Now Live - (Nov 27th - Nov 30th) - 40% Off - Code: FMMCM2023
How to use PrestaShop Preorder Module?

Posted On: Jun 21, 2023
Categories: Marketing
Empower Your Customers with Unparalleled Freedom Using Preorder and Waiting List PrestaShop Module. It allows you to take orders in advance if the product goes out of stock; it is in shipment or the due process of production and manufacturing. Immerse your customers in a world of possibilities with our revolutionary Preorder and Waiting List PrestaShop Module. Say goodbye to disappointment caused by out-of-stock products and embrace a seamless preorder experience. Use the module to advance your online store with the latest ordering system. Let's explore the remarkable features that await you:

Unleash Preorder Potential: Enable preorder functionality effortlessly on any product, including its combinations and variations. Empower your customers to secure their coveted items ahead of time.
Flexible Options, Seamless Management: The preorder module PrestaShop allows you to turn preorder and subscription options on or off at your convenience. Maintain complete control over your store's inventory and customer expectations.
Embrace Partial Payments: Enable partial payment functionality, allowing customers to secure their preorders by paying either a fixed amount or a percentage of the product price.
Dynamic Partial Payments: Empower customers to choose any amount within a specified range between the minimum expected price and the actual product price.
Streamlined Email Notifications: PrestaShop preorder module automatically sends email notifications to buyers and subscribers when the product becomes available.
Countdown Timer: Create a sense of urgency and anticipation with our captivating countdown timer feature. Display the countdown on the product page, urging customers to act quickly and secure their preorders.
Customizable Buttons: Make your preorder and subscription buttons shine with your brand's unique identity with customization options. Create an immersive shopping experience that captivates your customers from start to finish.
How to install the PrestaShop Preorder module?
Download the PrestaShop preorder module.
Navigate to the Module Manager section in the back office of your PrestaShop store.
Click 'Upload a module.' Drag and drop the module you have downloaded in the first step.
Once the module gets installed, move to its Configuration settings. Modify general settings like: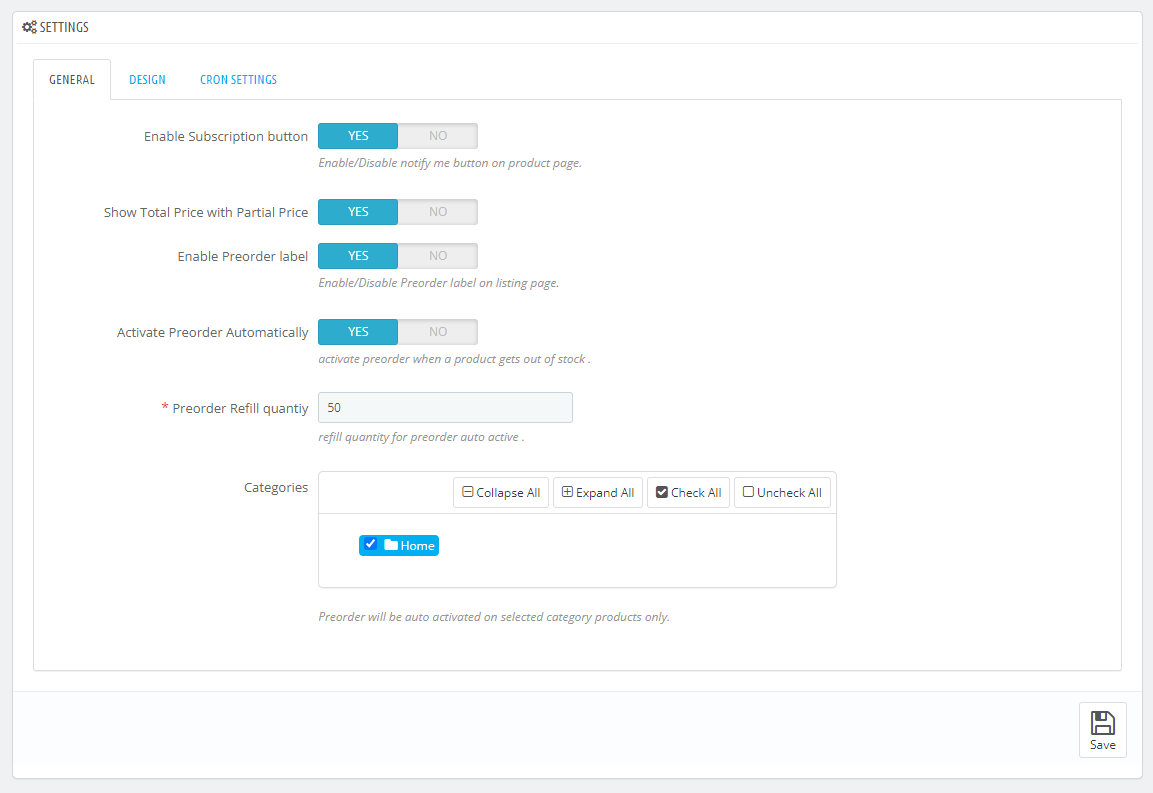 Enable subscription button 

Show total price with partial payment 

Enable preorder label

Activate preorders automatically

Set preorder refill quantity 

Select categories to apply preorders
Move to the 'Design' tab in configurations and modify: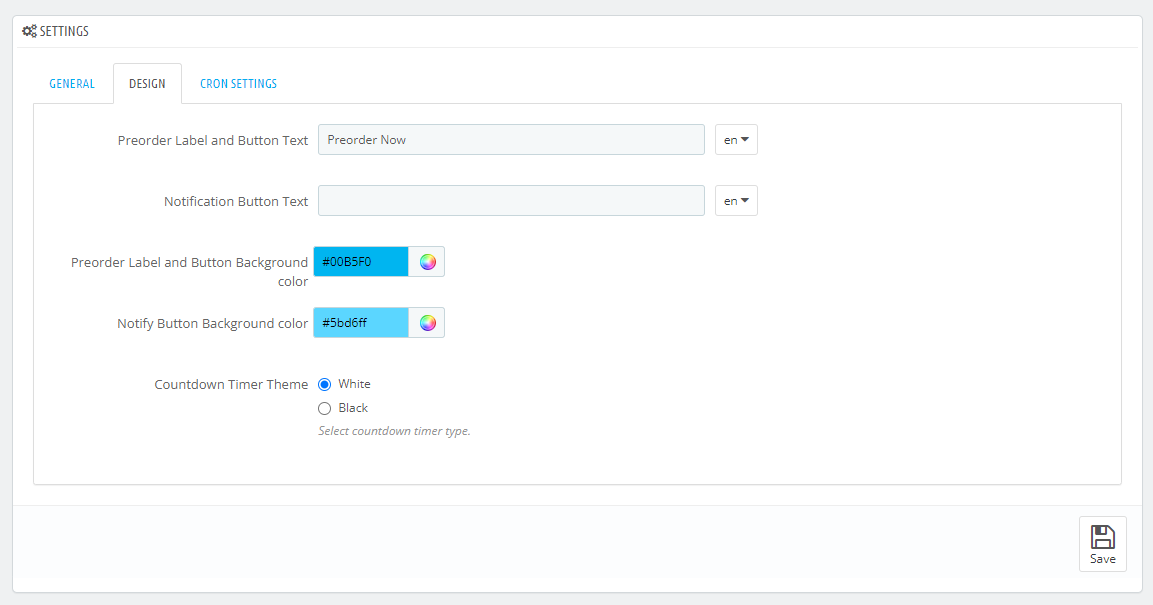 Preorder label and button text

Notification button text

Choose text and background colors of buttons

Select the countdown timer theme

Review cron settings 
Once the configuration settings are complete, click the 'Preorder Products' section. Hit the plus (+) sign to create preorders. It includes:
Search products 

Change preorder status 

Allow subscription 

Enter availability date

Enable countdown 

Set preorder quantity 

Choose payment method as complete, partial, dynamic

Enable reservation with the number of days

Add preorder text 

Hit Save, and it is created. 

You can make more rules to manage product-specific preorders. 
Review wait list 
This module also allows customers to sign-up for the PrestaShop waiting list. If they are not willing to place preorders, they can subscribe to get a notification when a product is available in stock. Admin can review the waitlist to check the product demand. 
How does PrestaShop Preorder work on the front end?
Successful installation and configuration of the PrestaShop Preorder module will lead you to review the front-end changes in your eCommerce website. 
An additional call to action button stating 'Book Now, 'Preorder Now,' or the custom text will appear on the products you have added to the rule. It is for customers to know the products they can order in advance. 
The 'Book Now' button is followed by the 'Notify Me' or 'Subscribe' button for the users to be on the waiting list and get email notifications when the product is available for orders. 
Partial payments - If you allow customers to continue with partial payments, they can get a detailed payment plan on the product page. The customers will know the amount they must pay upfront and the remaining amount on the landing page. 
Dynamic or full payment option – The product price will appear according to your selected payment option. 
Countdown timer – Review the front-end timer to ensure it works well and does its purpose. 
If the admin selects the Preorder price in the Partial/Dynamic payment preorder display price field, then the price will be displayed on the product and category page.
Conclusion 
Using the PrestaShop preorder module is discussed in detail. This post can help you start accepting preorders, create a waiting list, and manage product stock more effectively.