Cyber Monday Sale Is Now Live - (Nov 27th - Nov 30th) - 40% Off - Code: FMMCM2023
How to configure and use Gift Card Module For Prestashop

To keep your business running, it is important to try innovative strategies to make the customer come and refer your store to others. Adding Gift Cards as products to your PrestaShop store is one of the key marketing and customer loyalty schemes that can boost your store sales fast.
What is meant by a gift card?
The gift card carries a value, issued by an eCommerce store so that customers can use it as a payment medium. It is the digital form of gift certificates and vouchers if you have ever used them in a brick-and-mortar store. It is used to purchase products online, redeem them as a voucher, or shared them as a gift to someone to go and shop items of choice from the store.
It is an effective strategy to engage customers and grow an online store. To configure and use it in PrestaShop, you may need to install the gift card PrestaShop module. This tutorial is going to help add functionality to your store without any coding or complex modification.
How to Configure and Use Gift Card Module for PrestaShop?
This is a step-by-step guide to configuring and using the module. Follow it and you will add and utilize the feature without any hassle.
Step 1: Download the PrestaShop Gift Card module to your computer system.
Step 2: Log in to your PrestaShop control panel, navigate to the Modules section, and click.
Step 3: Click on the sub-menu i.e. 'Module Manager' and hit 'Upload a Module'.
Step 4: Upload the file you downloaded in the first step and continue with the installation.
Step 5: Proceed to the basic configuration and a separate tab of Gift Cards will appear in the control panel. Click it and a sub-menu may appear.

Step 6: Click 'Add Gift Card' and a dashboard to create and manage gift cards will open. Hit the plus (+) sign to add new and fill in the details.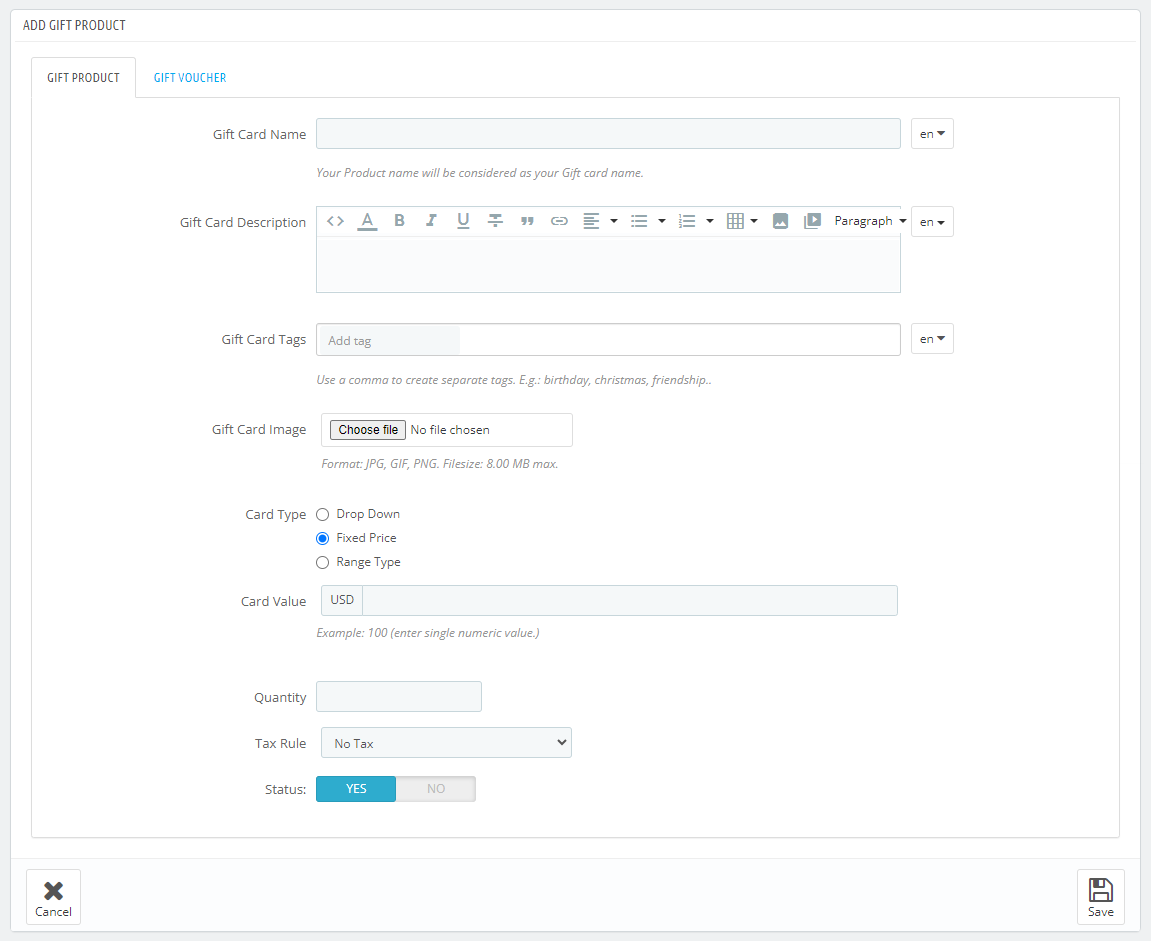 Write the gift card name, description, tags, and image. Select a gift card type and value, which can be of a fixed price, a range, or multiple prices displayed in a dropdown menu. Enter quantity and tax rule. Click Save and it adds to the catalog.
Step 7: Alternatively, you can create gift vouchers for store users to send to their loved ones. Configure the creation of gift vouchers with discount type in percentage or equal to the amount of gift card, apply a discount to complete order or specific product. You can set coupon code length, type, and validity period.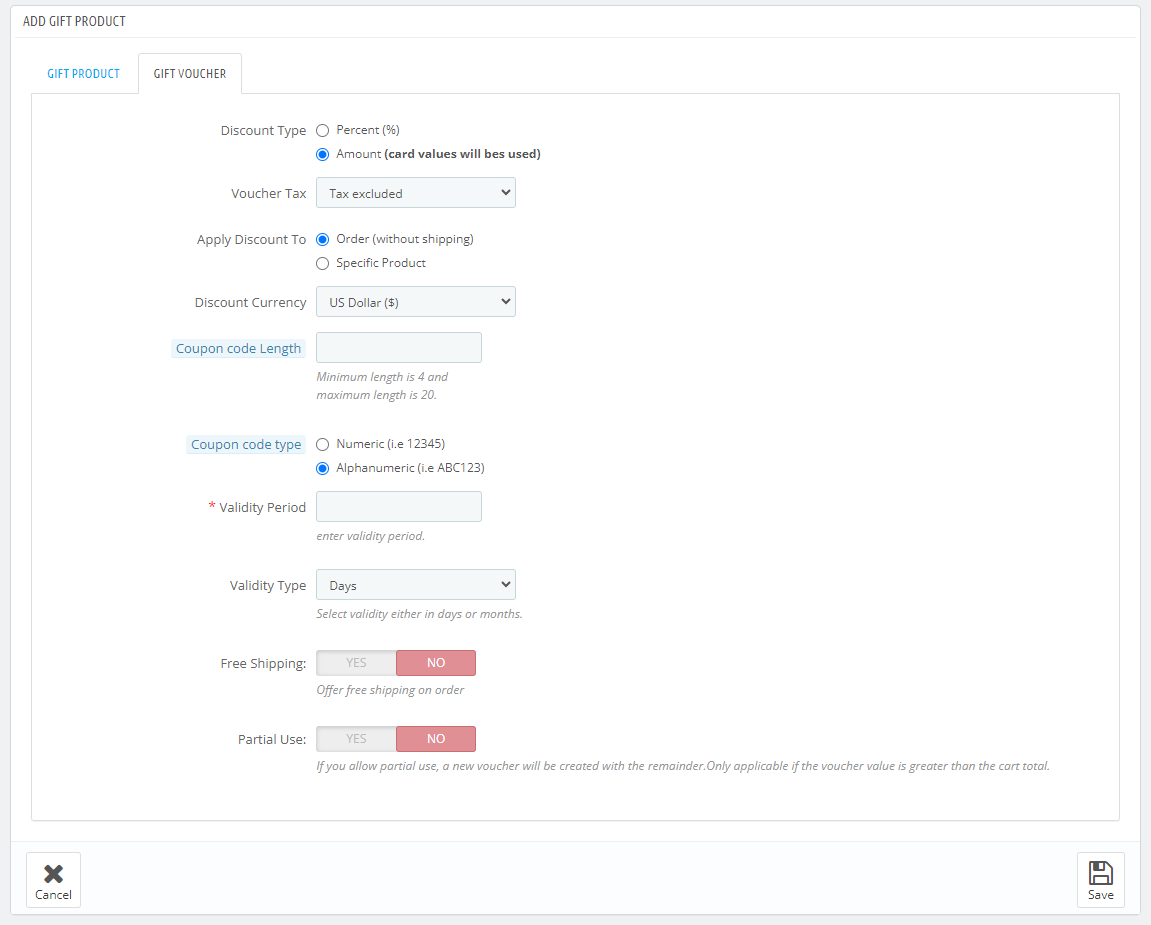 Step 8: You can allow free shipping and/or partial use of the gift voucher. Click Save and your gift card product is created.
Step 9: Click 'Email Templates' beneath 'Add Gift Card' to choose or create an email template for gift card communication. Make it more impactful with creative email copies and links to your website or social accounts.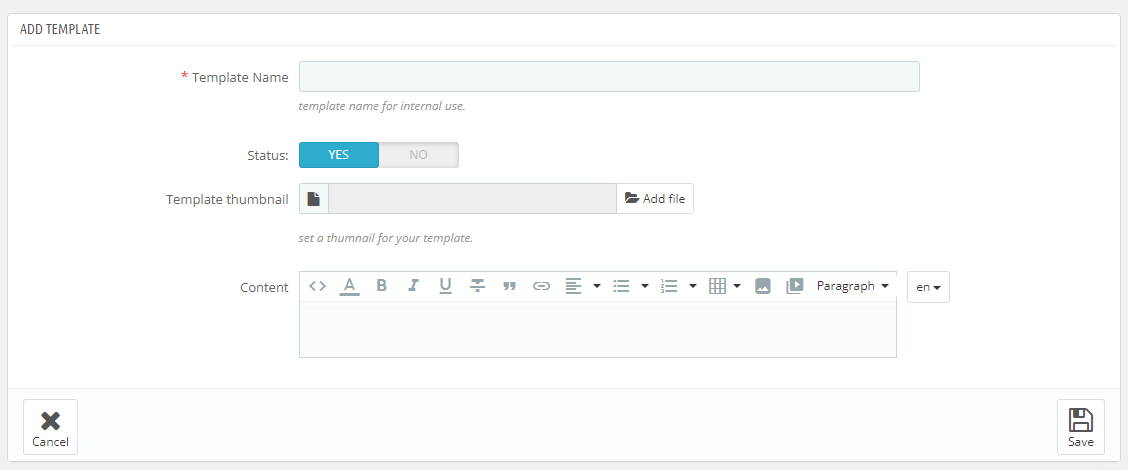 Step 10: All the orders made through gift cards appear in a separate section that is labeled as 'Ordered Giftcards'. Here, you can search for a specific order, check details, change payment status, and edit or remove.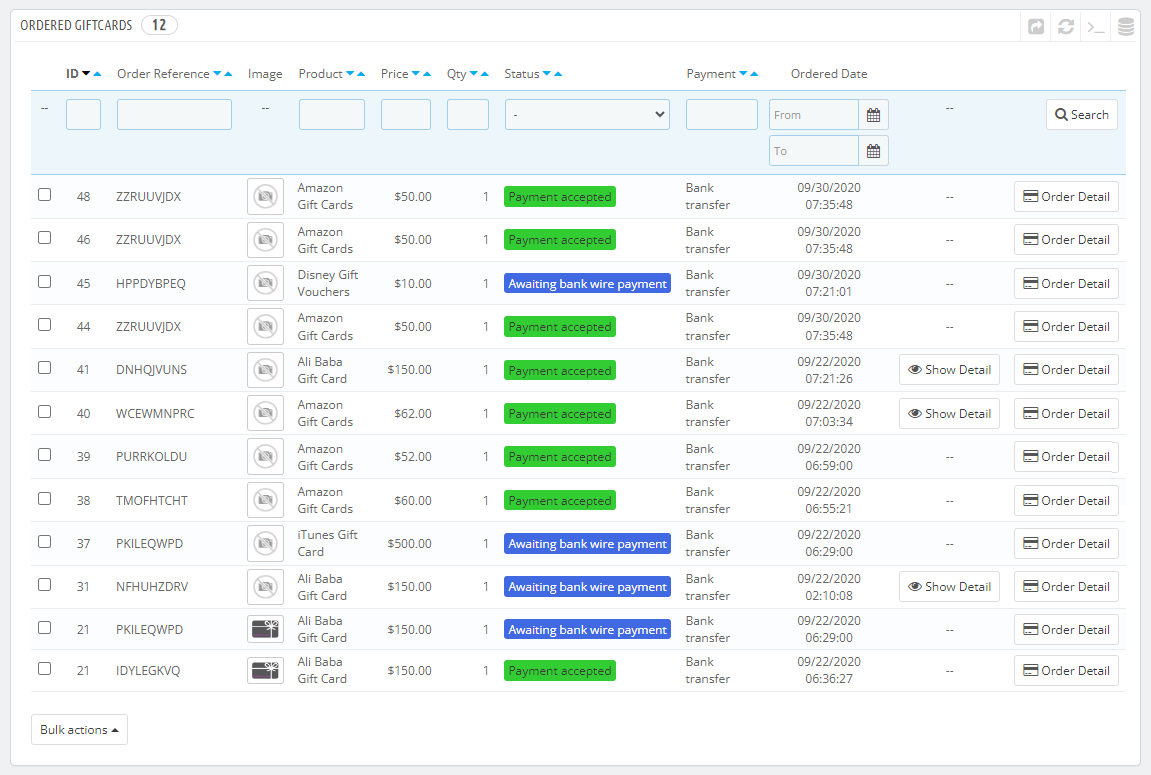 Step 11: Once you are done with all the settings, you can test functionality with test purchase. It works by sending a code to customers' email, which is then used by the recipient to use the gift card amount for product purchases.
How Gift Card module for PrestaShop can benefit your store?
The Gift Card module for PrestaShop benefits your store in several ways. Following are some of the advantages that may compel you to have it added to your store.
Boosts Revenue
Allowing customers to create gift cards for their family and friends gives your stores a boost in revenues. It shows their trust in your store, which is making them refer others to buy gifts from the store. Gift cards are often prepaid, which raises funds before products are sold. You get better cash flow management and sales proceeds.
Gains Referral Customers
In pursuit of sending gift cards to friends and family, your store users are introducing your store to new customers. People who receive gift cards are required to shop for products of their choice. In a single purchase, you gain the trust of both, the gift receiver and sender. If the strategy works well, it can bring in more referral customers by word of mouth.
Increase Seasonal Sales
A gift card is a great idea for people who are unable to decide a pleasant for their loved ones. They are often confused about whether the gift will be liked or not. By introducing a gift card, you solve their worries and let the product selection on the gift receiver. Such a strategy can bring you a bunch of seasonal sales like on Christmas, back to school, New Year, Easter, Thanksgiving, Boxing Day, or any special day such as mothers' day, fathers' day, or Valentine's. You can also take advantage of the feature for gifting on special occasions if you have a catalog of wedding items, anniversaries, birthdays, bridal showers, or baby showers.
Minimizes Returns
Gift cards are flexible. It allows users to shop for anything they need. They take their time to utilize the credits for the best items, which minimizes the return rate. They love what they order in return for the card.
Improves Branding
Establish your PrestaShop store into a brand by making customers discuss it in social circles. A gift card is an effective way of providing them with a reason to talk about your store. Whatever they communicate, your brand logo remains intact. Let it be the gift card, sharing links on social media or communication networks, on the cart items, and packaging.
Collects Valuable Data
Track purchases through gift cards to know more about the catalog items people are buying in a season or on their special occasions. It gives you valuable insights into consumer preferences so that you can make better decisions for the next campaign or stock order.
Conclusion
The PrestaShop gift module is a useful tool to increase user engagement and boost sales in a creative and fun-loving way. It also helps in branding, increasing the customer base, and maximizing customer loyalty. It is a significant strategy for growing an online store and leaving a mark for the better shopping experience.