Year End Sale Is Now Live - (Dec 1st - Dec 31st) - 25% Off - Code: FMMYS2023
What's the Best Pick between Prestashop & WooCommerce in 2023 - Side by Side Analysis!

A person having interest in eCommerce, clearly knows that there isn't any clear winner between WooCommerce & Prestashop when it comes to comparison. Both have strengths and weaknesses of their own. In this roadblock argument, we are going to discuss which platform is best, Prestashop or WooCommerce in 2023, that will suit well to your needs. Certainly, there isn't any clear winner between WooCommerce & Prestashop when you do a head-to-head comparison. Both have strengths and weaknesses of their own.
But there's a thing to consider before you choose which one is the ultimate pick for your online business. It all depends on the nature of your business and technical requirements.
And when it comes to technical solutions and the nature of your eCommerce store, there's a lot to discuss.
Setting up an online store is challenging. A great majority of us are stuck in product selection, while others have all the requirements, but are unable to take a step. You are here to read the difference between PrestaShop vs WooCommerce, which shows you are among the doers. For your help, we have drawn a comparison between these two giant and popular eCommerce platforms. Review each platform concerning the technology, features, and security it offers to decide which one is best for you.
Just keep reading!!
Overview: WooCommerce Vs Prestashop!
Before we dig deeper, a quick overview would be fine to know the background of these two giant platforms that emerged and evolved.
Prestashop:
Released first in 2007, the content management system –Prestashop has gone up through the ladders of highly reputed & dependable platforms for eCommerce businesses with a steady upward growth.
PrestaShop is considered one of the pioneers to release a dedicated eCommerce platform with open-source code. It has simplified setting up online stores by getting the software free of cost and installing it on a hosting server.
With a multitude of themes and modules, the platform allows endless customization to mold a simple store according to the scope and requirements of a business. It can be for an online grocery store or a clothing one, online booking and reservation for hospitality or healthcare businesses, or any auction-based businesses.
Additionally, the platform offers outstanding scalability options. You can start with a local online store and expand it into a multiregional and multilingual store. PrestaShop, just like other website builders such as Magento, Drupal, or Joomla does not offer dedicated support. you have to manage and fix every issue yourself the way you manage its hosting servers.
Pros and cons of PrestaShop
PrestaShop benefits an online seller or merchant with several features. However, it still has limitations to offer.
Pros
Easy to install
Budget-friendly
Easy to customize
Demographic assistance
Secure payment
Cons
No official support team
Need the training to manage
Though you can choose Prestashop for any other requirement it's an ultimate choice for eCommerce business.
It's where WooCommerce acts on a distinct edge, as it provides flexibility put forward by WordPress.
WooCommerce:
WooCommerce would not have known so much if it was not based on WordPress. WordPress is one of the popular content management systems for static websites and blogs. It has garnered a huge user base and fan following, who turned into WooCommerce users with the advent of its plugin. It would not be wrong if we say WooCommerce is not a standalone platform as it is a plugin that adds cart functionality to a WordPress website.
It became popular because of the easy and simple user interface it offers to users. If you have ever managed a WordPress blog, you may be familiar with the ease of creating pages, publishing a blog, and maintaining the website. Doing so is much easier in WooCommerce. It is the reason; this platform is surrounded by a greater community of users, developers, designers, and online sellers.
Being open-source software, you get the leverage of customizing the store according to your requirements. There is no technical support from WordPress or WooCommerce, but the excess of learning resources and documentation helps a lot in fixing and resolving issues.
Pros and cons of WooCommerce
WooCommerce is getting a larger market share because of its simplest user interface. However, its reliance on WordPress is a major drawback. Let's find more of its advantages and disadvantages.
Pros
Simple and easy user interface
Endless customization
Larger community
Flexible to scale
Cons
WordPress reliance
Store based on WordPress theme
Poor SEO features
Expensive to install premium
Security vulnerabilities
Who is the Best Trend Setter? WooCommerce Vs Prestashop!
No doubt, you can expect a lot to explore when you see WooCommerce Vs Prestashop. Prestashop is older than WooCommerce and has stayed an ultimate solution for business owners. However, WooCommerce on the other hand is new but still clashes horns in nearly everything to win the title of Best eCommerce Platform.
As Google Trends reveals the higher number of searches evolving for WooCommerce make it one of the fast-growing platform out there.
However, you can't judge a platform entirely by search factors. You can play around with both platforms and see which one provides more options and flexibility.
Besides, you can use extensions on both platforms to that expand the horizon of capabilities and possibilities of customization. It's something a developer will tell you more in detail with in-depth insights.
WooCommerce vs. PrestaShop – Detailed Comparison
In general, most of the eCommerce platforms seem to be the same. However, after a thorough understanding and feature comparison, you get to know their strengths and weaknesses. here is a detailed comparison of PrestaShop vs WordPress WooCommerce that may help you to conclude as to which one is best for setting up your online store.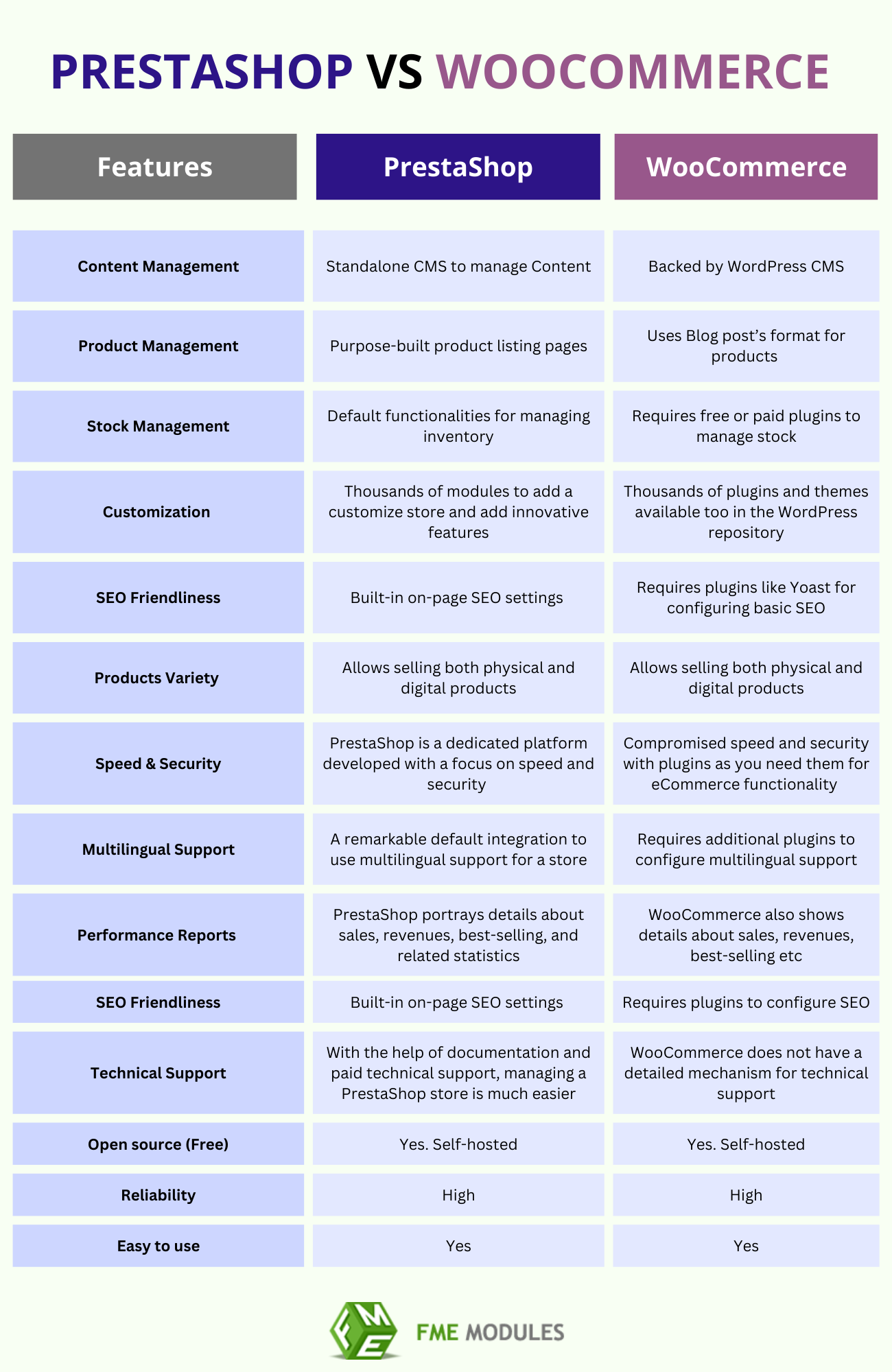 Feature-wise Comparison: WooCommerce Vs Prestashop!
To run smooth operations, both platforms offer a set of features for business owners. The dev team, on the top, provides features to present its product as unique from its competition. It improves user experience plus adds value to operations.
We have thoroughly analyzed both platforms on several ends to provide you with the right idea to choose an eCommerce platform. 
Content Management:
If you want to consider content management on both platforms, I am pretty sure that WooCommerce has the lead. Because it provides an underlying WordPress layer that offers an extraordinary content management system.
On the other hand, when it comes to CMS to create pages and put information, Prestashop provides limited options.
WordPress offers Classic and Gutenberg editors where you can create and customize fields and pages.
WooCommerce is an incredible option in CMS since you need to manage a lot of information and pages on your eCommerce store.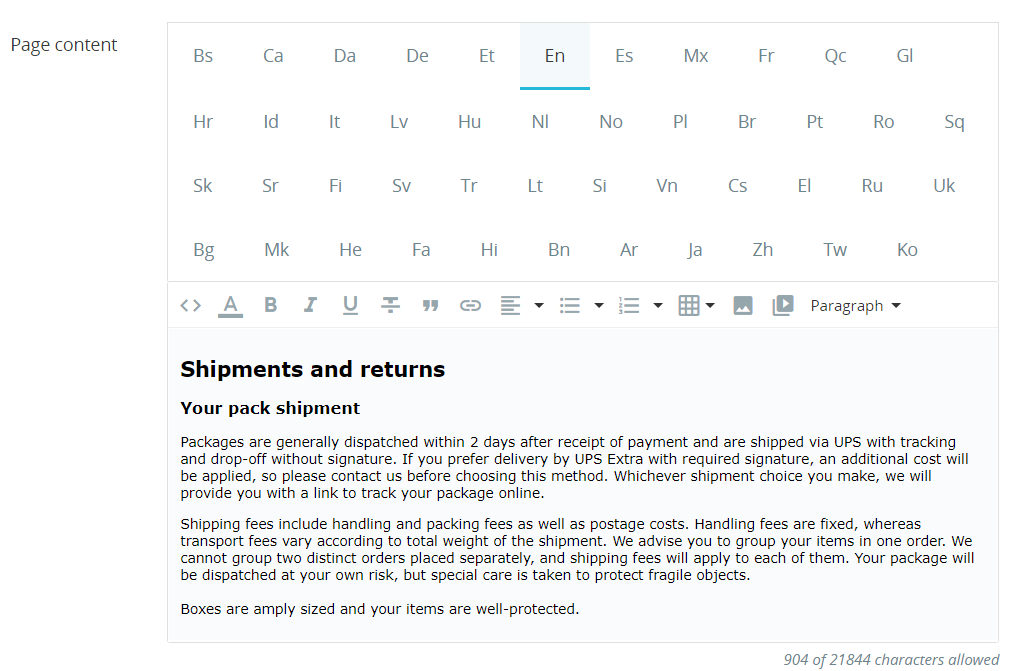 Product Management:
When it comes to managing products on an eCommerce store, both WooCommerce & Prestashop provide an easy-to-use interface to manage your images and text.
You can even upload it from an excel sheet if the data is huge. You can change the product description and related data easily on both platforms.
But here, we can say that Prestashop is solely built for eCommerce stores and thus it facilitates product management. However, WordPress uses a post format to manage product data as a post.
Stock Management:
You can use both platforms to keep strict control over your inventory. You can have a clear idea about the products on the storefront and inventory in many cases.
However, you can disable this feature because sometimes you can stimulate infinite stock if you don't have stock issues.
Prestashop in this case provides an advanced stock control feature to manage your inventory where you can define and manage multiple stores. It notifies you about the stocks and informs you about the popular product among your customers.
WooCommerce also provides extra information with free and paid extensions to go beyond simple stock management options.
Multilingual Support :
To grow your online business, you may need to reach out to speakers of other languages too, but few of the eCommerce platforms allow multilingual support. PrestaShop is one of the premium platforms that have built-in functionality to help you scale a business in different communities, regions, and ethnicities. For example, if you have a storefront for English users in Europe and want to facilitate Spanish or Dutch speakers, you must create language variations of the product pages. With advanced functionality, you can automate store language switching for users based on their IP address locations. WooCommerce lags behind in offering such an advanced functionality. You may need an additional plugin to avail it in WooCommerce.
Open source:
PrestaShop and WooCommerce both are open-source applications that simplify the development of an eCommerce website. Both are free to use and customize. Online stores that are testing the market viability of their products or services can start with the lowest budget.
PrestaShop is a standalone eCommerce platform whereas to set up an online store using WooCommerce, one has to rely on WordPress. These are self-hosted platforms that do not charge you for cloud or are managed to host the way Shopify or Magento Commerce does. There are plenty of themes and templates to beautify a store and increase the functionality with plugins and modules.
Reliability:
Being dedicated eCommerce platforms, WooCommerce and PrestaShop both are popular and reliable. WooCommerce seems to have a higher user base because of its parent content management system i.e. WordPress.
PrestaShop is preferred the most in different regions for its advanced eCommerce functionality. It leads the way in European countries for its unmatched multilingual support. It is famous for setting us a store for the multiregional audience. Regardless of the reduced global market share, PrestaShop is still powering renowned brands.
Easy to use:
With quick and easy installation, WooCommerce and PrestaShop also provide a simple user interface. A common person may get to know the platform without any difficulty. PrestaShop also has a startup wizard that takes a user or webmaster through different features and sections. It makes product addition and store customization an easy task for all.
The editing capabilities of both platforms are the same. You can add products with titles, images, descriptions, features, variations, shipping options, etc. Users who are familiar with WordPress Classic Editor may face a bit of difficulty in managing a WooCommerce store as the product editor is different and detailed. One can take advantage of the Gutenberg editor which has versatile features to use.
Speed and performance:
To ensure an online store loads faster and provides a better user experience, it has to be powered by a fast and reliable platform. It may include a multitude of factors like the platform, its code structure, hosting partner, and functionality. WooCommerce and PrestaShop both are well-developed software for setting up online stores.
Being a dedicated eCommerce platform, PrestaShop gets the lead in speed and performance. It has all the advanced features a store may need so you don't need to install a plugin or extension for any minor functionality. On the other hand, WooCommerce may require third-party apps or customization to get the required features.
Scalability:
The beauty of these platforms lies in their flexibility to start as low as possible and scale it as much as you want. WooCommerce and PrestaShop both are scalable. They can handle hundreds and thousands of traffic and users of an eCommerce site.
If we specifically talk about scaling a business across multiple regions, PrestaShop suffices your needs. It has a built-in feature to help you reach out to customers, clients, and consumers using different multiple stores and store views on a single site. Expand an online business confidently after signing up with a reliable hosting service provider and its flawless configuration.
Security:
Customers' data, their personal and payment details, are always at risk when you are running an online store. Due to the increasing cyber-attacks, deciding which platform is secure and which is not has become difficult. When it comes to comparison, it is sad to accept that WooCommerce and PrestaShop have been the victims of major attacks in the past.
Seeing the coding standards and practices, both platforms provide better security. A webmaster needs to carry out regular security audits and take preventive measures. You need to keep a check on the software update and security patches to remove any outdated app that is vulnerable to cyber-attacks.
Additional Features:
Basic to advanced features are available in both PrestaShop and WooCommerce. One can easily set up an online store using the built-in feature in either of the software. For adding a feature, you have to rely on installing extensions. There is a dedicated marketplace for PrestaShop modules and WooCommerce plugins.
Both marketplaces are flooded with hundreds of tools and extensions to help you add a new feature or modify an existing one. There are free as well as paid tools to seek assistance from. PrestaShop, being among the leading and pioneering eCommerce platforms, has more tools and solutions to offer. If you fail to find a plugin for the feature you need, you can approach the platform and consult with an expert. Both have programs for it such as Woo Experts and PrestaShop Experts.
SEO Friendliness:
PrestaShop is said to be more SEO-friendly when it comes to protecting and promoting an eCommerce website on the web. WooCommerce, being an extension of WordPress, performs well in searches for blog and CMS pages. But not a good match for a store with numerous categories and products.
The product editor in PrestaShop has built-in options for adding Meta titles and descriptions, besides setting redirections. To do so in WooCommerce, you may need an SEO plugin such as Rank Math or Yoast. Using add-ons for such a petty task may overburden your eCommerce website.
Support:
PrestaShop has been in the eCommerce ecosystem since 2005. It has been a leader in open-source eCommerce platforms. Over the years, developers and agencies have created thousands of guides and tutorials in terms of support content. There is a huge community to support you.
The same is the case with WooCommerce. Its ease and simplicity have made more developers and design agencies try their luck in eCommerce development. It has garnered a larger user base in a short period. The documentation of both platforms is available for anyone to use and customize. Finding an expert resource for any of the two technologies is also not a difficult task.
Selling Products:
Both WooCommerce & Prestashop have a tie on this point once again. As, you can use both to create product groupings and combinations (i-e variants, sizes, and colors).
You can use both of them to sell virtual products through redeemable codes and downloads. This functionality is best for businesses like renting hotels or buying tickets for events, etc.
Where PrestaShop wins?
Comparing two eCommerce platforms becomes difficult when both are equipped with the required features. This post has contrasted the features of PrestaShop vs WooCommerce so that you can get a better idea as to which one to select. In light of the advanced features we found in PrestaShop, we can deduce that it leads the way in providing a better and more reliable platform for online businesses.
Demographic Support
PrestaShop is built with the vision to expand your business across the globe. it is the reason, the platform supports more than 75 languages and currencies. Thus, it is making no stone unturned in giving your business global exposure and reach. It rooms smoothly and fast regardless of the number of stores and storefronts you manage on a site. There is a multitude of PrestaShop stores that are carrying operations in multiple regions with localized page versions. Customers finding product descriptions in their native language and prices in local currency are more likely to trust the store and become loyal customers.
Advanced eCommerce Features
PrestaShop is equipped with 600+ eCommerce features you need to run an online store. The key features that differentiate it from WooCommerce are bulk data import or export, stock management, customer relationship management, automated emails, customized promotions, and notifications on cart abandonment. Running multiple stores from one dashboard is only possible with a purpose-built eCommerce platform like PrestaShop.
International Capabilities
In addition to the localized language and currency settings, PrestaShop has several other features that help in expanding a business to international avenues. It includes configuration settings of international tax as the tax law differs from state to state and country. Additionally, you can provide different payment and shipping methods for clients across the seas. Add shipping services that ensure delivery to their region. PrestaShop works with more than 250 payment gateways, however, it can integrate more with the help of add-ons.
Smart Product Listing
In addition to creating listings for the usual products, PrestaShop comes up with some smart solutions as well to diversify a catalog. It allows you to set expiry dates as well for products that are time-bound such as perishable items. To spice up store revenues, the platform allows you to sell downloadable products as well. Easy to create listings for digital assets such as sound track, eBooks, designs, videos, photography, and software.
PrestaShop vs WooCommerce – FAQs
Still unsure which one is the best, here's a list of frequently asked questions to help you differentiate WooCommerce Vs PrestaShop in light of the common misconceptions.
Is PrestaShop Better Than WooCommerce?
PrestaShop is better than WooCommerce in many ways. It is a purpose-built platform dedicated to eCommerce that's why it has unmatched speed and security. Both provide performance statistics about orders, traffic, sales, revenue, and more.
Is PrestaShop the same as WordPress?
PrestaShop is an eCommerce management system, whereas WordPress is a content management system. PrestaShop is used for setting up online stores, whereas WordPress is limited to developing a simple website or blog.
Is PrestaShop eCommerce Free?
PrestaShop is an open-source platform available free of cost to the public at large. Anyone who wants to set up an online store can download PrestaShop from its official website and start selling products or services online.
What Companies Use PrestaShop?
Usage statistics by BuiltWith suggest a list of 712,823 websites that are powered up by PrestaShop. The live websites include some notable names like Search Engine Optimization, Inc., Red Hat Inc, Blackfriars Group, Lenovo Group Ltd., and TSI Incorporated.
What is the benefit of PrestaShop?
PrestaShop is an easy-to-install eCommerce platform that requires neither coding knowledge nor coding expertise. Anyone familiar with the basic functionality of a website builder can use the software and set up an eCommerce website using PrestaShop. It is beneficial for businesses to put their products online, scale up a business, and explore different sources and mediums to increase sales and revenues.
The Final Thoughts!
Let's sum up the whole story now.
We have now touched the end of the analysis and it is time to draw a clear line between Prestashop and WooCommerce.
Keep in mind; both platforms are without any doubt excellent for eCommerce businesses.
But choosing the best option will depend on your particular requirement. 
If you are looking for a small online shop with a very easy-to-manage interface then WooCommerce is your best bet.
On the other hand, if you want to have a store of small to medium size with a focus only on selling your product or services then Prestashop is the way to go. 
Because most people aren't aware of the capabilities possessed by Prestashop such as product management, store management, SEO, CHeckout, shipping, payments, marketing, localization, security, and analytics.
So, if you are already using it, it is worth putting your trust in Prestashop.