How to block IP-based Traffic in PrestaShop?

Every investor or businessman is inclined to have a higher conversion rate for the store they operate. The geo-targeting is among the few effective marketing strategies that allow them to focus on a selected group of countries or people to achieve higher customer satisfaction and repeat clients. Whereas spamming or getting traffic that is trivial to their business may ruin all their efforts.
To help them stay focused, we have come up with the solution of easy traffic management, keeping track of the visitors' locations and blocking them or redirecting to another URL with the help of GEO IP Block Module by FME. This plugin allows banning or several countries and an endless number of IP addresses from your store. If you are curious to know how it will work, please follow the tutorial below.
Step 1: Download and install this lightweight application, and Log into your PrestaShop back office. Now, navigate to GEO IP Ban tab.

Step 2: Click 'Block IP or ACL' and you will reach the advanced settings of banning visitors by country or IP addresses. Select 'Block through Country' for blocking a country, a combination or countries or a region. You can exclude users from the blocked countries by adding their IP addresses to the white list section.  

Step 3: To block visitors by adding their IP addresses, select 'Block through IPs' from the drop-down menu. Add unlimited IP addresses by separating with a comma.

Step 4: To show a message to blocked users, select 'Display a Message' against blocked response options. You can write and format a custom message in the provided field. Now, hit 'Save' button to make the changes take effect.

Step 5: To redirect visitors to another store, you can set redirection by selecting 'Redirect to URL' and entering the alternate URL.

Step 6: By clicking the 'Online Visitors' option in the GEO IP Ban tab created by PrestaShop Ban IP address module, you can overview visitors along with their locations and block them right away. On the same page, you can review and unblock the previously blocked users.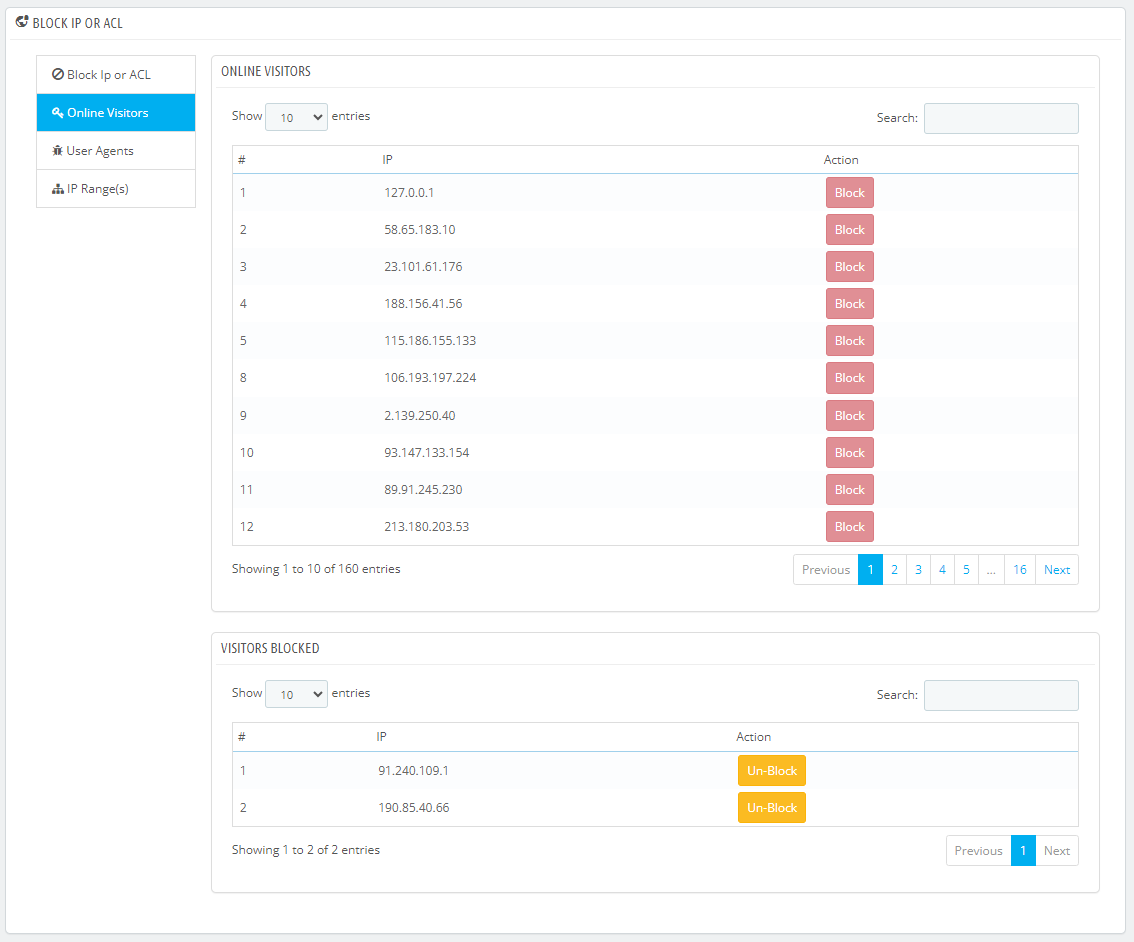 Step 7: Go to "User Agents", from there You can block Bots to crawl your website. Multi Bots can be selected.

Step 8: With our IP ban module you can block multiple IP ranges. You have to enter the "IP From" and "IP To" for range.

It is a simple process and does not require expert knowledge or skills to scrutinize your business traffic and mold it according to your needs and marketing strategies.
Most of the businesses around the world highly focus their targeted countries and regions. The GEO IP Ban plugin is developed to simplify the management of geo-targeted for the merchants, so that they prevent spamming or having insignificant visitors on their stores, and serve their desirable countries and regions diligently.