Prestashop Meta Robot Tags - NoFollow NoIndex Manager
Compatibility: v1.6 - v1.7 - v8.x
Version:1.1.2 (09/08/23)
Translated Into:






Prestashop Meta Robot Tags - NoFollow NoIndex Manager
Manage NoIndex and NoFollow Tags

PrestaShop
v1.6 - v1.7 - v8.x
Meta Robot Tag Manager Module lets you control how your site will be viewed by the search engines. Eliminate content duplication issues and avoid google penalties due to Penguin and Panda updates.
Manage Follow and Index tags easily
Tags management for CMS, Category Pages
Tags management for each product
No subscription fee. Free lifetime support and upgrades.
Click to visit our PrestaShop Meta Robot Tag Manager Module on PrestaShop Official Store.
Product Screenshots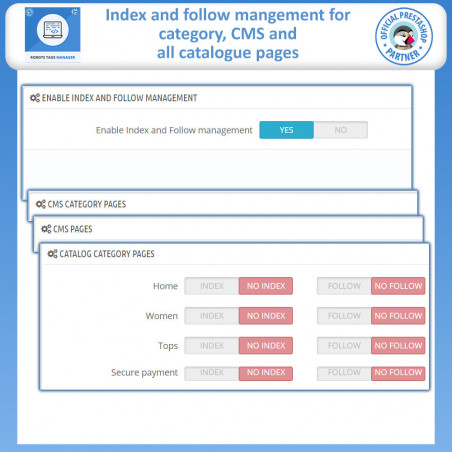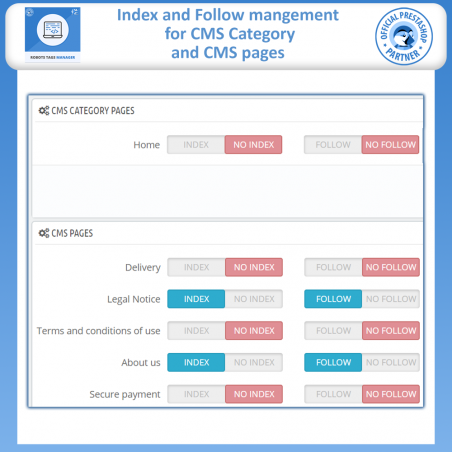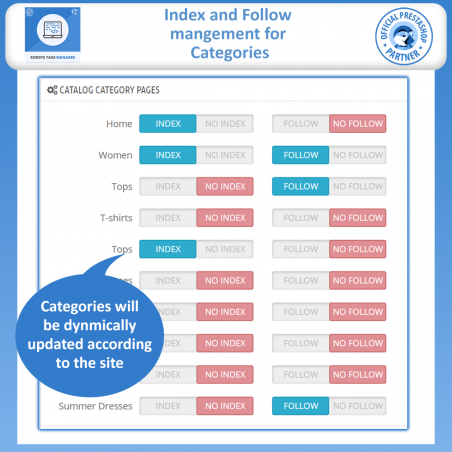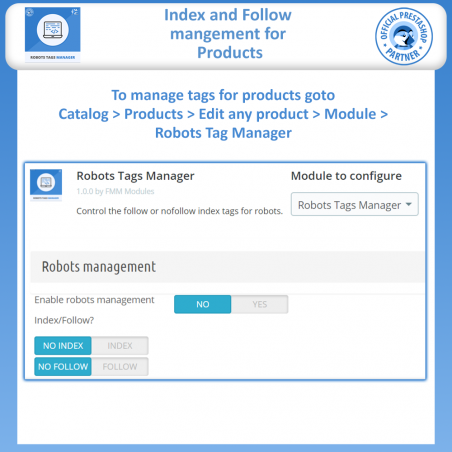 PrestaShop Robot Tags Manager helps you manage to Follow and Index tags easily. These two tags decide how search crawler will visit your sites and which pages to index. By default, all the pages of a site are indexed by search engines but there are cases where you need to restrict some content. This restriction is sometimes due to duplication as duplicate content can leave you vulnerable to Google penalties. CMS page like Privacy Policy etc also does not require to be indexed.

If you have a large store with hundreds of categories and products with essentially no content that you do not need to be crawled this module is perfect for you. After installation, the module will automatically update its database with your site categories and pages. You Just need to allow/ disallow index and follow tags wherever you want.

PrestaShop Robot Tags Module also creates a section for each product where you can select tags for that product.
Key Features of Meta Robot Tags - NoFollow NoIndex Manager Module
Easily manage NoFollow and NoIndex Tags for whole site
Set NoFollow tag for CMS pages
Set NoFollow tag for CMS Category pages
Set NoFollow tag for Category pages
Set NoFollow tag for every Product pages
Set NoIndex tag for CMS pages
Set NoIndex tag for Category pages
Set NoIndex tag for CMS Category pages
Set NoIndex tag for every Product pages
All CMS pages of your site will be dynamically added to the module database
All categories pages of your site will be dynamically added to the module database
Multilingual