Free Prestashop Working Hours module
Compatibility: 1.7.x to 8.x.x
Version:1.0.0 (08/15/23)
Free Prestashop Working Hours module
Working Hours Display

PrestaShop
1.7.x to 8.x.x
Prestashop Free Working Hours module is a powerful and convenient solution designed to effectively display your store's daily opening and closing timings to customers. With its user-friendly features, this module allows you to effortlessly configure and showcase your store's working hours for each day of the week.
Product Screenshots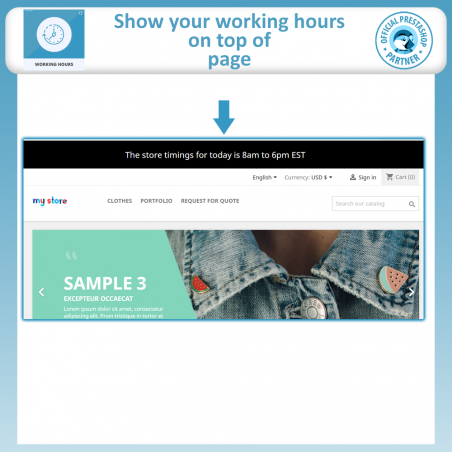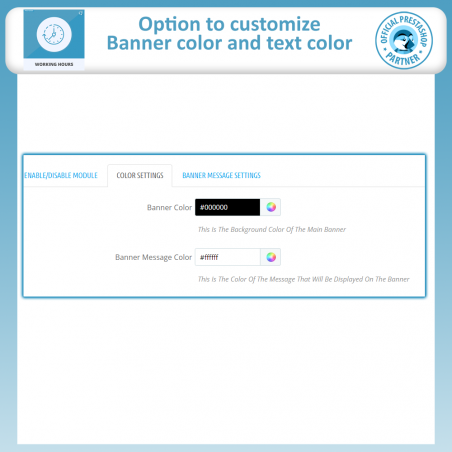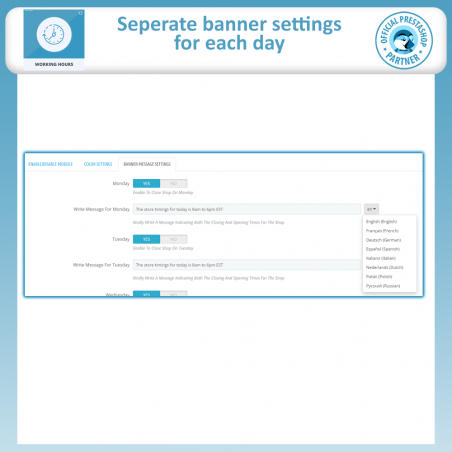 Key Features of Free Prestashop Working Hours Module
Interactive Top Banners: Enhance customer visibility by displaying eye-catching top banners prominently on your PrestaShop website. These banners elegantly showcase your store's working hours, ensuring customers are immediately informed about your operational schedule.

Easy Configuration: The module offers a seamless configuration process that empowers store owners to set specific working hours for each day with just a few clicks. Whether your store follows regular hours or has different timings for weekends or holidays, the setup process is quick and intuitive.

Real-Time Updates: Keep your customers informed with real-time updates. Any changes made to your store's working hours are immediately reflected on the website, guaranteeing accurate and up-to-date information at all times.

Customizable Display: Tailor the appearance of the banners to match your website's theme and branding effortlessly. Customize banner colors, and text colors to create a cohesive and visually appealing presentation.

Responsive Design: The module is fully responsive, ensuring seamless compatibility across various devices and screen sizes. Whether customers access your website on desktops, tablets, or mobile devices, they will experience a consistent and user-friendly display.

Special Holiday Notices: Plan ahead for holiday periods or store closures by adding customized notices to the banners. Inform customers about any changes in your store's operational hours during special occasions, ensuring a smooth customer experience.
By integrating the Working Hours PrestaShop module into your online store, you empower customers with vital information about your store's daily operations. This enhances customer satisfaction, streamlines their shopping experience, and fosters a professional and trustworthy brand image for your store.