Prestashop Google Sheet Products Import / Export
Compatibility: v1.7 - v8.0.x
Version:1.0.1 (09/18/23)
Translated Into:

Prestashop Google Sheet Products Import / Export
Import/Export Data to Google Sheets

PrestaShop
v1.7 - v8.0.x
Prestashop Google Sheet Product Import and Export allows you to export or import your products or categories to google sheets automatically. Say goodbye to the data loss.
Click to visit our Prestashop Google Sheet Product Import and Export Module on PrestaShop Official Marketplace.
Product Screenshots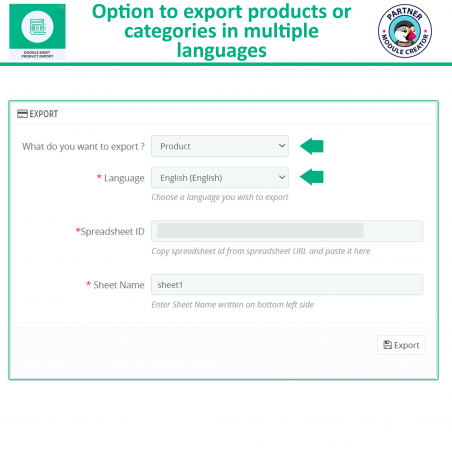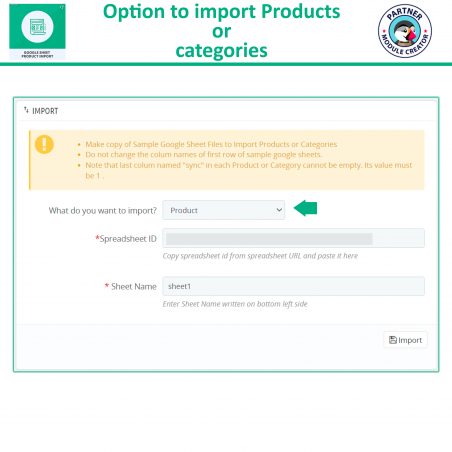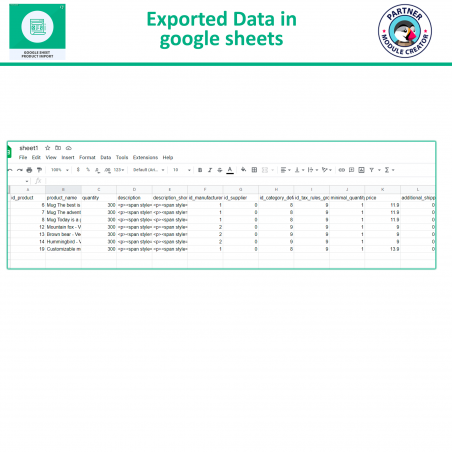 Having data backup of your shop is one of the most important and critical aspects of any online business. As you have no idea when you might lose it due to a number of factors. If you have a shop with hundreds of categories with thousands of products in each this can become a nightmare. Prestashop Google Sheet Product Import/Export Module is designed just to cater this problem.
Although you can use CSV files to export data but the problem with a CSV file is that it gets downloaded to your hard drive which is also not reliable while if your data is directly getting saved to a google sheet then the chances of losing it are essentially non-existent. Prestashop Google Sheet Import/Export directly saves data to a google sheet that is connected to your account and only you have access to it.
One of the most useful features of the Google Sheet Import Export Module is that it can save you a lot of time if you want to migrate your shop or import data to a new one. You can import all the data with a single click.
Note: You need to make an account on Google Developer Console. Step by Step guide is included in the readme guide.
Features Offered by Prestashop Google Sheet Import Export Module
Import products from google sheet
Export products data to google sheet
Import categories data from google sheet
Export categories data to google sheet