Year End Sale Is Now Live - (Dec 1st - Dec 31st) - 25% Off - Code: FMMYS2023
Prestashop Sales By Country Module
Compatibility: v1.7 - v8.x
Version:2.0.0 (10/12/23)
Translated Into:

Prestashop Sales By Country Module
Get Sales Reports by Countries

PrestaShop
v1.7 - v8.x
Prestashop Sales by Country Module allows you to see your sales statistics based on countries. Not only admin can see the sales from each country, at the same time you can also compare sales with some other selected period.
See the country-wise sale data at backend
Option to compare data
Option to export sales data as .csv file
No subscription fee. Free lifetime support and upgrades.
Click to visit our Prestashop Sales by Country Module on PrestaShop Official Marketplace.
Product Screenshots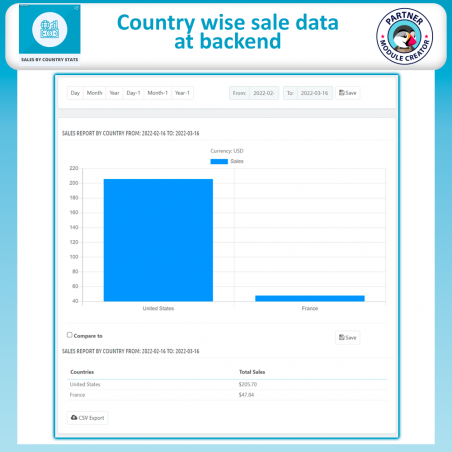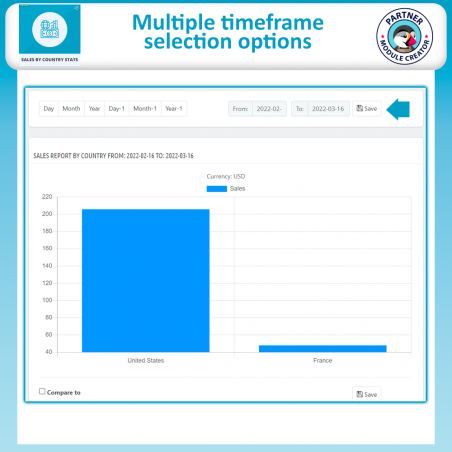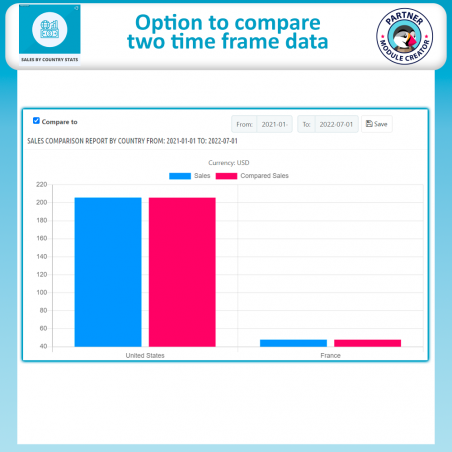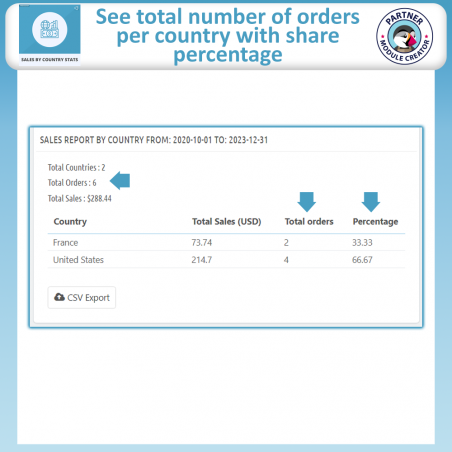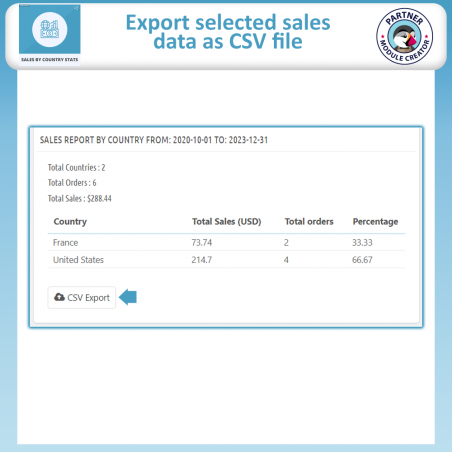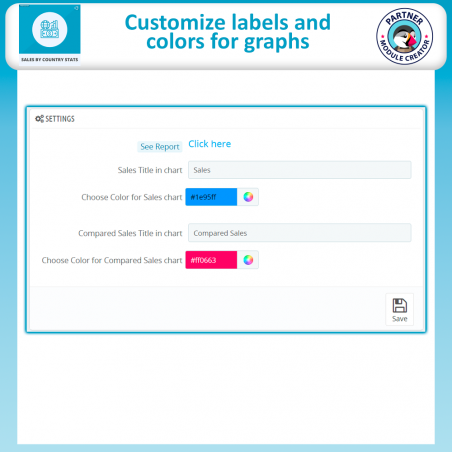 If you are catering to an international business where your customers are spread across multiple countries then it's very imperative for you to have sales data categorized by the countries. Prestashop does not offer this function out of the box, this is where our Sales by Country Module comes into play. Sales by Country allows you to see the sales data based on the country at the backend. 

This not only allows you to see from where you are getting most of the sales but at the same time, you can also improve your store to get more sales from other countries that might have the potential. After installing the module you will see a new "Sales by Country" tab in the Prestashop Analytics menu at the backend. Our module also gives you the option to compare sales for two selected time frames and also allows you to export the data.
Features Offered by Prestashop Sales by Country Module
See sales data based on countries
Option to select time period based on the day, current month, previous month, year, previous year
Option to customize the date range
Option to compare sales data from two date ranges
Option to customize color and labels for graphs
New Feature: Added total number of orders
New Feature: Added total number of countries
New Feature: View number of orders per country
New Feature: View percentage of orders per country 
Option to export data as CSV file