Prestashop Private CMS Page | B2B CMS Module
Compatibility: v1.7 - v8.x
Version:1.0.1 (09/18/23)
Translated Into:

Prestashop Private CMS Page | B2B CMS Module
Restrict Your CMS Pages

PrestaShop
v1.7 - v8.x
Prestashop Private CMS Pages Module gives you the option to only allow selected users to access the CMS page. This means you can create multiple CMS pages with each relevant to your specific customer groups and then allow only that customer group to access them.
Privatize one or more CMS pages
Give access to private CMS pages based on user groups
Option to show a customizable message to restricted customers 
No subscription fee. Free lifetime support and upgrades.
Click to visit our Prestashop Private CMS Pages Module on Official PrestaShop Store.

Product Screenshots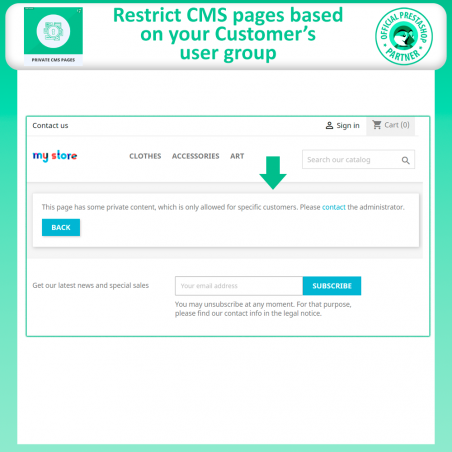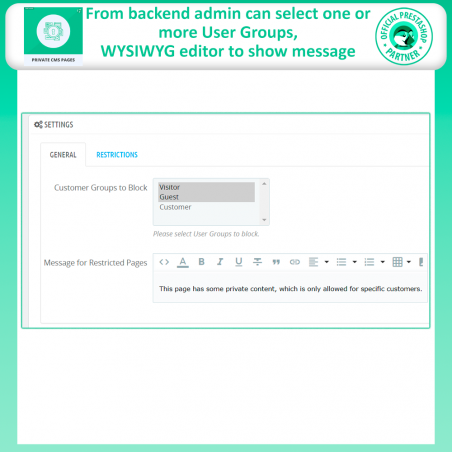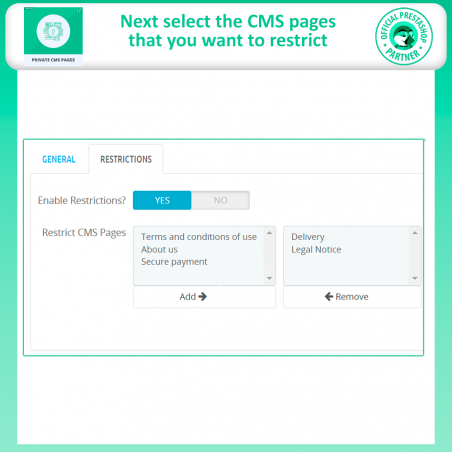 If you are offering Bussiness-to-Business services then you must have different CMS pages i.e Privacy Policy, Return Policy, etc on your site that will cover your B2B customers. Now if you want to restrict access to those B2B pages from your normal customers you can do it by default. This is where the Private CMS Pages Module comes in. You can restrict access to specific CMS pages and only allow your selected User Groups to access to pages. 

Private CMS Pages Module can have a variety of uses. You can also use it to restrict access to some special content on your site and give its access to special customers. This can include content like brochures, user manuals, forms etc. 
Features offered by Prestashop Private CMS Page Module
Restrict CMS pages from User Groups
Option to restrict one, all, or multiple CMS pages
Option to put restrictions on one, all, or multiple user groups
The restricted customers will be shown a custom message
The custom message can be edited from the backend using WYSIWYG editor