Year End Sale Is Now Live - (Dec 1st - Dec 31st) - 25% Off - Code: FMMYS2023
Prestashop Restrict Order Status Based on Employees
Compatibility: v1.7 - v8.x
Version:1.0.1 (10/16/23)
Translated Into:

Prestashop Restrict Order Status Based on Employees
Restrict Order Status for Employees

PrestaShop
v1.7 - v8.x
Prestashop Restrict Order Status Module gives you more control over your employees by giving you the option to restrict access to certain or all order statuses. Your employees will only be able to view and change those order statuses that you have allowed them.
Restrict order statuses for your employees
Rules-based structure
Employees will not be able to even open order details of restricted order statuses
No subscription fee. Free lifetime support and upgrades.
You can visit our Prestashop Restrict Order Status on PrestaShop Official Marketplace.
Product Screenshots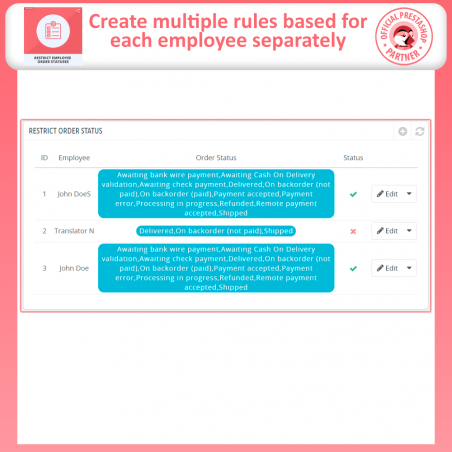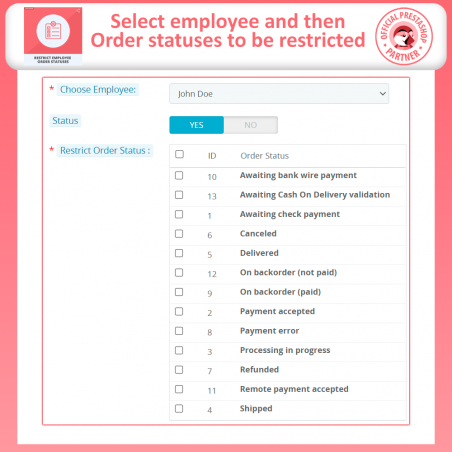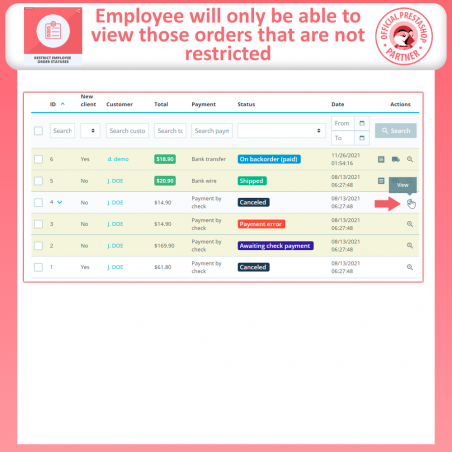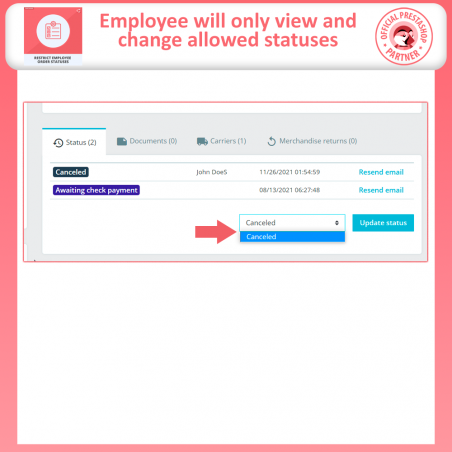 Prestashop Restrict Order Status Based on Employees gives you the option to restrict orders statues according to your employee profiles. For example, your manager can have access to all order statuses and can access or change anyone of them as he sees fit. But your shipping guy should only have access to the order statuses concerning packing and shipping. It's not desirable that all of your employees have access to all orders and their details.
Our module has a rule-based structure that means you can create a new rule for each of your employees and give them access to all the order statuses that you want. For all the orders with restricted statuses, their order details will not be visible to the employee. In the drop-down menu inside an order, only those statuses will be available that are allowed for that particular user. 


Features of Prestashop Restrict Order Status Based on Employees
Restrict one or more order statues based on employee profile
Option to create multiple restriction rules each for separate employee
An employee will only have access to those orders that are allowed to them
Employees will only be able to change those order statuses that are allowed
Restricted order statuses will not be visible to users