Year End Sale Is Now Live - (Dec 1st - Dec 31st) - 25% Off - Code: FMMYS2023
Prestashop Sitemap Generator Advance Module
Compatibility: 1.6.1 - 8.0
Version:1.0.1 (10/12/23)
Translated Into:





Prestashop Sitemap Generator Advance Module
Generate Sitemap for your site

PrestaShop
1.6.1 - 8.0
Prestashop Advance Sitemap Generator module allows you to generate Sitemap for your website in order to get better SEO Rankings. Sitemaps is one of the essentials requirements of SEO. Our module gives plenty of options that admin can use to properly generate sitemaps according to their specific needs. 
Generate sitemaps in multiple languages
Include/ Exclude pages and images from the sitemap
Automatically set frequency of sitemap generation i.e weekly, monthly, yearly etc
No subscription fee. Free lifetime support and upgrades.
Click to visit our Prestashop Sitemap Generator on Prestashop Official Marketplace.
Product Screenshots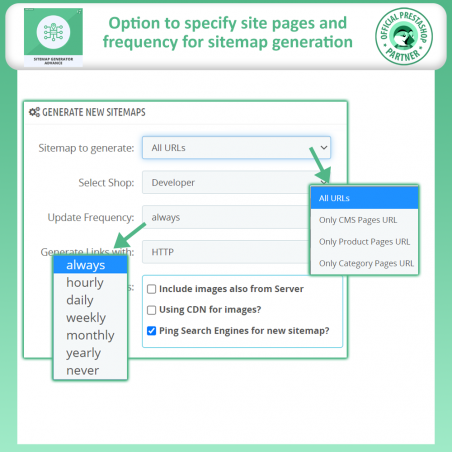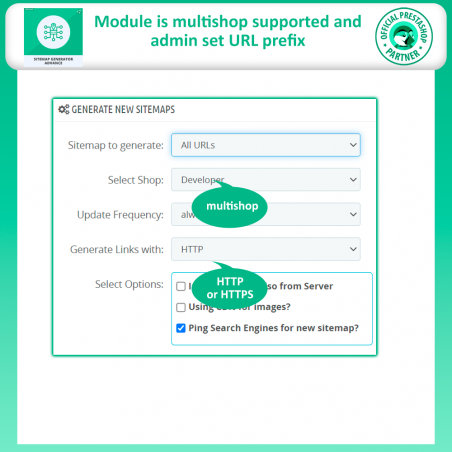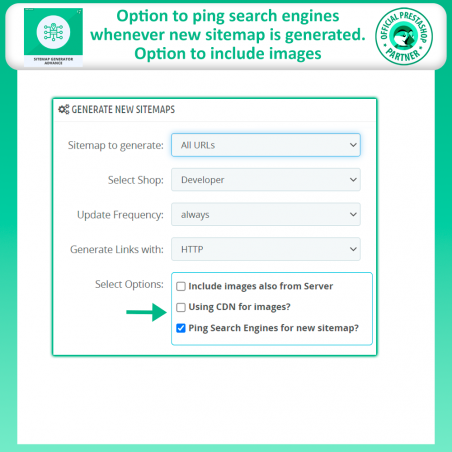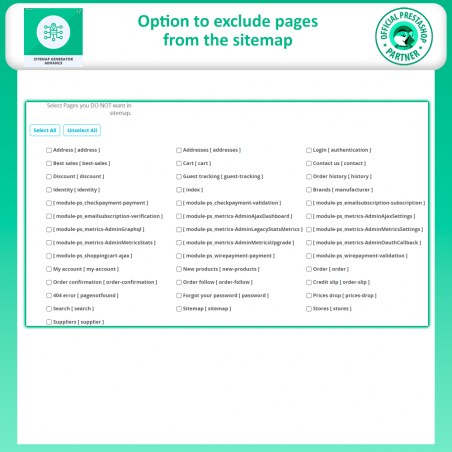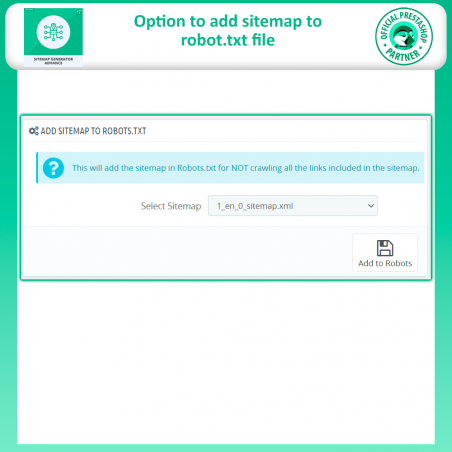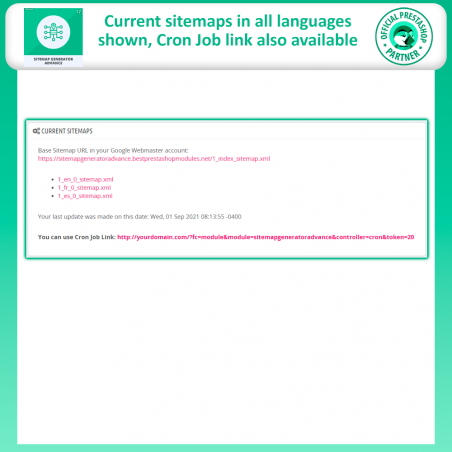 Prestashop Advance Sitemap Generator is a must-have module for doing proper search engine optimization. Sitemaps lets search engine crawlers know the structure of your website which makes it easier for them to crawl and index your website pages. If you have a big store where more products are being added on regular basis then it becomes a cumbersome job to manually generate sitemaps after every update.
Our Sitemap generator module helps you automate this process. Admin can set the frequency of the sitemap to generate from hourly, daily to yearly, and sitemap will be generated at the specified time all by itself. Admin can include or exclude pages from the sitemap like categories, products, or CMS pages. As the module is fully multishop supported admin can also select the shop from the backend.
If you are using CDN for images you can also include or exclude them from the sitemap. There is another feature that when enabled will ping the search engines every time a new sitemap is generated. By doing this search engines will know as soon as there is a new sitemap to crawl.
There is also an option to deselect specific pages from the sitemap by simply unchecking them from the backend. Admin can also add the sitemaps to the robot.txt file.
Features offered by Prestashop Advance Sitemap Generator Module
Generate sitemap automatically using cron jobs
Set frequency of sitemap generation
Generate sitemaps for all languages with a single click
Create sitemaps for Product, Category or CMS pages only
Add HTTP or HTTPS to the links included in the sitemap
Ping search engines when new sitemap is generated
Include Image to the sitemap
Include images from the CDN
Add sitemaps to robot.txt file
Multishop supported