Prestashop Private CMS Page | B2B Restriction
Compatibility: v1.7.0 - v1.7.8.x
Version:1.0.0 (01/12/22)
Pre-Translated Into:

Prestashop Private CMS Page | B2B Restriction
Restrict Your CMS Pages

PrestaShop
v1.7.0 - v1.7.8.x
Prestashop Private CMS pages | B2b Restriction module allows you to restrict user access to CMS pages. Admin can select one or more CMS pages of his choice and can then privatize it for one or more user groups.
Product Screenshots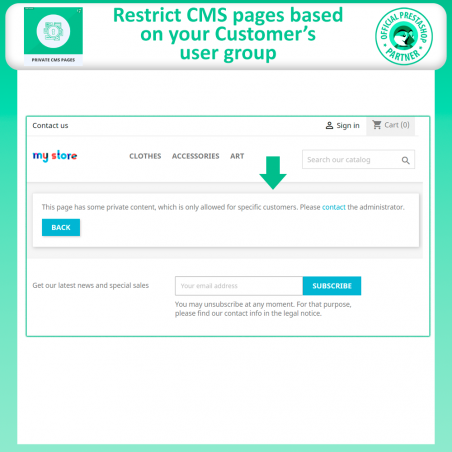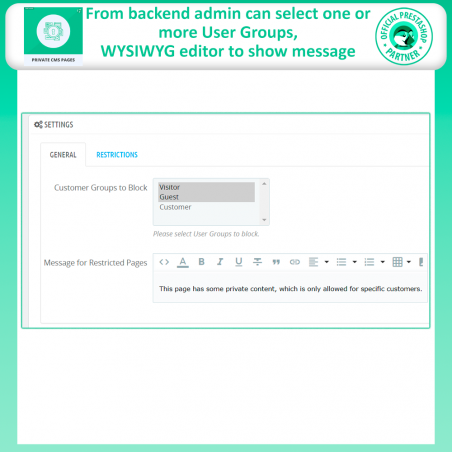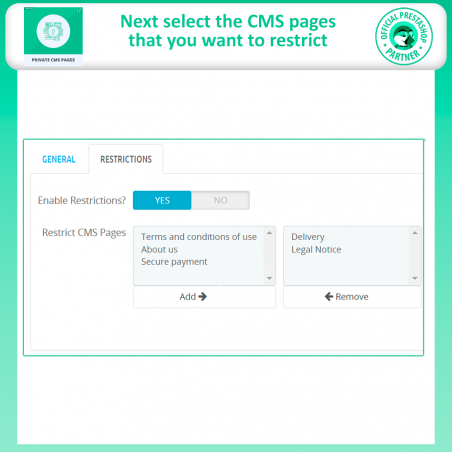 By default, Prestashop doesn't offer any sort of restriction for store pages. This sometimes becomes a hurdle when you have to show some content to only specific customers. Using the Prestashop Private CMS page you can achieve exactly that. All of your CMS pages will be available at the backend of module configuration from where the admin can select which pages need to be restricted. Similarly, the next step would be to select the customer groups, only these users from these allowed customer groups will be able to access the pages.
If you are offering B2B services and want to show some pages only to your B2B customer then this module is just for you. Likewise, if you have some content that is intended for your special customers e.g user manuals, some bills, etc you can use our module to only allow your desired customers to those pages. The restricted user will be shown a custom message when they try to access those pages. The message can be customized from the backend as WYSIWYG editor is available admin can show whatever he sees fit. 
Features offered by Prestashop Private CMS Page Module
Restrict CMS pages from User Groups
Option to restrict one, all, or multiple CMS pages
Option to put restrictions on one, all, or multiple user groups
The restricted customers will be shown a custom message
The custom message can be edited from the backend using WYSIWYG editor