Prestashop Sell By Box | Sell Products in Packs
Compatibility: 1.6.0.5 - 1.7.8.x
Version:1.0.0 (11/23/21)
Pre-Translated Into:

Prestashop Sell By Box | Sell Products in Packs
sell Product by Box & Packs

PrestaShop
1.6.0.5 - 1.7.8.x
Prestashop Sell By Box Module allows you to sell your products in packs. This is a must-have module if you are offering products in per box pricing i.e. Tiles, Woden Floorings, etc. Auto-calculates of number of boxes required by user based on area.
Product Screenshots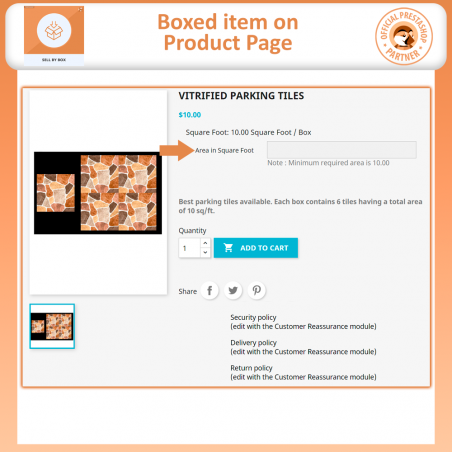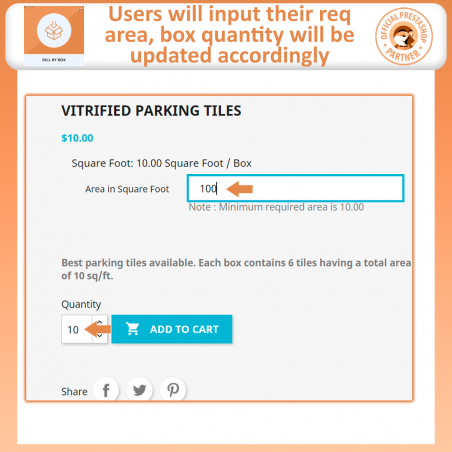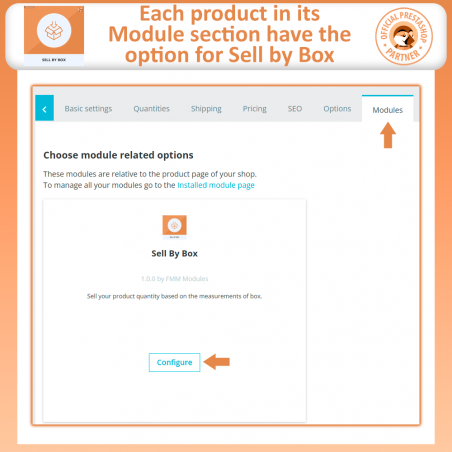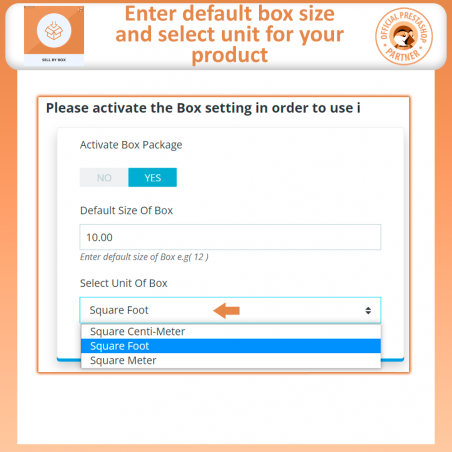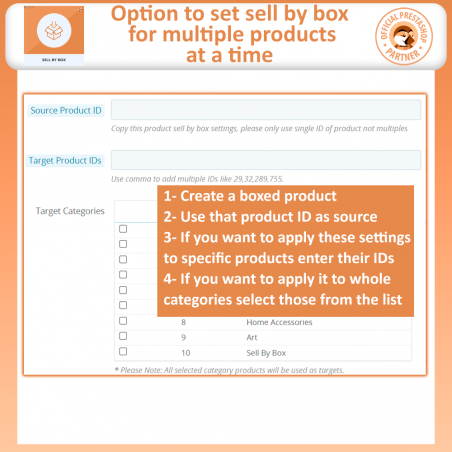 Prestashop Sell By Box Module takes care of a very crucial requirement often needed by store merchants. If the products that you sell on on shop comes in packs and you sell them in packs then by default no such option exists in Prestashop. Our module is designed specifically for this purpose.
Once installed and configured you can sell your products in packs. Customers will just need to enter their desired area and the number of boxes will be calculated.
Example scenario:
If you are selling a box containing 4 tiles with a total area of 20 square feet. You will set this information by going into product edit and then into the module section. Here you will enter the total area of a box i.e. 20 and then set the unit to sqft.
When a customer visits this product page, he will be asked to enter the area he required, let's say he wants 100 sqft. He will enter this area into the field and then below the quantity of product will be updated to 100/20 = 5 Boxes.
As we understand that changing the setting for each product is very time-consuming especially if you have a large store. We have included an option to set Sell By Box for multiple products at a time. Admin will need to configure a single product manually after that he can use this product to copy the same setting for other products. You will need to enter the source product ID of the already configured product, then either enter particular IDs that you want with the same setting or select one or more categories. By applying this, the Sell By Box setting from the source product will be copied to all target products.
The feature offered by Prestashop Sell By Box Module
Sell products on per pack bases
auto calculation of required boxes
Supported units sqcm, sqft, sqm
Option to configure multiple products at a time
Option to configure multiple categories at a time