Prestashop Validate New Users at Registration Module
Compatibility: 1.7.0.0 - 1.7.8.x
Version:1.1.2 (03/17/22)
Pre-Translated Into:

Prestashop Validate New Users at Registration Module
Validate New User Registrations

PrestaShop
1.7.0.0 - 1.7.8.x
Prestashop Validate New Users at Registration Module enables the admin to set manual validation for all new users. New customers will be allowed to use the user account only after approval.
Set new customers registration validation
Show custom message on the frontend
Enable email notifications
Product Screenshots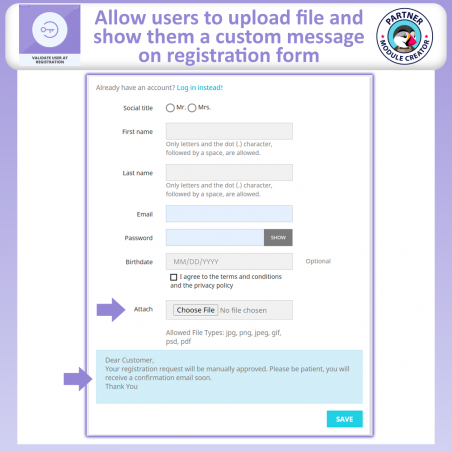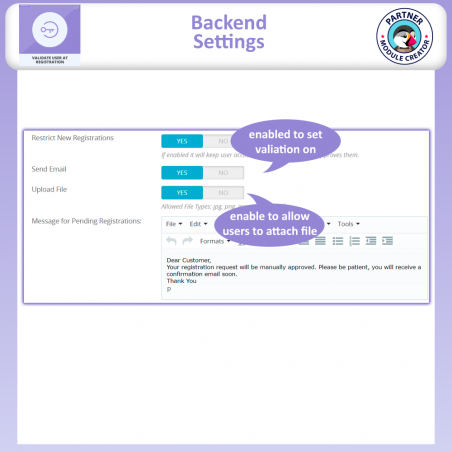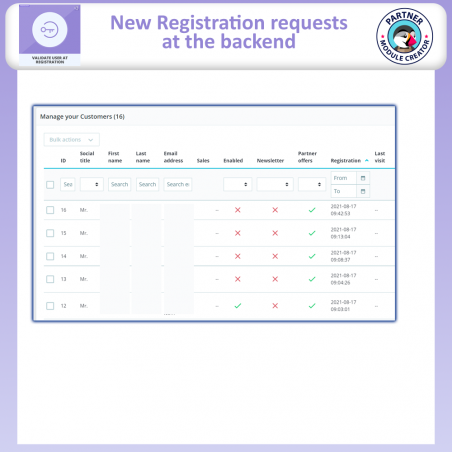 Prestashop Validate Users at Registration Module allows you to restrict new registrations by manual validation. When someone applies for the registration on Prestashop store his registration request is approved straightaway. Our module allows you to vet each registration request manually and if you seem appropriate you can allow the registration. 

Admin can show a custom message on the registration form letting them know that their request will be pending. You can also allow users to upload a file while requesting the account. 
Features of the Module:
Restrict new user registration
Manual approval for new customers
Display custom message on the registration form
Enable/ Disable email notifications for new users
New Feature: Editor added to show a message on front-end to new users
New Feature: Option added to allow file uploading for new users
New Feature: BO has a new column in grid, showing Pending customers flag