Cyber Monday Sale Is Now Live - (Nov 27th - Nov 30th) - 40% Off - Code: FMMCM2023
8 Points to Consider When Offering Gift Wrapping on Ecommerce Store

Gift wrapping option in ecommerce stores is not a new idea as big retailers have been offering this service for years. Its benefits are huge both for customers and merchants. For customers, it offers convenience while for merchants a lot more sales.
How do you feel when someone saves you from hassle and get things done for you in your rush hours? Of course, you are delighted and forever grateful. As an E-Commerce merchant, you can make your customers feel exactly the same by offering gift wrapping service in your store, preferably for free. It saves customers from the hassle of buying wrapping paper, message cards, and the packaging overhead. This feature comes absolutely handy on occasions like birthdays, anniversaries, weddings, and holidays etc., when customers want to send gift cards to their family, friends, and colleagues.
When to Offer Gift Wrapping?
Gift wrapping is an excellent way to build customer loyalty. Of course, you can't offer gift wrapping on all products and always for free. There are products which are more difficult to wrap compared to other products. Such products take more time and incur most cost to wrap. For example, a book is easy to wrap while a bike is difficult. Come up with a strategy that is feasible for you and at the same time offers value to customers. You can offer it free for only highest-spending customers or on a specific amount of buying. You can also use it to incentivize the ones who spend less to buy more. Another strategy is to offer it free for small and easy products only. It's also up to you to charge a fixed amount for the service.
Points to Consider When Offering Gift Wrapping
It's important to implement gift wrapping effectively to reap maximum benefits. Make it as easy and transparent for customers as possible. Following is a list of things you should keep in mind when offering gift wrapping option in your online store.
Display Clear Pictures
One of the reasons customers may avoid gift wrapping is because they are not sure how the gift will look like. You can remove this by displaying high-quality images of various gift wrapping designs. Customers should have a very clear picture of the present that is going to be delivered.
Provide Reviews
Reviews are important to increase customer's trust. A 2017 research states that 95% of buyers read online reviews before making a purchase. This is an incredibly high number. Positive reviews increase sales dramatically. It's a good idea to provide reviews for your wrapping option similar to a regular product.
Leave Customers with Zero Questions
Clearly describe each gift wrapping option. Mention what is included in each option and how you are going to wrap products of different sizes. Try to clear customer's mind of any ambiguities.
Provide Multiple Design Options
Don't limit customers to 1 option. Provide at least 3 variants of different designs and prices. Variants according to gender, season, and occasion will further help. This way, customers will have more options to choose from according to their preferences. For example, FMEextensions Magento 2 gift wrap extension provides multiple gift wrap designs.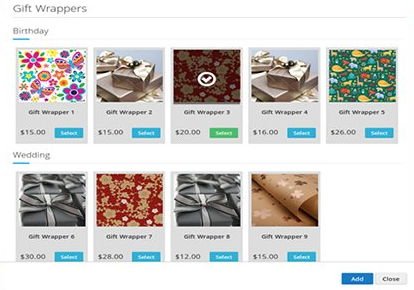 Provide Gift Card
It's a good idea to provide a separate gift card option. It will further delight the gift recipient the way you feel when someone gives you a hand-written card.
Option to Send Gift Message
Make sure to allow customers to add a message to the recipient by including 'From' and 'To' form fields. This way, the recipient knows who has sent them the gift. Gift message puts a pleasant impression on the recipient.
Don't Frustrate your Customers
Nothing is more frustrating for customers than showing them one design and product and delivering them another. This is also perhaps a reason why customers are scared of using gift wrapping service. Make sure you deliver exactly the same wrapping option that the customer has chosen and that the wrapping is in good condition. This means that you provide quality service and stand true to the phrase "what you see is what you get".
Offer a 'Remove Price Tag' Option
Some customers may want to hide the price tag from the recipient. Make sure you provide this feature either with gift wrapping or on its own.
Conclusion
Offering gift wrapping is an add-on service that will build rapport with your loyal customers. It helps make repeat customers and improves the overall shopping experience. However, only implementing it the right way comes its true benefits. Decide cautiously when to offer gift wrapping, which products to choose for gift wrapping, if and how much to charge for it and how to fulfill it.