How to set up Pop-ups on PrestaShop?

In the e-commerce landscape, where grabbing and retaining attention is the ultimate quest, the unassuming popup emerges as a formidable ally.
However, it's worth noting that while PrestaShop serves as a robust foundation, it doesn't inherently provide default popup functionality. Here comes
The PrestaShop popup module, named "Custom Popup," is build to transform your online storefront experience. This module boasts an array of features that will intrigue your visitors from the moment they land on your site. The module's rich text editor is noteworthy, enabling seamless integration of text, images, videos, and HTML elements into your notifications.
Moreover, this PrestaShop popup module lets you tweak dimensions for optimal display, ensuring your notifications take center stage.And the convenience continues beyond there. As a PrestaShop store owner, you can infuse multiple notifications throughout your store, including the homepage, category pages, or product listings.
Control is at your fingertips as you decide when these notifications pop up, with options like exit-triggered, add-to-cart-triggered, and even scroll-triggered notifications. Tailor your strategy further by enabling newsletter subscription blocks as popup content, fostering seamless engagement.
Stay tuned as we traverse the captivating realm of PrestaShop's Custom Popup module, unearthing its gems that can revolutionize the way you engage and convert visitors.
How to setup Pop-ups in PrestaShop?
Pop-ups have become a vital tool for engaging users, conveying important messages, and boosting conversions on e-commerce platforms. If you're looking to integrate pop-ups into your PrestaShop store, follow this step-by-step guide on installing and configuring a popup module.
Step 1: Download the PrestaShop Popup Module
Step 2: Log in to your PrestaShop admin panel. Navigate to the "Modules and Services" section. Click on "Modules and Services Manager" In the "Modules Catalog" tab, search for the desired popup module. Once you find it, click on the "Install" button to initiate the download.
Step 3: Install and Activate the Module. After downloading, the module will be listed in the "Installed Modules" tab. Locate the popup module and click on the "Configure" button to access its settings. Configure any basic settings such as layout, color scheme, and animation options.

Step 4: Configure Display Rules and Triggers. Inside the module's configuration, navigate to the "Display Rules" or "Triggers" section. Define where and when you want the popup to appear:
Page-specific targeting: Select the pages where the popup will display (homepage, product pages, checkout, etc.). User behavior triggers: Choose triggers like exit-intent, scroll percentage, or time delay.
Step 5: Design Your Popup. Move to the "Design" or "Template" section of the module's configuration. Customize the visual elements of your popup: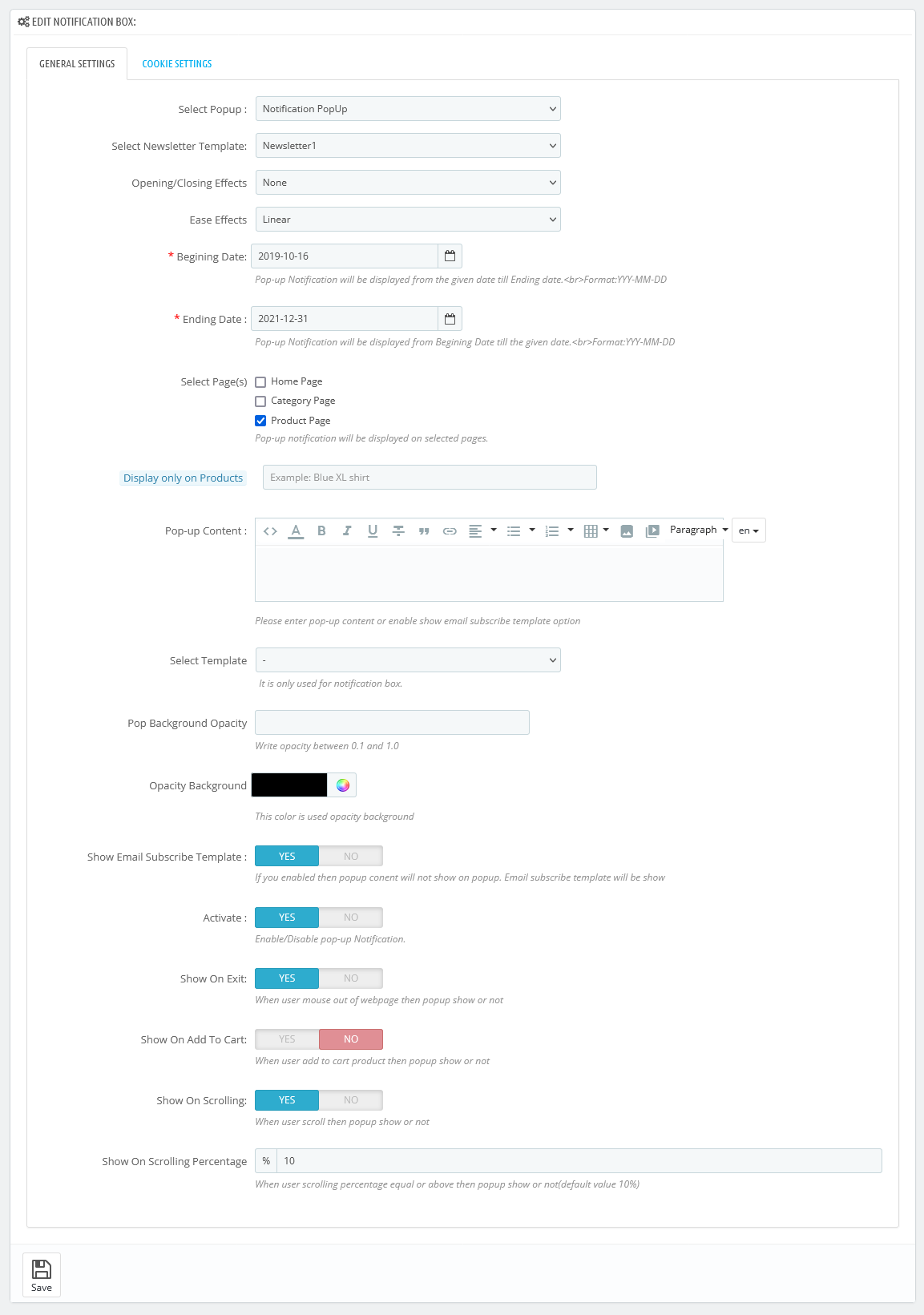 Background color, font styles, and typography.
Upload images or videos for a visually appealing experience.
Craft compelling headlines and copy that resonate with your audience.
Step 6: Set Call-to-Action (CTA). Access the "CTA" or "Button" settings within the module. Create an attention-grabbing CTA button:
Set the button text (e.g., "Shop Now," "Get Discount").
Define the link destination (e.g., a specific product page or a promotional offer).
Step 7: Preview and Test. Most popup modules provide a preview feature. Use it to see how your popup will appear to users. Test the popup on various devices (desktop, tablet, mobile) to ensure responsive design and functionality.
Step 8: Save and Enable. After configuring your popup settings, click "Save" or "Apply" within the module configuration. Activate the popup module by toggling the "Enable" button.
Step 9: Monitor and Optimize. Regularly review the performance metrics of your popups, such as conversion rates and engagement. Use A/B testing to experiment with different popup designs, copy, and triggers for continuous optimization.
By following these steps, you'll successfully integrate and configure a popup module on your PrestaShop store. Effective pop-ups can enhance user experience, drive conversions, and contribute to the overall success of your e-commerce venture.