PrestaShop Vs. Magento: Unveiling the Ultimate eCommerce Showdown 2023

Setting the stage for the PrestaShop vs. Magento 
There is no doubt that competition reigns supreme in the dynamic world of e-commerce. It makes selecting and researching even more important and overwhelming for new businesses. It's because of the hundreds of options available in the online marketplace.
It's an extremely important decision because it lays the foundation to a new level or can hold back your success. That's why we have researched two big platforms, Prestashop and Magento, that have a reputation for their distinctive reputation and unique offerings.
Just imagine a platform that blends user-friendliness with extensive customization & allows your store to match your brand image. Not only that, but it also attracts your customers and facilitates your customers with a smooth transaction.
That's why we have brought you the showdown of PrestaShop vs. Magento, which has many features and benefits to enhance your e-commerce experience.
In today's discussion, we will discuss in detail both Prestashop & Magento to explore their strengths, limitations, and everything in between.
Moreover, we will also cover some valuable insights about pricing, structure, performance, SEO capabilities, and support every platform provides.
It will help you understand the deep knowledge & will help you make an informed decision that will set the stage for your next e-commerce venture.
So keep reading & let's discuss it in detail.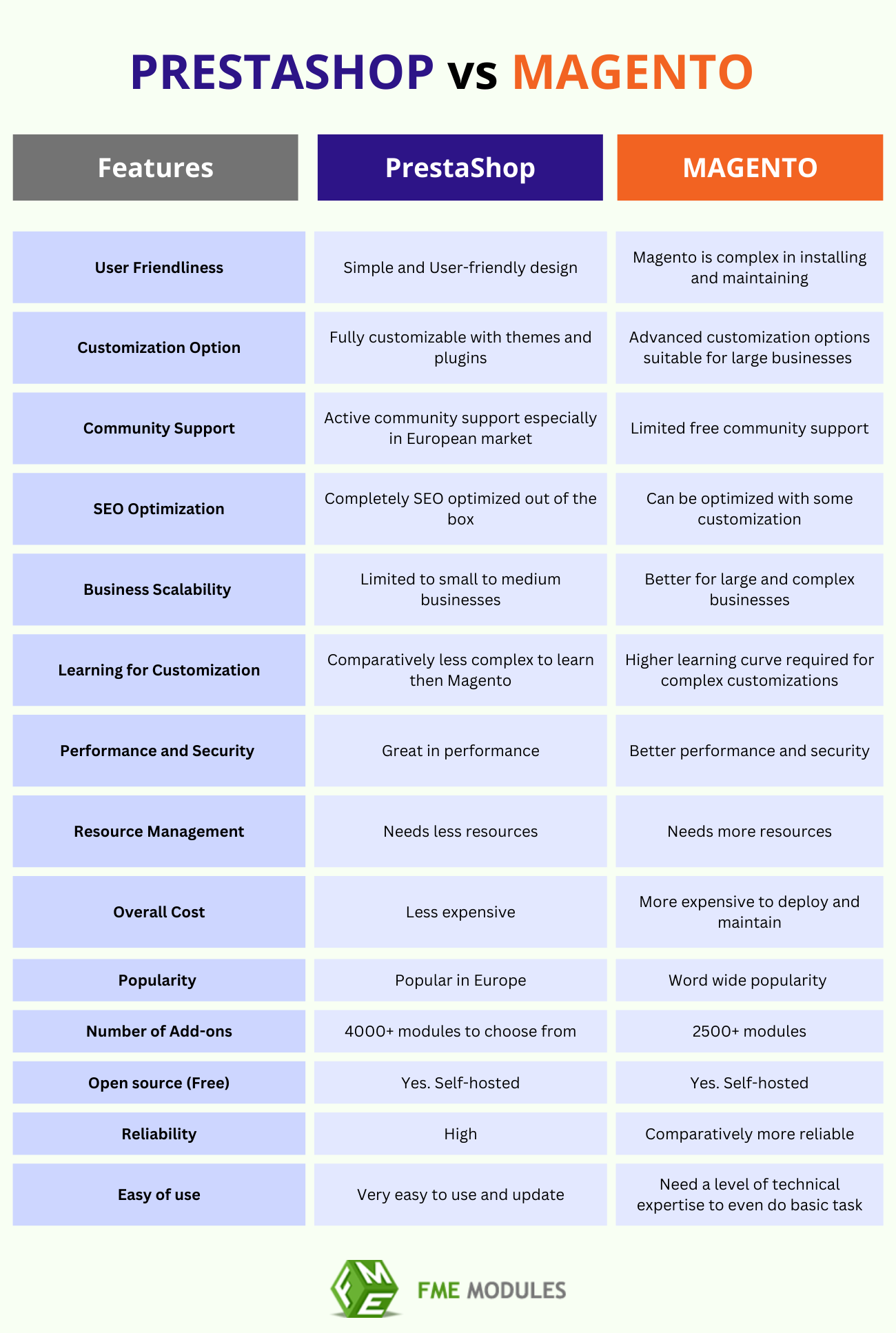 Understanding PrestaShop: 
What is PrestaShop?
Prestashop is an open-source & featured-rich e-commerce platform that empowers thousands of e-commerce businesses worldwide. It has a vibrant and engaging community of developers who continuously upgrade its modules and themes all year.
At its core Prestashop is built on the open-source tech that enables unparallel flexibility & customization to improve your appearance and functionality. 
The best thing about Prestashop is that it provides endless possibilities. It will help you match your store with your brand's identity & captivate the overall shopping experience for your customers.
The backend is intuitive and user-friendly, where you can manage your store with less technical expertise.
Features and functionalities of PrestaShop
Prestashop offers various features that benefit store owners in many ways. It empowers store owners with its extensive library of themes & its robust SEO capabilities.
A comprehensive dashboard will help you manage products, track inventory, process orders, and analyze sales performance. Moreover, it offers seamless payment integration to help you provide a smooth and hassle-free transaction for your customers.
Prestashop is a versatile platform that supports businesses of all sizes. Its modular architecture allows easy expansion and integration with third-party tools. It will also empower your decision with its detailed analytical and reporting features that give detailed insights about your business.
In the PrestaShop vs. Magento battle, PrestaShop shines as an open-source champion, delivering flexibility, usability, and various features to propel your eCommerce venture forward.
Advantages of PrestaShop 
User-friendly interface and easy setup process
Prestashop is simple in design and user-friendly, which makes it a leader in the Prestashop vs. Magento battle. It has an intuitive interface and a straightforward process, and it can save time and effort even for a non-technical person to grow their business.
Extensive range of customization options
Prestashop has various features in terms of customization. You can customize your shop and match it with your brand identity. If you are a seasoned entrepreneur or a new business person, Prestashop will provide you with an array of themes, templates, and modules to create a fully customizable and stunning website. You can attract new customers and engage your existing customers to keep coming for more.
Robust community support and active marketplace
Prestashop has an active and vibrant community of developers, sellers, and enthusiasts that keep it updated and ensure you are supported in the e-commerce journey. They will help you with anything related to e-commerce, such as troubleshooting assistance, innovative solution, or just seeking advice.
Moreover, various plugins and extensions are available that will enhance your website functionality and the unique needs of your business.
SEO-friendly features and optimized performance
Prestashop is the best platform in terms of SEO features and optimized performance. It will help you equip with customizable URLs to Meta tags that will enhance your ranking in organic searches. Furthermore, Prestashop is excellent in speed and performance, ensuring speedy loading times and a seamless browsing experience.


Limitations of PrestaShop
Limited scalability for larger eCommerce businesses
There isn't any doubt about the various advantages of Prestashop. However, there are some limitations of this platform too. It's scalability for larger businesses. You may experience challenges if you are growing your e-commerce business on a larger scale, such as handling a large volume of traffic and transactions.
Prestashop is suitable for smaller businesses. However, a large-scale business isn't a good option.
Higher learning curve for complex customization
You must have more knowledge for higher and more complex customization. Prestashop is an open source offering many customization options, but it will require more knowledge about programming languages and web development.
It can be challenging for a non-technical person to handle more advanced customization.
Relatively fewer built-in features compared to Magento
Prestashop has the least number of built-in features. However, it provides essential functionalities to help you run your store smoothly. If you are looking for more built-in options in the platform, Prestashop doesn't have more.
In short, PrestaShop offers a range of benefits. It has limitations regarding scalability for larger eCommerce businesses, a higher learning curve for complex customization, and a relatively minor selection of built-in features.
However, it's essential to understand whether PrestaShop is the right fit for your specific needs or not.
Exploring Magento: 
What is Magento?
Magento is another option among best & leading platforms for ecommerce in 2023. It's also an open-source platform where businesses can create robust and scalable online stores. Magento has various features and benefits for both small businesses and large scale enterprises to create a powerful online presence. 
Magento offers seamless and intuitive interface that simplifies complexities and ensure that your store can grow with increasing traffic and transactions.
Different versions of Magento:
Magento offers two primary versions:
Magento Open Source 
Magento Open Source is also called Magento Community Edition is a free and open source solution that will lay a solid foundation for your new online presence. It has various features and benefits for its customers such as customization and vibrant community of developers.
Magento Commerce
Magento Commerce which is also known as Magento Enterprise Edition is a premium Magento version that provides many features and benefits for large scales businesses.  It will help you with many advanced functionalities, personalized customer experience, marketing tool and comprehensive support. Magento Commerce is suitable for large scale businesses.
Advantages of Magento
Highly scalable and suitable for large-scale eCommerce operations
When it comes to scalability Magento reigns supreme in the battle of Prestashop vs Magento. It's designed for large scale ecommerce operations and a suitable choice for those who want to expand their business in the future. It can handle a large quantity of traffic, product catalogs and international customers. If you are planning to expand in the future, Magento is an excellent choice.
Extensive range of built-in features and functionalities
Magento has various built-in features such as inventory management, order processing, advanced marketing tools, and customer segmentation. Such tools by Magento will streamline your operations and enhance the overall customer experience.
Magento is already baked with many built-in features which make you independent from third-party plugins and extensions.
Advanced customization options and flexibility
Magento is flexible that has advanced customization options to help you create a unique and tailored online store. You have the freedom to change your layout, design and functionality in any way you want. Magento will empower you whether you want to create a complex workflow or stunning visual experience.
Robust performance and security measures
Magento shines bright when it comes to performance and security. Magento will ensure an exceptional performance with a fast page load and seamless user experience.
Moreover, Magneto is strict about security and implements the best practices to keep your website safe from malicious attacks.
Limitations of Magento
Steeper learning curve and complexity for beginners
Magento has many advantages. However, there are some limitations too. One of the steeper limitations is understanding its complexity, which requires a learning curve. You will need technical expertise and effort to master and use it to its full potential.
Higher resource requirements for hosting and maintenance
Higher resources requirements are another limitation lies in Magento. It's scalable and robust, demands more server resources and reliable hosting, and will require more server costs than other platforms. In addition, Magento requires regular updates for smooth operations and security that requires technical expertise and additional resources.
Relatively expensive compared to other eCommerce platforms
Magento is expensive compared to Prestashop. The initial setup, ongoing expenses hosting maintenance, and extension costs require more funds than other platforms. Magento isn't a good option for starters with a limited budget. However, Magento is a good option for those who value advanced features, scalability and customization.
Making the Right Choice:

There are various factors to consider before you make a final decision. We have already discussed both platforms' features, benefits, and limitations, which hopefully cleared up many things. However, before you choose the platform, consider the size and scale of your business.
If you are a starter, Prestashop will be your best option. As we have already mentioned, Prestashop is considered the best in user-friendliness and cost-effectiveness.
However, if you're planning for significant growth or have a more extensive eCommerce operation, the scalability and robustness of Magento may be better suited to accommodate your expansion.
I think we have covered enough information about the Prestashop vs Magento battle, and now you must know your needs.
Keep in mind that there is no one-size-fits-all solution, and what works best for one business may not necessarily work for another.
Take the time to evaluate your options and choose the platform that will empower your business to thrive in the competitive online landscape.