Prestashop Buy From External Link Module
Compatibility: PS 1.7.x - PS 8.x.x
Version:1.0.0 (09/08/23)
Translated Into:

Prestashop Buy From External Link Module
Purchase from External Link

PrestaShop
PS 1.7.x - PS 8.x.x
The Prestashop Buy From External Link Module offers a versatile solution for enhancing your product pages within PrestaShop. With this module, you have the capability to seamlessly integrate external links directly onto your product pages, enabling customers to purchase either the same product or related items from alternative websites. Additionally, this module empowers you with the option to conceal the traditional "Add to Cart" button, giving you greater control over the purchasing process on your e-commerce platform. This feature-rich extension not only expands your product offerings but also provides a more tailored and flexible shopping experience for your customers.
Product Screenshots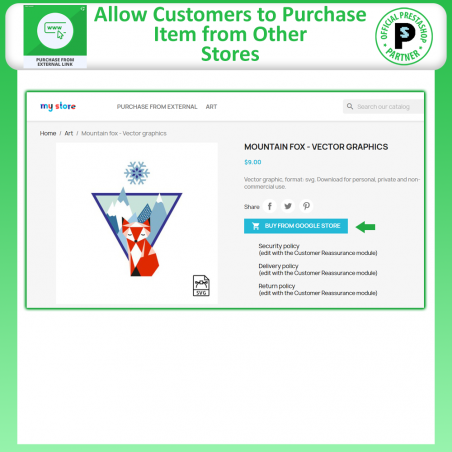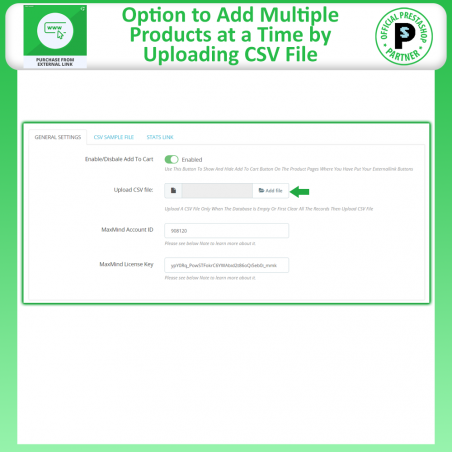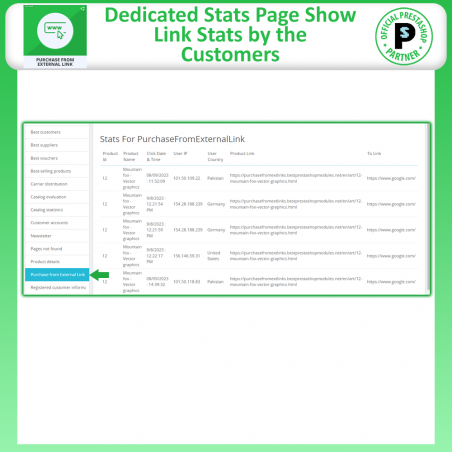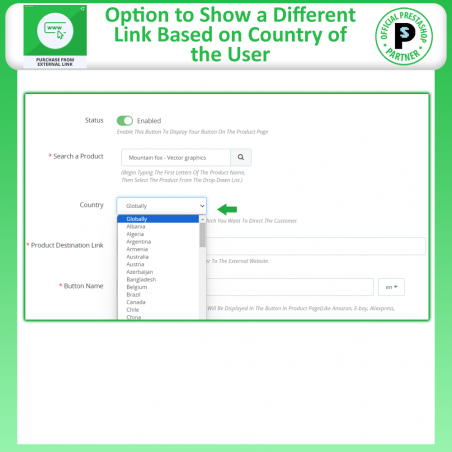 Prestashop Buy on External Link Module enables customers to make purchases directly from external websites or sources This can be particularly useful for e-commerce businesses looking to expand their reach and tap into audiences on other online platforms. Admin can disable "Add to Cart" button forcing visitors to visit the external link.
For customers Buy From From External Link Module primary benefit is convenience. They can make purchases seamlessly from other websites, eliminating the need to navigate through the entire website, which can often be time-consuming and cumbersome. With a simplified process, customers can save time and effort. Moreover it offers customers more options to buy a product from other sources where they might already have an account. Our module also auto detects the country from which user is being visited and can show different external link based on their location.
For store owners, the advantages offered by Prestashop Buy From External Link Module are equally compelling. It expands the store's reach by allowing users to make a purchase from a number of stores. This extends the store's presence beyond its website, potentially tapping into new markets and demographics. It also facilitates efficient marketing. Store owners can utilize the module for targeted marketing campaigns, including affiliate marketing, email marketing, and social media promotions. It empowers them to provide direct purchase links to specific products, enhancing the effectiveness of marketing efforts.
Additionally our module also offers valuable data and analytics at the backend. Store owners can track the performance of external links and campaigns, allowing for data-driven decision-making. Admin can see which links are being visited more and can make their own product page more compelling.
Features offered by PrestaShop Buy From External Link Module
Show external links on product page
Show multiple links on the product page
Option to hide "Add to cart" button
Option to add links to multiple products by a CSV file upload
Option to show a different text on each button
Option to show a different link based on user location
Stats tab at the backend show number of links visited by the customers