PrestaShop Cart Countdown Timer Module
Compatibility: PS 1.7.x - PS 8.x.x
Version:1.0.0 (09/07/23)
Translated Into:

PrestaShop Cart Countdown Timer Module
Force Buyers for Quick Purchase

PrestaShop
PS 1.7.x - PS 8.x.x
Prestashop Cart Countdown Timer module displays a countdown timer as soon as a customer adds a product to cart. Get your potential customers to make quicker purchase decisions by creating a sense of urgency. Rapidly lower your abandon cart rate.
Product Screenshots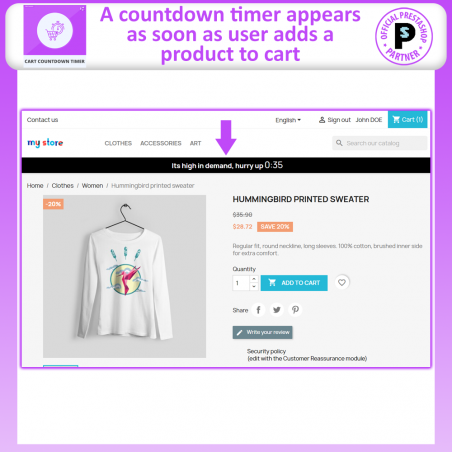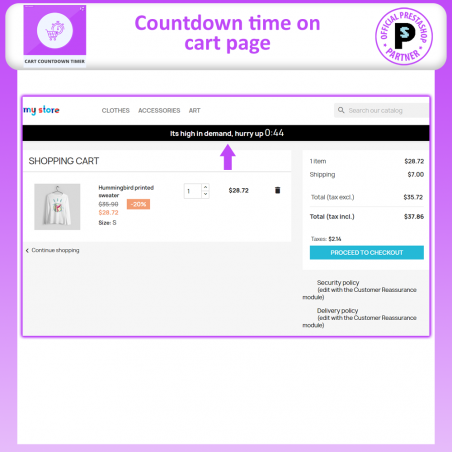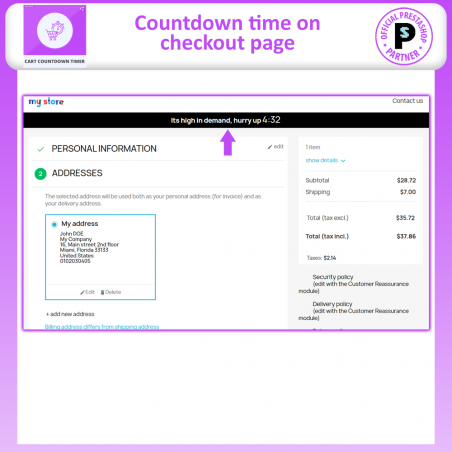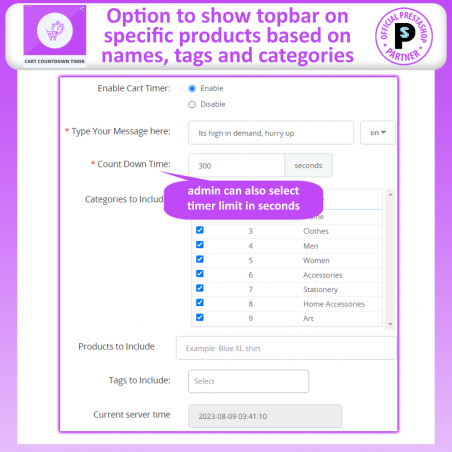 Prestashop Cart Countdown Timer Module displays a countdown timer when a customer adds a product to cart. The timers showcase the amount of time remaining for customers to avail themselves of that product. The customer cart will be emptied after the timer ends. This encourages the customers to complete the purchase rapidly resulting in increased sales and more revenue.
Prestashop Cart Countdown Timer Module has the potential to significantly lower cart abandonment rates by leveraging various psychological and behavioral mechanisms. At its core, the module taps into the concept of urgency and the fear of missing out (FOMO). By displaying a countdown timer next to items in the cart, it triggers a sense of urgency among customers. The ticking timer creates a psychological pressure that compels customers to act promptly and complete their purchase before the timer runs out, reducing the likelihood of them abandoning their carts.
Admin can select on which products the timer is displayed, it can be displayed on a single product or whole categories. Products can be selected based on their tags. You can also customize the displayed text in the top banner and add whatever you feel is more impactful.
Features offered by PrestaShop Cart Countdown Timer Module
Option to select where time is displayed
Option to display timer on products or categories
Option to select products by their tags
Option to customize banner message
Option to select the time length in seconds