Free Prestashop Fraud Alert and Filter
Compatibility: v1.7.x.x - v8.x.x.x
Version:1.0.0 (08/10/23)
Translated Into:

Free Prestashop Fraud Alert and Filter
Improve Fraud Prevention

+9003
downloads!
PrestaShop
v1.7.x.x - v8.x.x.x
Prestashop Fraud Alert and Filter module allows the store owners to prevent their stores from fraudulent. Admin can add filters to get alerts on the suspicious order.
Main features of the module includes:
Multiple filters can be created to identify and prevent fraudulent activity.
The system can be set up to alert the administrator when suspicious orders are detected.
Administrators can view flags for suspicious orders on the backoffice order detail page.
Product Screenshots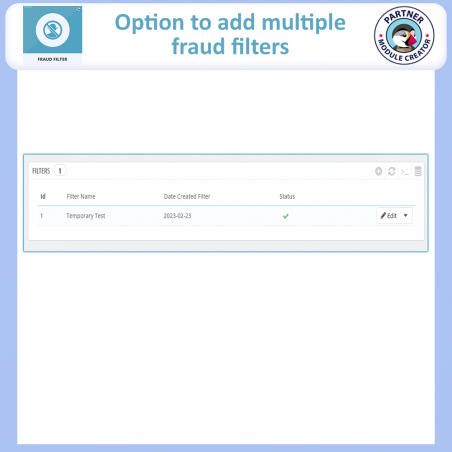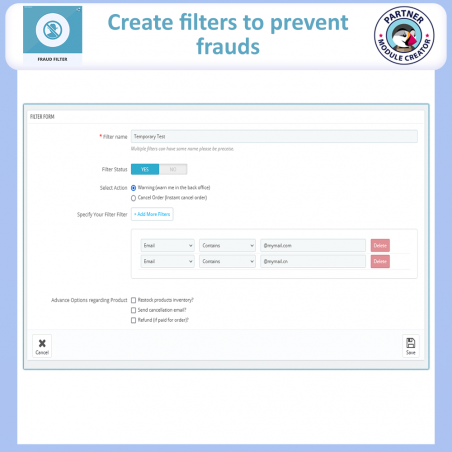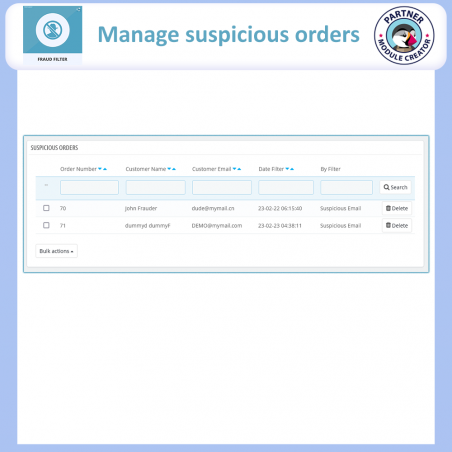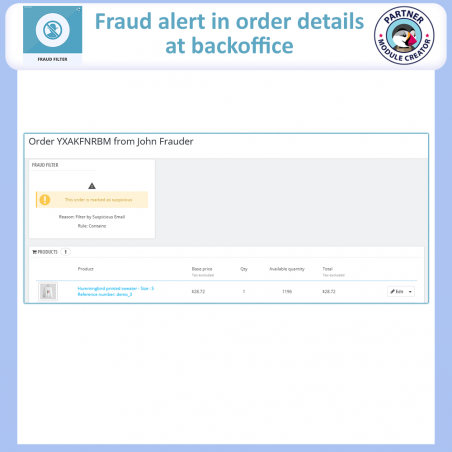 Prestashop Fraud Filter module can provide an additional layer that will help you to fight against frauds. You can set up multiple filters and manage the suspicious orders by cancelling them from the backoffice. When order will match a created filter, Fraud Filter will flag it as suspicious to warn you.
Prestashop Fraud Alert and Filter module offers:
Option to create multiple filters to prevent frauds.
Option to warn the admin regarding suspicious orders.
Option to delete the users from the suspicious order list.
Admin can view the flag regarding suspicious order at the backoffice order detail page