Prestashop Delivery Pin Checker
Compatibility: v1.7 - v8.x
Version:1.0.1 (09/18/23)
Prestashop Delivery Pin Checker
Check Product Availability

PrestaShop
v1.7 - v8.x
Prestashop Delivery Pin Checker Module is a must-have feature for your store especially if you are not delivering products in certain areas. It gives your customers the option to check if their desired products are deliverable at their location.
Users can check delivery from the cart page with a single click
Admin can also show extra information i.e delivery estimate, COD etc
CSV file upload from backend for zip codes
No subscription fee. Free lifetime support and upgrades.
Click to visit our Prestashop Delivery Pin Checker on PrestaShop Official Marketplace.
Product Screenshots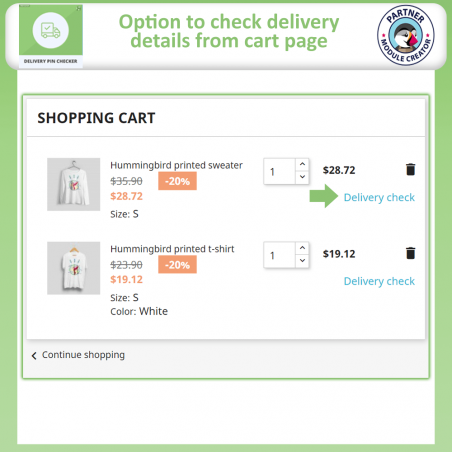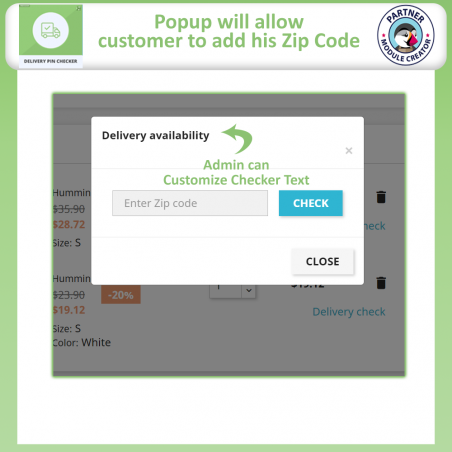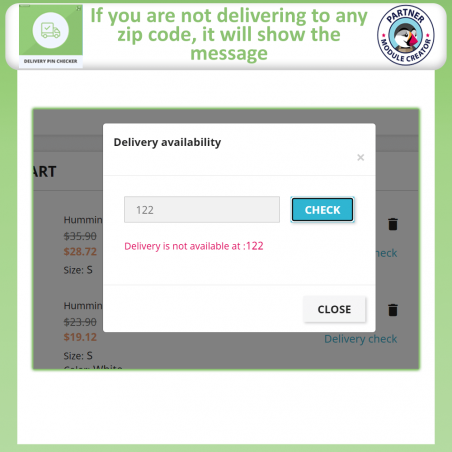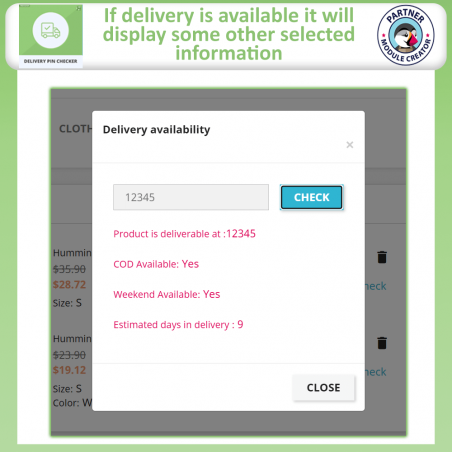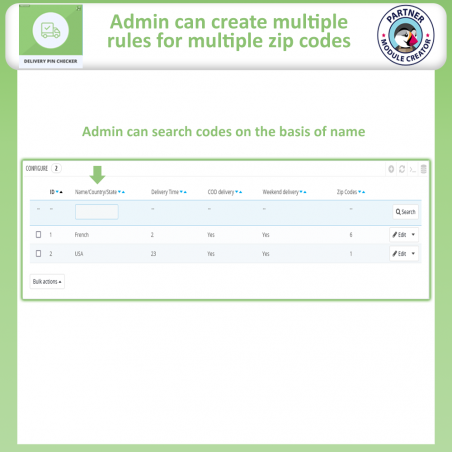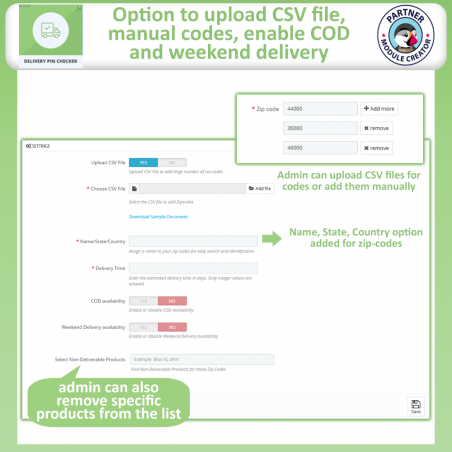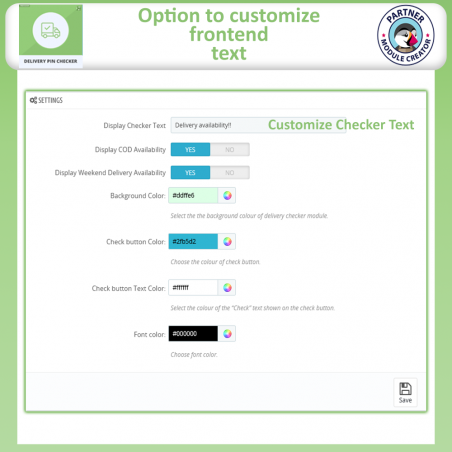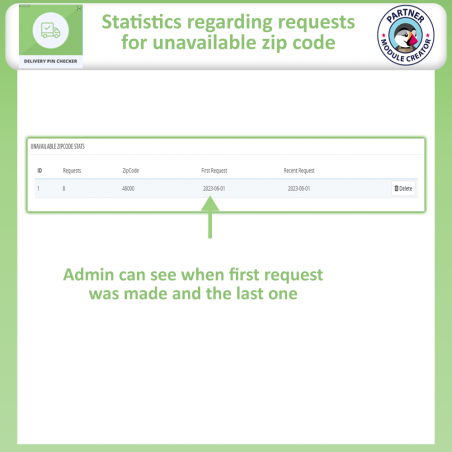 Prestashop Delivery Pin Checker Module gives your customer the option to check whether the product they have in the cart is being delivered to their location or not simply by entering their zip code. Customers do not need to fully order the products by filling in all their information just to be informed that their desired product is not deliverable to their selected location. This not only enhances the user experience but at the same time also saves a lot of time for store owners as well.

Prestashop Delivery Pin Checker also gives more options to shop owners like letting their customers know if the selected product offers a Cash on Delivery option, is being delivered on weekends, and estimated delivery time. These are very useful information for the potential customer which is usually not shown to him / her while they order a product. 
Our module is fully customizable from the backend, admin can select one or more products from a search bar and associate zip code where these products are not deliverable. There is also an option to upload a CSV file for zip codes if they are in large numbers. 

Prestashop Delivery Pin Checker offers another unique feature where admin can see number of requests for each zip code at the backend. This allows the admin to include that particular zip code into the list of their delivery zone and gain more sales.
Features offered by Prestashop Delivery Pin Checker Module
Option to customize frontend text, font, and color
Option to show if the product is deliverable on weekend and has COD option
Option to show the number of days for delivery
From the backend admin can manually add one or more zip code
Option to upload CSV file, CSV sample file shown on backend
Option to remove products from the rule
New Feature: Option to Customize-able Checker Text
New Feature: Added name option for zip-codes
New Feature: Option to search on the basis of name
New Feature: Added Stats regarding requests for unavailable zip code
New Feature: Auto Increment requests with first and recent date