Cyber Monday Sale Is Now Live - (Nov 27th - Nov 30th) - 40% Off - Code: FMMCM2023
External Link Management : Manage Outbound Links
Compatibility: v1.7.x - v8.x
Version:1.0.1 (10/12/23)
Translated Into:

External Link Management : Manage Outbound Links
Manage External Links

PrestaShop
v1.7.x - v8.x
Prestashop External Link Management modules allow you to manage all outgoing links from your site from a single page. Add follow / no-follow tags with additional attributes like noopener noreferrer to your whole site with a single click.
No subscription fee. Free lifetime support and upgrades.
Click to visit our Prestashop External Link Management module on PrestaShop Official Marketplace.
Product Screenshots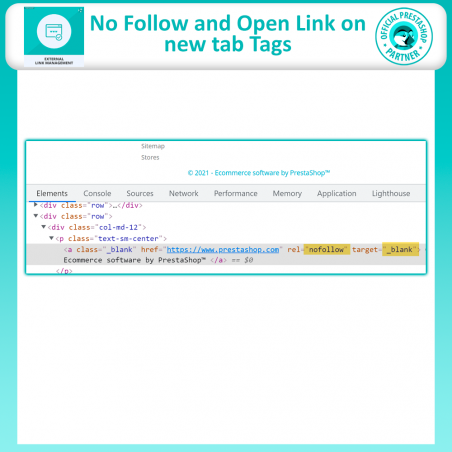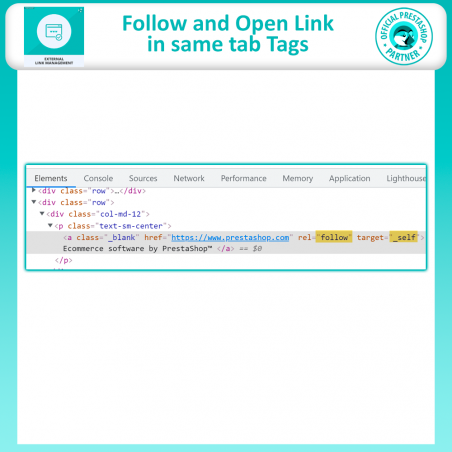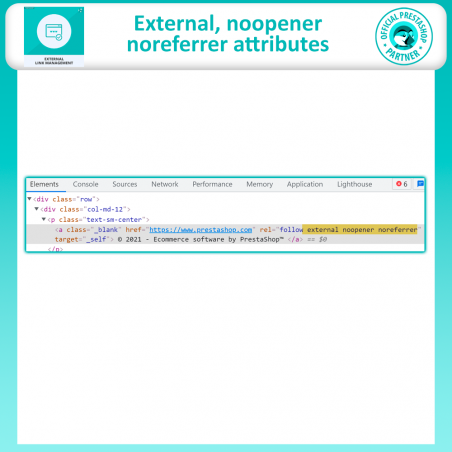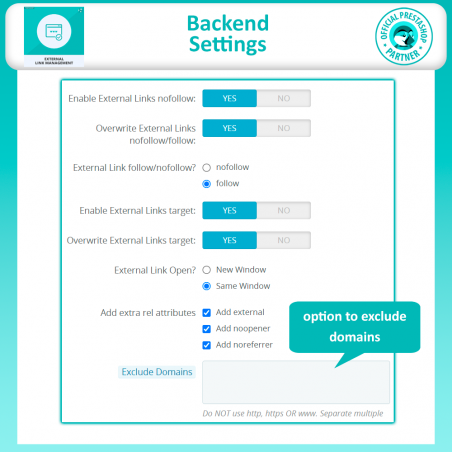 External links or outbound links are those links that are linking to some external sites. For proper SEO taking care of external links is a very important task and if you have thousands of outgoing links then it becomes a very hectic task. SEO External Link Management module helps you to take care of all your outgoing links within no time.
Most of the sites have a policy of adding a no-follow tag to all the outgoing links as this stops search engines to consider those links for ranking considerations. This is a good practice as most of the outgoing sites are of low quality and can affect ranking drastically. Using the External Link management module admin can add a no-follow tag to all of the outbound links similarly you can also add follow tag to all links if you so want.
Our module also offers an option to excludes particular links from the application of the tag management meaning your selected links will not be affected by the change. Admin can also add an option to enable link opening in the same tab or in a new tab. You can also add additional attributes such as "external", "noopener" and "noreferrer".
Features offered by Prestashop SEO External Link Management Module
Add follow tags to all the links
Add no-follow tags to all the outgoing links
Option to overwrite external links nofollow/follow
Option to overwrite external links target
Option to open external links on a new tab or the same one
Option to excludes outgoing links
Option add "external", "noopener" and "noreferrer" attributes