Twitter Card and Facebook Graph PrestaShop Module
Compatibility: 1.6.0.4 - 1.7.8.x
Version:1.0.1 (12/07/21)
Pre-Translated Into:

Twitter Card and Facebook Graph PrestaShop Module
Set Twitter Card and Facebook Graph

PrestaShop
1.6.0.4 - 1.7.8.x
Setting up Twitter cards and Facebook graphs are very crucial for your online store if you want to have a proper social media presence. Our module lets you do exactly that, you can customize the title and description tag for both Facebook and Twitter and can also add a personalized image. 

Product Screenshots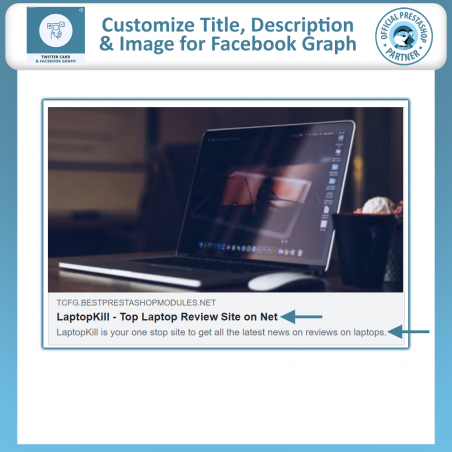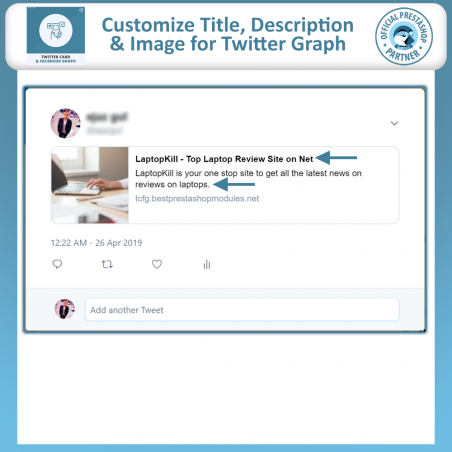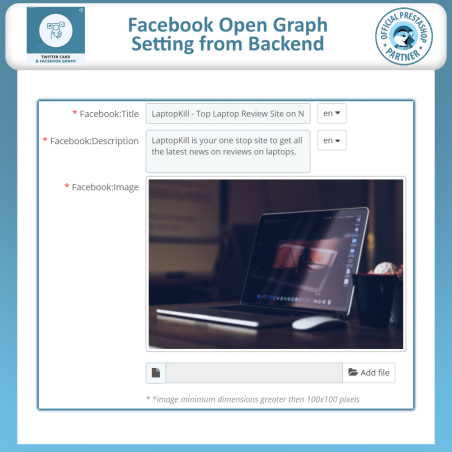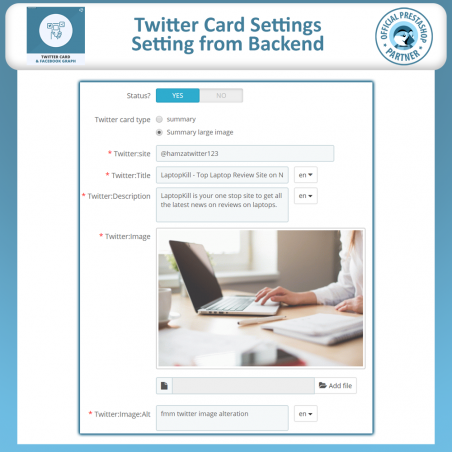 Whenever your site link is shared on social media, the platform scraps the webpage and shows title and description that it deems fit. This sometimes ends up showing irrelevant information.
Open graph protocol helps you control how your webpage is shown on social sites. Using Twitter Card and Facebook Open Graph Module, admin can customize and personalize the Titles, Descriptions, as well as the image, that go with them. This customized tags will only be visible when someone shares your site on Facebook or Twitter. For product and category pages, the module will dynamically select the best possible title and description.
Features of Twitter Card and Facebook Graph PrestaShop Module
Easily Set up Open Graph for Facebook
Easily Set Twitter Cards
Customize Social Title Tags
Customize Social Description Tags
Add personalized image to twitter tag
Add personalized image to facebook tag
Show customized social tags for Homepage and CMS pages
Option to set alt img tag for Twitter image
Enable/disable image for twitter
Auto validates images before showing it in the card
Dynamically selects the appropriate title and description for product and category pages
Multi-Lingual