How To Develop Powerful & Effective Social Media Campaigns For Your Brand
Many eCommerce companies maximize on the efficiency and effectiveness of social media when it comes to building or promoting their brand. They know how to fit social media in their eCommerce ecosystem. But there are others who think it's a difficult job and takes a lot of time, and totally ignore the importance of social media's role in building a brand.
Following are some ways that will assist online merchants to build their brands on social media:
Develop Unique Brand Persona for Social media
When considering building a brand on social media, eCommerce experts should come up with a unique but common brand personality for their goods throughout all the social media platforms. They should use the same slogans, jingles, posts and imagery across all the social networks. This will create a guise that you want your brand to originate in the consumers' minds and this will help them remember your brand for a long time.
Ensure Continuity Across All Channels
Digital marketing teams should ensure continuity in marketing campaign across multiple channels. By continuity we imply that they should use similar type of banners, imagery and other characteristics on various social media networks as it would assist viewers to easily relate these attributes to your brand. Whenever they will come across your social media content, they will be able to trust it and it is likely for your brand to last in their memories for long.
Use A Single Voice
By this we mean that eCommerce companies should rely on a single resource when it comes to handling social media accounts. We say this because it is important for social media manager or a liaison to have a better understanding of the company and have the ability to build long term connections and good rapport for the brand, and be able to quickly reply to the queries with the right information. He or she should be a jack of all trades and should maintain the same voice on all sorts of social platforms.
Create Integrated Outposts Schedule
If you have accounts on more than one social media network then assist your social network liaison by creating a schedule for outposts across these websites. You should plan the frequency of daily or weekly outposts on social websites ahead of time. For instance you can have a schedule like the one given below: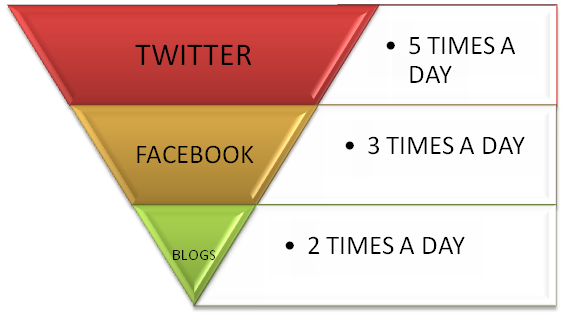 Build Relationships with Patrons
Being continuously active on social media and frequently replying to relevant posts, or re-tweeting to relevant tweets makes up 95% of the brand building efforts on these networks. This is because many influential journalists, bloggers and reporters use social networks and engaging them in your social content will increase your brand awareness on venues that you would certainly not want to give a miss..
Personalize Marketing for your Fans
It is vital to keep track of your social following and the influencers who contribute to your social media following. You should keep an eye on the fans following you on multiple channels and continually engaging in your social content. This helps in reaching your brand advocates, who would promote your brand in their social circles. You can also consider rewarding them with incentives like bonuses, special discounts etc to win their loyalty and bring more prospects for your business.
Reward your Fans
Did you know you can rent your fans with temporary promotional deals to generate crowd on your social accounts? Well this is very simple to do and has nothing to do with brand loyalty. For example you can offer timely hot deals to your fans on social media to generate Facebook likes or Google +1s. This will lead to increase in social activity and engagement on your social content and will allow fans to refer your brand to a lot more people.
Spread the Word
It is another essential for building your brand on social media. To keep your fans and customers engaged on your social accounts it is imperative for you to continuously share latest information with them, create communities through which you can answer their queries, advertise hottest deals or bring like minds together to share their ideas with one another. These forums and communities will spread a positive word of mouth about your brand and will increase your brand's standing. They will also ensure your social media brand loyalty to quite an extent.